Looking for dart mats? Perfect! You're in the right place!
In this Dart Goals guide, you'll learn:
Different types of dart mats
How to choose dart mats
Our top 11 best dart mats
And much more!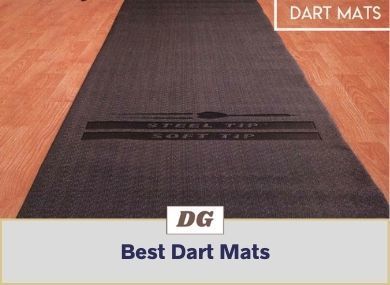 Quick Comparison
Dart mats are used to protect your floor and ensure that you are always at the right distance.
Nevertheless, not every dart can pierce exactly where you want it. Especially at the beginning, the error rate is still relatively high, so you will definitely throw one or two arrows next to the board.
In most cases, you can protect your wall with a catch ring, but your floor is not spared if the arrows bounce off the dart board.
Such rebounds happen not only to beginners but also to the pro players in the world. When an arrow hits another that is already on the board, it regularly happens that the arrow "bounced" from the target.
It is always a problem when you with steel darts throw on a classic dartboard from sisal and the arrow bounced. The steel tip drills deep into the wooden floor or provides a chip on the stone tile. The problem can be avoided with a dart mat or carpet.
For this reason, you will find the best dart mats in this article that will protect your floor and have other advantages. Below is all the information for choosing the right sturdy dart mat.
Best Dart Mats List (Expert Picks)
Short on time? We understand. Check out this quick overview of our favorite dart mats.
Viper Padded Toe Line Dart Mat
Shot Darts Professional Dart Mat
GRAN LED Action Darts Mat
ZAAP Heavy Duty Darts Mat
Foam Interlocking Tiles Mat
ZAAP Heavy Duty Darts Mat
Target Champion Darts Mat
PerfectDarts McKICKS Dart MAT
Winmau Xtreme Dart Mat
Rubber Dart Mat or Fabric Dart Mat? Which One I should Pick?
Why buy a rubber dart mat?
First of all, a rubber dart mat is suitable for indoor and outdoor use. Which is very nice if you also want to play darts outside. A rubber mat will also be preferred for cafes, tournaments and other events. Rubber mats are very durable and long-lasting. The Bull's rubber dart mat with an och bar is the most complete solution. The oche is mounted so that you can easily stand against it. This way you are always perfectly at the right distance.
Why buy a fabric dart mat? 
A fabric dart mat is nice for indoor and home use. Fabric dart mats smell less than a rubber mat. A fabric mat offers many advantages for the home. There are plenty of prints so you have enough choice for a nice and beautiful mat. A fabric mat usually lasts very long and certainly does not do much with rubber mats. There is also a cloth mat with an oche. Which is very nice for the right distance? A fabric mat is often slightly cheaper than a rubber mat. So, if you want a good mat for home use, a fabric dart mat is definitely a good choice!
Read Also: What are the best dartboard lights?
Dart mat with Oche or without Oche?
What is an oche and what is it actually used for? An Oche is an elevation on the dart mat that is used to stand against. These are used on rubber and cloth mats. You can then place the Oche on the mat at exactly the right distance so that you stand exactly at 237 cm.
Many darters often wonder what the exact size is. For stem tip, the correct distance is 237 cm from the front of the dartboard to the back of the Oche. The second way to measure the correct distance (which is also the purest way) is to measure diagonally from the bull. The distance is then 293 CM. With an oche mat, you can lay the mat perfectly at 293 cm so that you are always perfectly in front of the board.
Because you are against the Oche, the same distance applies to everyone. A fixed distance is a must, especially if you are going to train! Many darters also mark the Oche with a marker to train the same position. In the category frequently asked questions you will find all information about how to correctly hang a dartboard and the correct distance dimensions. Would you like to compare the differences between our fabrics and rubber dart mats? Buy information dart mat
Dart Mats Reviews
1. Viper Padded Throw/Toe Line Dart Mat
Viper padded Dart Mat generally meet two purposes. Number one, it works to protect the room floor from bounce out. And number two is, it provides a toe line both for the steel dart and the soft dart in a regulated distance; that is, steel tip darts (93-1/4″) and soft tip darts (96″).
This is a great opportunity for the player to through the dart in an accurate distance eliminating guessing any more. It is a heavy-duty non-slip Dart Mat that can easily roll up for safe storage once your playing is over. Most of the dart players like Viper Mat to cover their floor from any bounce out.
The reason for choosing behind this Mat is, it is made with soft and cushioned vinyl materials. This product is made in the USA. It is a thicker Dart Mat and cut a little bit more expanse from your moneybag.
However, if you bring this Mat for your use, you are going to enjoy the most durable Dart Mat for your dart gaming. The measurement of this top-rated dart mat is 117″ L x 24″ W x 1/4″ D. So, you can cover a maximum area ensuring higher protection.
Read Also: Dartslive 200s review.
2. Shot Darts Professional Dart Mat
The lucrative point of this Dart Mat is it has LED lighting on both sides. That's why it offers the player to enjoy their game in a more gaming environment. Whether Home Dart Mat or a Tournament Dart Mat, Shot Darts are best in any purpose.
Another exciting thing is that this Dart Mat also compatible with other Gran Board models as well. This Dart Mat has the approval of US National Champion Chris White. It is a high-quality dart mat that includes a perfect graphical presentation for the precise toe lines.
This Mat not only going to protect your floor, but it also shows you the starting point from where you have to through your dart. Shot Darts Mat is one of the best professional dart mats holding the measurement of 9ft 9″ (2995mm) L x 2ft (625mm) W x.11″ (3mm) D. This Dart Mat is featuring an easy to roll up and easy to storing capability.
Read Also: What are the best dart cases?
3. Gran Board Dart Mat -LED Action Darts Mat
Like Shot darts professional mats, this Mat also linked with Gran board 3. It a perfect Dart Mat, can set your mood fully to involved in your dart gaming. The high intensity LED light included on both sides of this Mat provides 360-degree lighting to the Mat.
Gran Mat provides such a delightful gaming atmosphere; you can play Dart with a joyful concentration. A strong USB power support (2.4A) is needed to start the lighting. The dimension of this Dart Mat is 118 inches x 23.6 inches, and it is made with carpet like materials with a non-slipping supporting.
The package content of this product is one Gran Mat; Two LED strip, one Circuit Box, two USB Cables and one user manual etc.
Read Also: Gran board dash review.
4. ZAAP Heavy Duty Darts Mat with Throw Lines
The Zaap is the perfect professional rubber dartboard mat that has the best build quality to casting lines. In fact, you will get superior features at an affordable rate. The carpet has four visible casting lines. Whether it's a friendly or competitive match, you've cleared the distance for yourself.
If we talk about the construction material, the carpet is made of dense and durable rubber. The rubber sticks to the floor as soon as you put it on. The folded size is about 24.5″ x 5″ x 5″. When placed on the floor, it measures 118 x 24.5 x 0.1 inches.
It is thick enough to protect the floor. The non-slip decoration eliminates the risk of walking. The mat is also durable and easy to fit if you want to store it elsewhere after play. The dimensions are accurate and heavy enough to be flat.
Initially, when you try to throw the snake with a laser, every time the arrow hits the dashboard, the laser turned sufficient to make it move slightly. So, it minimizes the chance of mistakes. The rubber sticks to the floor but is soft enough to defend jumping arrows. I highly recommend this product!
Read Also: What are the best electronic dart scoreboard?
5. Target Darts World Champion Darts Mat
The company aim to build fresh and elegant designs, superior quality products, and flawless craftsmanship. And, the Target Dart is an excellent edition of the company.
The world championship protective dartboard floor mat is a full-length oche system constructed with lightweight, odorless material. Moreover, the mat features a printed steel spacing, a soft drop point, and a Target logo. Different launchers cover all different sizes of arrows around the world. 
This is an innovative, excellent quality dart mat that protects your floor from dart hits and marks the starting area. Also, the arrow layer of the marts can protect your floor from falling arrows and also protects the arrows, decreasing breakage.
The lightweight material is made of lightweight, odor-free material, making it simple to pack and store when not in use. This arrow layer used by Target Pros protects your floor from darts as well as protects dart points, reducing breakage. However, this product is ideal for business use or as an excellent gift for the big darts fan.
Read Also: What are the best dart backboard?
6. Perfect Darts McKICKS Dart MAT Blue Carpet with Raised OCHE
The McKicks Darts Mat is the great dart mat with a rugged and durable professional look and includes official sizes from Oche. Its different feature is that it is made from a velvet rug, not rubber or vinyl, and has an embossed sign.
The surface of this dart board oche mat is durable and sufficient to prevent the floors from falling to the floor. Also, the mattress has a non-slip rubber bottom, which ensures the mattress's durability.
The thick upper material provides a stable base, and the raised Oche always makes it easier to maintain track of your casting distance. This mat is suitable for those looking for a quality product, but the professional gamers will appreciate it. Measuring 118 "x 65", this mattress offers ample protection compared to other options.
It is expensive financially, but this is one of those rugs that will last a lifetime. It is made from high-quality material as opposed to rubber or vinyl in the cheaper options.Overall, it is an excellent choice for anyone looking for a professional quality dart that provides superior protection.
Read Also: What are the best dart board cabinet set?
7. Winmau Xtreme Dart Mat (Heavy-Duty)
Winmau is a trendy brand in the dart industry and is primarily known for its reliable build quality. The crafting materials are both simple and durable at the same time. Also, it's a sleek device that won't go unnoticed, and if you're willing to spend large sums of money, Winmau is an ideal option for you!
The dart floor mat rubber is designed to stay in place, so you don't always have to interrupt play to adjust the mat. Another of my preferred features is oche dimensions. Of course, most mats have these, but Winmau promises to use the International Tournament standard.
However, this darts distance mat is relatively thin, which made me question its ability to detect "bounce" and provide protection on the floor. A few inches of extra width would be beautiful.
Maybe it smells a little rubbery, but it will disappear within a day later inside. However, you will find it clean and well packed in a box. Obviously, this is a little more expensive than the estimate but worth it.
8. Dart World Let's Play Darts Dart Mat
Dart World Let's Play Darts mat is a perfect choice for both house and dart game floor mat. You can easily notice the all 8 arrow lines and is intended for use with steel and soft arrows.
It claims that the thickest dart carpet is 3mm thick and measures about 32 x 15 x 15 cm and protects your floors. They have constructed with durable rubber, this Dart World cushion. 
Despite being only three millimeters thick, provides excellent protection for your darts if they bounce off the dash. Also, it has a non-slip surface that prevents the mat from moving during play. It also has a rubbery smell, so let it lie for a few days before using it for the initial time.
As you imagine, with the rebound, you may worry that all the holes began to open up. In the end, the mat is compact, and of high quality. Also, it is easy to clean up and highly stable.
9. Bull's Rubber Dart Mat with RaizedOche
Bull's Rubber Dart Mat with RaizedOche is a professional quality dart mat throws line from the famous Bull's Darts brand. The carpet measures 300 x 60 cm and is composed of a 3 mm thick, durable rubber that provides excellent floor protection under the target. Also, this dart mat features an official throw distance of eight points.
Suitable for house and pub use, it is flat when unfolded and can be rolled up when not in use. It is non-slip and odorless, made according to European standards.
Once you set the mat at your home, you will lose yourself in the world of the dart. Of course, it worth every penny!
Buying Guideline for the Best Dart Mats
To help you with your purchase decision, we have listed the best dart mats and carpets. All products are of high quality and a good investment.
Choose Quality When You Choose Dart Mats
A dart mat is an investment. It is a purchase that you also want to take advantage of and enjoy because it is an extra element during play. That is why it is important that you choose the best price-quality ratio. That way you can be sure that the mat will last a long time and that you can walk over it with your friends while playing darts.
Whether at home or in the pub; a dart carpet or a dart mat is a perfect addition to any dart board. It offers players many advantages and increases the fun. What do you need to consider when buying a dart mat? We'll tell you this in the following. So that you make the right choice and are ready for the next leg!
The right length
You have the choice between a dart pad with or without excess length. This means: With extra length, the underlay extends beyond the throw line – usually to the dartboard. In general, overlength is recommended to avoid slipping after the throw. Extra length is also necessary if you want to protect your floor.
High-quality material
Whether mat or carpet: The material should be of high quality and durable. So you can be sure that you will enjoy your dart carpet or mat for a long time. Ideally, your pad will last for years!
The price
Dart carpets and darts do not cost the world. Depending on the model, however, the price may vary. How Much Should You Spend? There is no general answer to that. Basically, higher-priced documents offer more quality and longer service life – but you won't go wrong with the cheap models in our table.
Non-slip back
Fun and safety are only possible if you do not slip or stumble while playing. You should, therefore, make sure that the back is non-slip. This is particularly important on smooth floors such as laminate or tiles. Many dart carpets, therefore, have rubber knobs or a completely rubberized back
Additional Tip
1. An additional fixation on the floor is often useful. You can achieve this, for example, with double-sided adhesive tape, double-sided Velcro or a cheap non-slip mat.
2. Maintain your darts with vegetable oil once a month. Simply apply thinly with a cloth and let dry. This keeps your dart mat nice and flexible and prevents it from drying out or cracking in the material.
Why dart mats are important
Are you considering purchasing a dart mat, but are you still not sure whether you need one? Then we would like to give you some reasons to buy a dart mat today.
The first reason is the most obvious: a mat protects not only the floor but also the arrows that land much softer. As a result, they become less blunt and do not damage as quickly when they fall out of the board.
The mats have the additional advantage of a printed or three-dimensional oche and protect the feet from the cold of the floor – especially in winter in an otherwise unused hobby room.
Another some reasons to buy a dart mat today are:
Optimal floor protection
Whether you are a beginner or a professional; An arrow always misses, bounces off and bores deep into the ground. This is particularly annoying with expensive parquet or beautiful tiles. With a dart mat or carpet, you prevent this, protect your floor and your arrows!
More fun
Non-slip dart carpets and mats offer perfect stability. This not only increases the fun but also minimizes the risk of slipping or even accidents.
Playing and practicing in compliance with the rules
Tired of annoying measuring distances? You don't have to! A dart mat has markings of the official throw lines (dart oxen) and ensures that everything runs according to the rules. Simply roll out the dart carpet and you're ready to go!
Tip: For maximum floor protection, you should place an additional plastic mat or thin wooden plate under the dart carpet for steel dart bouncers.
Summary
Dart mats and dart carpets are important. They protect the floor, offer more stability, measured dart oxen (throw lines), and guarantee optimal fun.
In our selection, you will find an overview of the best dart mats and carpets. Take a look at the different models, compare price, length, and material – and make the perfect choice for your needs. We wish you lots of success and lots of fun playing!