Today we have come up with a detailed review of Soft Darts Board Dartslive 200s. Our Dartslive 200s review is based on in-depth research and product analysis. Let's dive in!
Product Features
LCD screen.
15.5-inch target area.
Real-time league updates.
Exclusive DARTSLIVE 200S games.
Built-in DARTSLIVE rating system.
Award ceremonies through the application.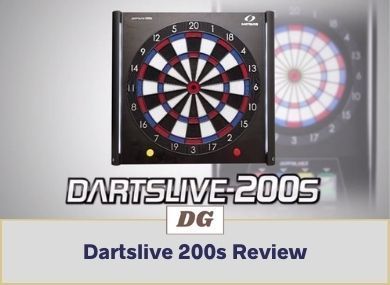 Introduction
Are you looking to buy an electronic dartboard to improve your game performance? If the answer is yes, then you can check out these Soft Darts Board DARTSLIVE-200S. Choosing what should be can sometimes be difficult. If you want to track your performance, just follow your favorite device.
Read Also: Best soft tip dart board review.
DartSlive-200S is known as an electronic dartboard. This dartboard is becoming popular today. People prefer to play with electronic dartboards rather than bristles or magnetic boards. It has many features that give it a fresh look and style and make it different from other dartboards and this is the reason the demand for the electronic dartboard is increasing day by day.
So you need to be very preferable when buying an electronic dartboard. To help you choose a dartboard, we've come up with a detailed review so you can learn more about DartSlive-200S. This good dartboard improves your game performance. If you are a beginner or an intermediate player, there is probably not much to say about this dartboard selection, you can use it.
Soft Darts Board Dartslive 200s Review
They design this board to be quiet enough for home use with advanced noise reduction qualities and you can even load this game system on your mobile device or tablet. The all-rounder is looking for an alternative, but the Dartslive-200S Soft Darts board is yours choosing the right option for you.
These soft tip dartboards have come a long way. It's easy to use with mobile applications. You can run the competition on your smartphone or tablet. With Darts Live Rating Systems, you can also track your performance and use training mode. This will enhance your gaming and make you a professional player in a quick time.
Although you do not give up any game qualification for these additional features! Darts are good and there is no problem with bounce back. It is beautifully made, feels tough, and lasts through a lot of use. Even these dartboards are very easy to set up because they give you a sheet to hang which makes you drill 4 screws.
One of the advantages of this dartboard is that the results of the game will be displayed on your device so you can easily track your performance. Also, this dartboard connects to your iPad, iPhone, or Android device and starts having fun using a dedicated and very well-written collaborative app.
Why Dartslive 200s?
A new and upgrade of the 200S100S from Dartslive come with a lot of features. It mostly reflects quieter than they can connect 100 and two smartphones and tablets. Another outstanding thing about this dartboard is that it is powered by an app called DartLive. Is. It can be easily installed and smoothly use.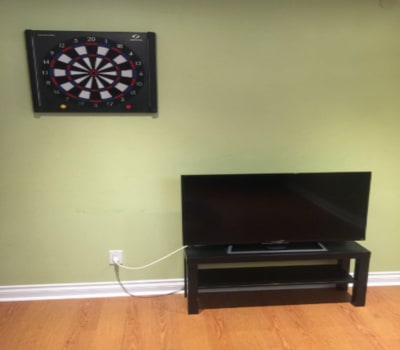 The application will allow you to connect with other users from your home. The dashboard of the application is so easy to use that any unknown player can handle it. No matter what level of the game you are in, i.e. Intermediate or Pro, this dartboard will provide every feature you expect.
The Bluetooth connection in this Dart set is so fast because you will not face any problem after connecting. You only need to connect once and then; it will connect automatically by switching to the dartboard. Even these dartboards are very easy to set up because they give you a sheet to hang which makes you drill 4 screws.
This product is on the market at an affordable price and is easily attained, this would be an excellent long-term investment for a soft tip dartboard.
It offers
This darts board offers a variety of features. This electronic darts game has an LCD screen where the score is displayed. The dimensions of the dartboard are 15.5 inches, which are suitable for each level of the player. Very complete, electronic dart games will satisfy all players used for recreational use. This model is the best value for your money.
Read Also: Best electronic dart board review.
It is a device that supports Android 4.0.0.0 or later which supports Bluetooth HID profile 3.0 or later. Also, if there is a problem, contact the written manufacturer of the attached warranty certificate to fix it. If you want to enhance your Dartboard gaming skills, DartSlive-200S Soft Darts Board is the right choice for you.
Our recommendation:
We recommend this model for those who are looking for fun and fun moments with family or friends. Its goal is very easy to postpone.
The target diameter is important, so this model is suitable for beginners and advanced. This dartboard will help you to further improve your game performance.
Read Also: What are the best online dart board?
We believe the goal seems fragile; it didn't catch me too much of the kid's design. If you do not want to buy the traditional drama model, this model will allow you to have fun with many.
It differs from other dartboards in the market because darts live gaming applications will help to track your gaming performance.
Final Thoughts
After reading the soft darts board Dartslive 200s review we learned that this electronic dartboard would be the best option for having fun in your home. Every dart player likes it. Also, it does not require too much space at home. Whether you are a new or professional player, this dartboard will improve your game performance.
Features like an automatic score calculator for each player make the game even easier. The primary reason every dart player prefers electronic dartboard. So if you liked this article, be sure to share it with your friends and family members who will buy a new electronic dartboard.