Looking for the best soft tip dart board? Perfect! You're in the right place!
In this Dart Goals guide, you'll learn:
Different types of dartboard

Top 9 soft tip dartboard
How to choose the best one
And much more!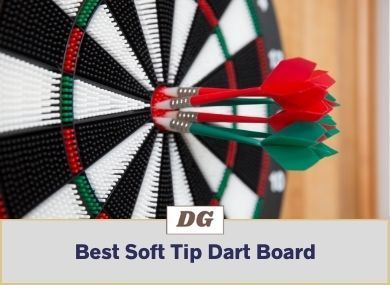 In A Hurry? Here Are Our Top Picks!
Image
Product
Top Features
Price
1. Arachnid Cricket Pro 800
» LED display.
» Nylon tough segments.
» Easy mounting on the wall.
Check Price
2. Gran Board 3 LED
» Updated apps.
» Plenty of games.
» Online playing facility.
Check Price
3. Viper Neptune Soft Dart Boards
» Large number of games.
» Show both scoring number.
» Included outsized dart cabinet.
Check Price
4. Win.Max LCD Soft Tip
» Plenty of fun games.
» Power Supply Included.
» The darts grip the board.
Check Price
5. Arachnid Cricket Pro 650
» Nylon tough segments.
» Exceptional playability.
» Accurate and highly responsive.
Check Price
6. Viper 777 Soft Tip Boards
» Trendy color scheme.
» Bilingual usability.
» User-friendly back-lit LCD.
Check Price
7. Fat Cat 727 Dart Boards
» Much affordable.
» Provided catch ring.
» Includes 18 Games with 96 Variation.
Check Price
8. Viper 800 Electric Dartboard
» Affordable price.
» Includes 57 games.
» Power supply adapter included.
Check Price
9. Fat Cat Soft Board with Cabinet
» Great electronic scorin
» Ingenious space for storing.
» Enhanced in-game customization.
Check Price
10. Viper Orion Soft Tip Dart Boards
» Intelligently designed.
» Attractive LCD display.
» Up to eight players directly.
Check Price
Our Overall #1 Rated Pick
The Arachnid Cricket Pro 800 features a Tournament-Quality Soft Tip Dartboard, which can offer the user 39 games with almost 179 variations. It is an electronic Dartboard ensuring a high quality, long-lasting features.
The 15.5″ regulation size board makes this Dartboard eligible for making any indoor or outdoor tournaments effectively. The micro-thin dividers present in this Dartboard efficiently works to reduce the bounce out and thereby to increase the scoring potentiality.
This electronic dartboard is made with classic red, black, and yellow colors, which simply increase the elegance of the board to attract the players. It can also keep the PPD (point per dart) record at the end of each round.
It is an updated Dartboard consisting of three hackle features to harass the bad through and to appreciate the good dart through. It is an optional feature, and you can turn on or off as per your demand.
Including the tough nylon segments onto the Dartboard, ensure that if you even misuse the board or raff use it, it will last for longer. The package of this product comes with one electric Dartboard, 6 soft tips darts, extra dart tips, an AC adapter, Mounting hardware, Game instructions, Operating manual, etc.
Best Soft Tip Dart Board List (Expert Picks)
Short on time? We understand. Check out this quick overview of our favorite soft tip dart board .
Arachnid Cricket Pro 800 Soft Electronic Dartboard
Gran Board 3 LED Bluetooth Electronic Dart Board
Viper Neptune Soft Tip Dartboard Cabinet Combo
WIN.MAX Soft Tip LCD Display Dart Board Set
Arachnid Cricket Tournament-Quality Dartboard
Viper 777 Soft Tip Dart Board with Soft Tip Darts
Fat Cat 727 Dartboard with Missed Throw Catch Ring
Viper 800 Regulation Size Electronic Dartboard
Fat Cat Electronx Soft Board With Built In Cabinet
Selecting the perfect soft tip boards is a little bit difficult matter for the beginner than the professional or experienced dart players. Anyway, do you want to make this difficult and challenging job a little bit easy? Don't worry! I am here today to help you to make it so easy.
Read Also: What are the best electronic dart board for home?
I will tell you some tips, ideas, features in this article that will help you to choose the perfect soft tip dartboard. So let's start an incredible journey to know more details about the soft tip dartboard.
Soft Tip Dart Boards Review
Gran Board 3 LED Bluetooth Dartboard
Do you want to play dart with people all around the world staying in your home? In that case, the Gran board LED Bluetooth dartboard is your only solution. This Dartboard includes a regulated target board that will provide you a real feeling of the dart playing.
The online playing capability if this board makes you able to play the game with other players presenting at any portion of the world. The app will make you able to filter the play according to their skill, age, living place, or even the previous history of his/her playing.
This electric Dartboard is compatible with iPhone, Tablet, Android, or Smart TV, etc. Since this board is run on your phone, there are plenty of online games that are available here.
And the most exciting fact is that authority is including new game options continuously in this app. You can play dart, making a low noise with this Dartboard as each segment is made with nylon Tough and insulated with foamy materials, so no loud noise, you have to tolerate.
Another remarkable feature of this board is, it has colorful and plenty of LED lights, including on the board. The package of this product comes with a Gran Board electric Dartboard, 2 Sets of Darts, Hanging Instructions, Screws, User manuals, etc.
Read Also: Gran Board 3 In Depth Review
Viper Neptune Electronic Dartboard Classic Cabinet Door Style
Viper Neptune soft electronic dart board is another best pick consistent with our experts. It is mostly perfect for beginners and intermediate players. This Dartboard comes with Ultra-thin spider and grade nylon that helps to scale back the bounce. The dartboard provides an option of playing up to 16 players and offers 57 games with 307 options.
It comes with a missed dart catch ring option which will help to guard your floor against missed shots. If you're on their lonesome and still you would like to play the sport then these dart boards allow the function of play against a computer that gives 5 levels of difficulty to compete.
Read Also: What is the best online bluetooth dartboard?
Win.Max LCD Low Budget Soft Tip Dart Boards
The Win. Max LCD soft tip darts board set is that the hottest budget electronic dart boards out there. It comes with everything you would like to possess fun (6 darts, 40 tips, automatic scoring options), and everyone for tons but most comparable models.
It's the sole budget dart board that doesn't have 1,000,000 reviews complaining about the darts flying out. This one comes with everything you'd expect during a higher-end set PLUS it works. It doesn't appear as if an inexpensive piece of plastic. If you would like a very good board that won't break during a week and don't want to spend tons of cash, this is often the simplest option.
Arachnid Cricket Pro 650 Electronic Soft Tip Dart Board
Arachnid Cricket 650 Soft Dart Boards is a high-tech best electronic dart board. You can enjoy a long time competitive fun with your friends and family with this soft tip dartboard. This is a tournament-quality soft tip dartboard. It contains 24 games with 132 variations and also 5 cricket games.
Its playability and durability are improved by nylon tough segments. Micro-thin layer segment dividers dramatically reduce bounce-outs. Up to eight players can play it on just one occasion. The board has attached dart storage. It gives a one-year warranty against defects.
Viper 777 Budget-Friendly Soft Tip Dart Boards
This is the simplest budget soft dart board. This dart board certainly does stun. It has an ultra-thin segment divider. And also superbly large catch rings round the target face makes it extremely easy and friendly to use (no matter your level of experience). So, if you're looking to enjoy quiet and uninterrupted gameplay, this is often probably something you don't want to miss out on.
Read Also: Best professional dart boards review.
Fat Cat 727 – Cheapest Soft Dart Boards
It is the right soft dartboard for youngsters and families. It's easy to use. The simplest thing about this board is that it's most the functions like all other soft dartboard but its price is extremely low as compared to them. The low price of fat cat 727 makes it one of the foremost popular choices of individuals.
On this board, 8 players can play together. It's a compact size so you'll put it anywhere within the house. It's an inexpensive board but it doesn't mean that the standard of the board is poor. The rationale behind placing it on this list is due to its quality and price. This is often an ideal soft dartboard for beginners.
Read Also: What are the best dart boards?
Viper 800 Electronic Soft Tip Darts Board
If you're trying to find a top-quality soft dartboard then Viper 800 is going to be an honest option for you. It's designed by professionals with tournament quality for your long-lasting use. It comes with 57 games having 307 options which is one among the simplest features of this dartboard. This dartboard may be a good option if you're buying it for your house parties or casual gaming experience.
This dartboard has an external power supply adapter (5V, 1000 mA). If you're trying to find an electronic dartboard that has almost every accessories that you simply need for setup at a reasonable price then trust me Viper 800 Electronic Dartboard is that the most reliable option for you!
Viper Orion Electronic Soft Tip Dart boards
This dartboard is within the average price range of other soft dartboards on the market but it's tons to supply. This dartboard is one of the low budget boards. This dartboard comes with 25.5-inch regulation size and soft-tipped darts. Ultra-thin metal separates the points on the board.
So as to stop as many darts as possible from bouncing off. This board features a total of 32 games available. It can work for up to eight players. A handicap option allows you to form things fair regardless of which you're up against.
Fat Cat Electronic Soft Tip Dart Boards with Cabinet
There's little question that the fat cat dart board is intelligently designed. It's pretty easy to put in (and not bulky). This comes with an easy-to-read instrument panel. In other words, this is often the lifeline you would like to customize your gaming experience. The unit's LCD panel display is very easy to use that even a 5-year-old can manage it.
The user interface is very friendly. This board gives you the liberty to make your ideal gaming experience through an easy push of a button. This is a family-friendly plaything that we'd recommend for any family trying to find an ingenious activity to enjoy together reception. It's easy to line up and use. However, its target face may be a bit too tiny although still quite usable and practical.
Buying Guideline for the Best Soft Tip Dart Board
Finding the most effective soft tip boards will allow you to enjoy more fun, fewer bounce-outs, and more games. So what should you look for while you are searching for the top-rated soft tips dartboard from the market?
Let's give you some assumption-
Preloaded Games and Game Variations
Maximum electronic dartboard comes in the market containing a ton of preloaded games and game variations. Try to be selective if you have price issues with buying a higher-priced dartboard that contains huge games and game variations.
LED or LCD Display
An electronic soft dartboard may contain a LED display or an LCD. This display shows the scores, player's name, etc. I suggest buying the board with a LED display. A LED display allows you to read the score from an 8-foot distance.
Power Source
You have two options to select the Dartboard based on their power source: A battery-powered or an AC powered electric Dartboard. AC powered electronic Dartboard is more selectable. However, you can choose one dartboard which has both options to run the board.
Sounds Effects and Voice Features
It is actually incorporated with the Heckler feature of an electric dartboard. This feature will allow you to enjoy a voice appreciation or a voice discountenance upon your good or lousy dart through.
Some people find this feature more fun and enjoyable. Again some may annoy hearing the loud noise while they are practicing with a full concentration. It can go manually off or on.
Data Tracking and Interactivity
A Dartboard with the capacity to store data and player score is a big plus. Additionally, some electric dartboard can coordinate this data and count with leagues.
They also can connect to your iOS or Android apps via Bluetooth. As a result, you will able to synchronize the real-time game playing effectively.
Bounce Out Effect
A micro-thin scoring separator and a nylon Tough board surface allow you to reduce the bounce out and to improve the scoring efficacy. And, soft tip darts are cool for this type of dartboard.
Versatility
Some electronic dartboard allows you to play with other players who are staying thousands of miles away from you. Coordination of an online app with the Dartboard also enables the user to filter the player depending on their skill, age, place of living, etc.
Dartboard Accessories
It is an additional offer that may differ from brand to brand. The possible dartboard accessories maybe a dartboard cabinet, dartboard cover, a set of darts, and a throwing line marker, etc.
Wall Bracket
If you want to buy a dartboard cabinet, this point is not for you. If you need to hang your Dartboard on the wall, look well, is there any mounting bracket included in the board or not. It is mandatory to be included.
Warranty
A dartboard with an extended period of warranty ensures your product will be durable and effective. So try to buy a dartboard which has extended years of warranty.
Price
Soft dartboards are costly compared with bristle dartboards. The average cost of the soft Dartboard may vary within $35 – $250.
However, the price may differ depending on the manufacturer and their offering features.
Soft Tip Dart Boards (FAQs)
Q: What do you understand by the soft tip dart boards?
Answer: A soft tip Dartboard is an electronic Dartboard made of plastic materials consisting of thousands of tiny holes inside the surface. A soft tip Dartboard is a more convenient, more affordable, and more popular Dartboard available now a day.
Q: Can you use steel tip darts on a Soft Tip Dart Board?
Answer: Steel dart tips are not designed to use on a soft tip Dartboard. Moreover, you can use these dart tips either on a bristle Dartboards or on an electronic Dartboard which has a bristle surface.
What is the best soft tip dartboard?
We Recommend Arachnid Cricket Pro 800. Arachnid Cricket Pro 800 electronic soft tip dartboard contains some such features; any professional dart players prefer to use it rather than any traditional dartboard. So what are these features? Look below the features-
Micro-thin segment
The micro-thin portions of this Dartboard help to reduce the bounce out. It is not my saying actually! According to the manufacturer of Arachnid, the provability of bounce-out is less in this board compared with other electronic Dartboards.
Heckler feature
Heckler's feature will applaud you once you have earned a good score. Again it will barrack you with your poor score. However, you can turn off or on this feature. I practically suggest turning off this feature while you are practicing yourself.
Super-bright LED displays
Arachnid Cricket Pro 800 contains a super-bright LED display. Isn't it so much exciting!
Yes, it is..!
A LED display can deliver a bright screen for a more extended period. So unlike the ordinary electronic Dartboard, Arachnid has one step ahead by avoiding just a single display. How pretty!
39 Games with huge variations
Yes, it is the eye-catching feature of this Dartboard. You can play 39 games using this Dartboard. How cool!!
Hey, wait. Let me tell you about another fantastic feature of this product. Each of the 39 games has seven different playing levels for the players! It's just amazing!
Still, you are doing late to buy the dashing, the cutest Arachnid Cricket Pro 800 dartboard! Oh, Nooo! Just Goooo! Grab this awesome Dartboard as early as possible.
Some other pro features
» CPU Vs. Mode.
» Scoring and suggestion.
» Square hole technology.
» Super-tough nylon segments.
» Easy to read the scoreboard.
» Additional four traditional X/O display.
Don't know how to measure and set up a soft tip dart boards?
Read this guide:- Soft Tip Dart Board Measurements & Step By Step Set-Up Guide
Summary
Selecting a soft dartboard is not too much easy; you are making a hurry to buy one of them. And it is not too much difficulty you are going back without buying it from the market. All you need to know about the tricks and tips and the product reviews in detail.
So I think I have included all these things in my today's article. Do you think I have missed any essential facts?
Oh, thanks you don't think that!!
So this is all about on the best soft tip dart board reviews. I hope you have enjoyed my article. If you really like my today's article, please share it. Stay well; keep well. Thank you.