Looking for an electronic dartboard specifically for home use? Perfect! You're in the right place!
In this Dart Goals guide, you'll learn:
Top 9 best electronic dart board for home
How to choose the best one
Buying guide & common faqs

And much more!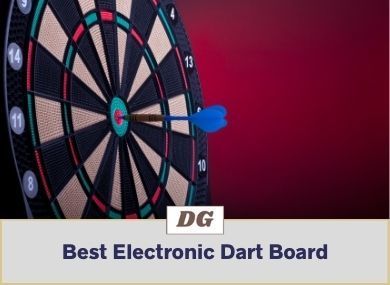 In A Hurry? Here Are Our Top Picks!
Image
Name
Details
Price
Arachnid Cricket Pro 800
●  LED score display.
● Tournament quality game board.
● Calculates the average point per dart.
Check Price
Gran Board 3s Bluetooth Dartboard
● Version UP model 3s.
● Excellent build quality.
● Stylish and easy installation.
Check Price
Viper 800 Dartboard
● Huge game option.
● Cyber player option.
● Very reasonable price.
Check Price
Arachnid Cricket Pro 650
● Voice prompt features.
● Bright & clear LED display.
● Ultra-thin spider segment dividers.
Check Price
Viper 777 Dartboard
● Easy to use button interface.
● Double-height cricket scoreboard.
● Track PPD (points per dart).
Check Price
Viper Neptune Cabinet
● Quick key shortcuts.
● Stylish color scheme.
● Large dart catchy ring.
Check Price
Reason to Buy an Electronic Dart Board
No injuries from errant throws.
Lightweight, stylish, and trendy.
Safer than a traditional dartboard.
Automatically track the scoring system.
Pre-programmed games with lovely sound effects.
The surface of an electronic dartboard doesn't get punctured.
Overall, Electronic Dart Board is user-friendly, great for children and beginners to make fun.
Best Electronic Dart Board For Home (Expert Picks)
Short on time? We understand. Check out this quick overview of our favorite home electronic dart board.
Arachnid Cricket Pro 800 Electronic Dartboard
Viper 800 Recreational Electronic Dartboard
Gran Board 3s LED Bluetooth Dartboard Set
Arachnid Cricket Pro 900 Talking Dartboard
Viper 797 Value Size Electronic Dartboard
Arachnid Cricket Pro 650 Electronic Dartboard
Viper by GLD Products 777 Sport Size Board
Viper Neptune Dartboard Cabinet Combo Pro
Fat Cat 727 Electronic Value Size Dartboard
Electronic Dart Board Reviews
Arachnid Cricket Pro 800 Electronic Dartboard with NylonTough Segments
Arachnid Cricket Pro 800 is the best electronic dart boards in the market. This dartboard has a lot of features and facilities. This high-quality dartboard is ready for the tournament, or you can play with your friends and family. Also, it has 15.5" with the classic black, red, and yellow target area.
Maximum scoring potential with square holes that guide dart tips into the board with highly responsive sensors. Nylon Tough Segments mostly improve durability and playability.
Read Also: What are the best soft tip dartboard?
Micro-thin segment dividers reduce bounce out a lot. Its improved player performance and fewer frustrating bounce-outs, also make the best playing experience.
Jumbo Score display is available for up to 8players and four players' scores display. It has 40 games with 179 variations, including seven cricket games. It has a heckler feature that makes the Cricket Pro 800 interactive by harassing players for bad throws and applauding impressive scores.
Read Also: What are the best online dart board?
Viper by GLD Products 800 Regulation Size Electronic Dartboard
Second, in the line of the electric dart board for home is Viper 800 electronic dart board. This dart gameboard is designed with a regulation-sized 15.5″ target face.
The Viper 800 is built to last with its durable, concave-holed segments constructed to stand up to years' worth of impact. A large catch ring surrounds the target face creating a 360-degree landing zone for any missed shots to protect your walls from any damage.
The board's ultra-thin spider allows for tighter shot groupings and a broader target surface area. This increases the ratio of landed shots and significantly reducing bounce-outs.
The 800 features an unbeatable LCD scoring display, big and bright enough to be seen from the throw line and beyond. Player's score per dart available in this model. Essential game stats and settings also up to 4 players numerical or Cricket symbol scores at a time you can see in this display.
The board even features scoring for unique Minnesota and Spanish Cricket, a rare find among the electric dartboards model.
The Viper 800 offers quick access to popular games and features like play Cricket, Count-Up, or 301 instantly with convenient shortcut buttons. The Options button displays difficulty settings and dart game variations. Easily adjust for errant throws by pressing bounce out, eliminating manual dart scorekeeping, or missed dart.
Read Also: What are the best dart board?
Cricket Pro 900 by Arachnid- Talking Electronic Dartboard
The Arachnid Cricket Pro 900 is the latest electric dartboard in the trending market. Arachnid is a well-known company in the dart-game industry.
They make their dartboards in the best way. Any other brand or company can't compete with them. Arachnid Cricket Pro 800 is the previous version of this dartboard. It is still best for a dart player. But when you want the latest and upgraded version of a dartboard, you should pick the Arachnid Cricket Pro 900.
New and improved arachnid cricket pro 900 Talking Dartboard, players will play like a genuine professional with all the game highlight accessible. This board offers the NylonTough sections, which give the solidness and improved playability by keeping up its structure through countless games.
It is designed with micro-thin segments that decrease the opportunity to bounce-outs and increase the scoring capability of the board.
Players have the forty-eight games (eight new) with 354 alternatives and a quick one-touch select of 301/cricket to enjoy. Ideal for Eight players with a four-player score display.
It also features a state-of-the-art voice prompt that declares the dart score. An upgraded voice record feature that is accessible for your use. This dartboard also has an optional 3 level Heckler, which makes this game board interactive by harassing players for fantastic scores and bad throws.
The board is also structured in tournament spider and in trademarked tournament colors to give light during the game. Choose between entirely different options when you play this game: Single in/out and double in/out. It also has a solo play option. Start a game right away with arachnid cricket pro 900.
Read Also: Best professional dart board.
GRAN BOARD 3s LED Bluetooth Dartboard with Special Bracket
If you need an app-driven dartboard, then this Gran Board 3s Bluetooth Electronic Dartboard is one of the best digital dartboards for you.
This dartboard is totally App driven. App runs on both Android and IOS. Fully English compatible App. The app includes player details, including averages, and saves information in an extensive worldwide database.
Quiet design for home darts play. Stylish and compact housing style that doesn't amplify the vibration. Each phase has foam items inserted to assist with sound management. It has a powerful Bluetooth 4.0 Smart Technology.
Low energy Bluetooth saves a lot of power. It allows long term play on just 2 AA batteries, though batteries aren't included. It is easy to install.
No worry of power outlet Player change button on board. You can use the app to change players. Power button switches on the side of the machine.
Communication starts as soon as you power on the machine and start App. Two-color LED on the front of the board to notify you when Bluetooth is connecting and when it is connected. Replacement parts are available for broken segments 22 1/4″ round x 2″ deep.
Viper 797 Electronic Dartboard, Quick Access To 301 And Countup From Button Interface
In the fifth place of the electric dart board for home is Viper 797 electronic dartboard. It is the top-rated electronic dart board under $100. Viper is a well-known brand name in the dart game industry because of its quality full electronic dartboard. They are making a lot of good electronic dartboard.
The Viper 797 electronic dartboard is another one of the top quality electric dart boards in the market. This board is designed with a regulation-sized 15.5" target face area.
It has a bright LCD, which gives a crisp, clear view of scoring and statistics. It's keeping up the manual score. Surrounding the target face is a massive missed dart catch ring that offers protection for your wall from errant throws.
This gameboard is built from tournament quality thermal resin segments, providing an exceptionally durable playing surface. Red, silver, and black color scheme showcases will enhance your gameplay.
Ultra-thin spider significantly reduces bounce outs rate, and this will give you the maximum score rate. The Viper 797 is intended to be used with soft tip darts and features 43 games with 240 variations. Up to 16player can play. So, no one needs to sit on the sideline. Single or double in/out option for cricket,01. Viper 797 is powered by an external power supply adapter (5V, 1000 mA), or you can use batteries. It also has a 1year limited warranty.
Arachnid Cricket Pro 650 Standing Electronic Dartboard
In the Sixth place of the electronic dartboard for the money is Arachnid Cricket Pro 650. Arachnid Cricket Pro 650 features a 15.5-inch regulation size target area for tournament-style play. Perfect electric dartboard for bars.
The classic red, black, and yellow of the dart target area are trademarked tournament colors. You may only get these types of classic designs from Arachnid. The Cricket Pro 650 includes 24 games with 132 variations (five cricket games).
Up to eight players can play at a time in this dartboard. Establish player handicaps, that's why beginner and advanced players can play competitively against each other easily. The computer calls out once it is the next player's turn to keep the game moving.
Exclusive NylonTough Segment offers outstanding durability. Maintaining its shape over time gives exceptional playability. NylonTough Segments are determined to play quieter than traditional materials.
Micro-Thin Segment Dividers increase the scoring potential of the dartboard. Because it is reducing the incidence of bounce-outs. Improved player performance and fewer frustrating bounce-outs rates. That's why cricket pro 650 offers the best playing experience.
Viper by GLD Products 777 Electronic Dartboard Sport Size Over 40 Games Auto-Scoring
Seventh in the line of electronic dartboard is Viper 777 Electric Dart Board and it is the top-selling electronic dart board under 100. The viper 777 is built to last with its durable, concave-holed segments designed to stand years' worth of impact. It is one of the best cheap electronic dartboards in the world.
A large catch ring surrounds the target face, which is creating a 360-degree landing zone for any missed shots and protect your walls from any damage. The board's ultra-thin spider allows for tighter shot groupings and a larger target surface area. It increases the ratio of landed shots and significantly reducing bounce-outs.
The viper 777 features a bright LCD that shows up to 2 players numerical scores or traditional Cricket XO symbol scores at once.
The viper 777 features ten handy buttons, which are customizing your perfect game a breeze. The quick Cricket shortcuts provide players to begin the classic game in an instant. It has a handicaps option. Also, it has a volume level and language option. There is a score correction button that allows players to keep score with precision.
Viper 777 has a handy games list to choose your favorite of 43 games with 320 options. Up to 8 players can play, and two players display at a time. Customizable handicap settings level the playing field for players with differing skill levels or add an extra challenge to the game.
Viper Neptune Electronic Dartboard Cabinet Combo Pro Size Over 55 Games
The eighth place in the line of top rated electronic dartboard for the money is Viper Neptune Electronic Dartboard. The Viper Neptune electronic dartboard is designed with 15.5″ target face area and a large 6 inches bright LCD, which delivers a crisp, clear view of the score.
It also created for expert readability from throw line and beyond. Each part of the display is labeled for comfortable gaming and first menu navigation.
The Neptune's target tested tough segments, and sturdy construction is built to last even the most extreme of games throughout the years. A large catch ring surrounds the target face creating a 360-degree landing zone for any missed shots and protect your walls from any damage.
The board's ultra-thin spider permits for tighter shot groupings and a larger surface target area. This increases the ratio of landed shots and greatly reducing the bounce-outs rate.
Viper Neptune electronic dartboard features 57 different games with 307 options and accommodates up to 16 players. The Viper Neptune offers quick access to popular games and features like American Cricket, Count-Up, or 301 instantly with convenient shortcut buttons you can play.
Fat Cat 727 Electronic Dartboard Over 15 Games and 132 Options Auto-Scoring
In the ninth place of the electronic dartboard is Fat Cat 727, which is the cheapest electronic dart board under 50. The Fat Cat 727 electronic dartboard features 13" target face area.
It has a missed dart catch ring. It offers 18 different games with 96 options. Fat cat 727 provides automatic voice feedback. Up to 8 players can play in fat cat 727. It has an LCD. Also, it has an automatic shut off option.
 Automatic voice feedback makes this dartboard special. It requires 3AA batteries.
Arachnid Inter-Active 3000 Recreational 13″ Electronic Dartboard
The last one in the list of electronic dartboard is Arachnid Inter-Active 3000. The Arachnid Inter-Active 3000 features regulation-sized 13-inch target area for recreational play. The red, black, and yellow of the target area are trademarked.
Tournament colors for a classic look that you can only get from Arachnid dartboard. Micro-thin segment dividers reduce the bounce out rate in arachnid Interactive 3000. NylonTaugh segments improve the durability and playability of this dartboard.
Excellent accuracy with highly responsive sensors. Twenty-four different games with 132 options (five cricket game). Arachnid Interactive offers up to eight players with two sets of tricolor cricket LED displays. Four-player score displays at a time and LED lights to make the entire screen easy to see at a distance.
How to Choose the Best Electronic Dart Board for Home?
You have already read the reviews above you found. Those are popular in the online market. In case you want to buy from regular stores, there are several factors to consider when you want to buy the best dart board. Here comes everything that you need to know about electronic dartboards before you are going to buy them.
Price
Electronic Dart Board can undoubtedly cost more than the traditional dartboard. There is a lot of electronic dartboard with tons of features, but they vary widely charge. An additional electronic dartboard is more expensive, to begin with.
For example, traditional dartboards cost between $35-$70. Basic non-electronic soft tip boards cost around $40 or less.
But electronic dartboards range in cost from $40-$500.I have found that the best dart board with plenty of features is a cost average of $150-$250.
This cost depends on many factors. The main factor is the mounting set up (cabinet with dart holders, A/C adaptor, arcade-style, etc.), added features (number of games, variations, sound effects, LED, scoring formats), brand name, accessories included (how many sets of soft tip darts are included and of what quality), and general condition of the board face.
Design
Electronic dartboards are available in all types of shapes, sizes as well as designs. A regular dartboard has a diameter of eighteen inches, and you may notice that almost all electronic dartboards are entirely about to this size.
The best thing regarding the design of an electronic gameboard is that you can throw a lot of darts in fast succession and still have your score counted for you. This will allow you to practice as much as possible without having any problem and you can try a bunch of adding in your head.
Especially when you are new to darts and don't know the rules of these sports, it is rather useful for something else to do the scoring for you so that you don't mess anything up.
Display
The display of electronic dartboard is a very important feature to look for. The first thing you should consider while buying a dartboard is the readability of the display. The second thing you should consider the size of the dartboards.
The size of the dartboards display doesn't much matter if the screen pixels are understandable. But if the understandability of the pixels of the screen is not clear, you shouldn't buy that dartboard. Most of the electronic dartboards have either LED or LCD electronic displays that show scores, players, and several other details.
When choosing the electronic dart board for your needs, consider that an LED is the preferable display type.
The LED display colors are more vibrant, making it easier for the players to read scores and game details from the 8-foot throwing distance.
Higher quality LED displays also change colors to differentiate scores, players, and other game details.
On the other hand, LCDs tend to be a bit duller and, therefore, harder to read. However, LCDs are usually adequate for most players.
Warranty
This is probably one of the most vital facts of an electronic dartboard that the dartboard can be pretty much impossible to repair if any damage occurs to it. You will notice that some dartboards offer things like manufacturer's warranty on defects, and you will find some manufacturers that give a full warranty that covers items such as broken darts or a cracked board. Frankly speaking, if a manufacturer is willing to put a warranty on their dartboard, it means that they have some kind of confidence in their product's overall quality, which is a decent sign.
Depth & Density
This is quite a necessary aspect that's not talked about enough – the density of a dartboard will greatly impact the quality. For example, the darts have trouble setting in and constantly "bounce out," problems probably lie in the low density of the board.
The density refers to something different in electronic dartboards, though. Since darts don't pierce them but stick into the pre-existing holes in the dartboard itself, the density of the holes is what matters. The more holes in the dartboard, the higher the chance that a dart will stick.
Size
The size of the target surface, along with the dimensions of the outer surface, is very important. You may notice completely different sizes on the market. The most common dartboards are 15.5″ target surfaced. However, you may get smaller and slightly larger ones too.
The priority should not be given to the size of the dart; instead, it should be given the place that you have at home or at a position for which you want the dartboard. The smaller dart boards are typically used by professionals; you may know that throwing on the small ones is difficult than on the larger ones.
Games
When making a comparison of electronic targets, one of the first aspects you should review is the number of games available, that is, the modalities it has. In the market there are models that have up to 40 games with 300 variants, others with an average of 20 games and 150 variants. Anyway, you will choose this according to your knowledge, if you are amateur, professional or you are simply entering the game of darts, but you have no idea how to play.
Among the most popular games that you must include the target you choose are Cricket, Master Out, Shanghai, Single Out, 501, Count Down 301 and others. Classics that should not be missing in any product you evaluate.
Bounce Out Effects
One of the most complaints with soft tip dartboards is that the bounce impact. Bounce outs are a common problem with soft tip dartboards.
So, if you're trying to find the top quality electronic dart board and aiming to play a lot, ensure the design includes a high-quality surface and micro-thin scoring separators.
You will need to throw a little harder. But using better soft tip darts, finding a dartboard with extra thin rings and a high-quality thermoplastic surface can reduce bounce-outs. It will also make the board quieter.
Bounce outs are annoying to a dart player. Electronic dartboard makers understand that they happen frequently compared to bristle boards.
That's why a bounce that hits the board firmly can still register a score on an electronic board, unlike a steel tip board, wherever a bounced dart would be out of play.
Brand
If you want to find a high-quality electronic dart board, you may consider a good brand to start. Popular brand names of electronic dartboards are Arachnid 360, Viper, Franklin Sports, Win Max, Viper by GLD Products, etc.
Many consumers familiar with Arachnid 360 because they are one of the original and classical brands names in the dartboard companies. Arachnid company started making electronic dartboards back in 1975.
Viper by GLD Products is a well-known brand in the electronic dartboard market. Their product quality is very good. Many consumers are satisfied with their service.
Franklin Sports is another well-known brand in the dartboard market. They not only produce dartboard but also produce Billiards all products, Game Table (Air Hockey Tables, Foosball Tables, Table Tennis), Home Casino, etc.
Regulation
Especially if you desire to play in darts on a professional level, it is maybe a decent idea to look for an electronic dartboard that follows your regulations within the space that you play.
Things to look for include the size of the board, the type of darts, and what kind of area you need in your household to practice the same as you would be throwing during a real game.
Keep in mind that the majority of dartboards used in competition are not the same as your dartboard at home. However, it is not hard to find something close that.
Versatility
The common issue you'll notice in every electric dartboard is that of a variety of games. This variety option gives different kinds of games with one dartboard is something fancy about it for sure. Completely different models offer a different number of games. Try to purchase one with the most numbers, but it's ok if that prices a fortune for that.
Power Source
You must know that electronic dartboards need electricity. Sorry for this obvious point, but that can be an important factor when you decide on how and where to mount your dartboard.
Some electronic dartboard sets rely on AC power, while other dartboards are battery-powered. Either AC or battery can power certain boards. If the board is AC, make sure the adapter is included with your purchase; otherwise, you have to buy.
If you can easily mount the board near a power outlet, then AC powered dartboard will be okay. The power supply will be reliable, and the colors will be vibrant and spirited. If not, look for a battery-powered dartboard with long battery life. It will be okay for you. Or you can try one that has both power options available.
Sound Effects
Do you wish your dartboard to come with a peanut gallery? Don't worry; several electronic dartboards include some type of sound effects to cheer you on and 'heckler' options to put you down once you throw a bad dart.
These voice options will boost the entertainment value; some people notice it fun and amusing.
Others suppose the 'heckler' could be a slightly annoying feature, especially if the voice or sound effect is just too loud and becomes a distraction.
If you will turn it down or off, it's typically not a giant deal. Also, many electronic dartboards come with a feature that lets users turn off the volume on all the sound effects once in all together.
Electronic Component
It may be difficult to find out just by reading a product description; dart boards do have a variety of ways that they incorporate the electronic aspect. You'll realize some dartboards that say your score out loud, while you will recognize other dartboards that just have an electric counter on them to process the score. It is important to understand that these dartboards do require some kind of a power source (usually a battery/AC) and that if something were to go wrong with the electronic end of the board, it would be difficult to repair.
Accommodation of players
Different models have a unique variety of players' accommodation. You may find some with Eight players playing at a time, and some may provide Sixteen players accommodation. It might increase concerning the model and price. If you are looking forward to taking part in it with a group of friends or family, then you should buy one regarding that and should choose the number based on the one you need.
Before purchasing your electronic dartboard, always remember to check things such as return policy and manufacturer's warranty and make sure that you trust the company or individual that you are buying from.
How to Hang an Electronic Dartboard? Height and Distance
The electronic target guarantees you endless hours of entertainment with friends, with family or alone. Its numerous benefits for health and for the development of coordination or concentration are innumerable. It is a sport that anyone can practice and that, unlike others, does not have a high cost. In this case, we will be very practical so you can start practicing your runs right now with your new electronic target. We explain how to hang the target and how to place the firing line.
Electronic Dartboard Distance
The regulatory distance is 1.7 meters from the ground vertically. Mark the exact point with a pencil and do not forget to center the target correctly.
On the back of the target, stick a hook after finding the center – it is possible to do it by measuring the radius although some already have it marked -.
Next, you will see that in all electronic targets there is a hole to hang them. If you are faced with an exception, you can always opt for the typical string to hook it or with glue.
The shooting distance of your electronic dartboard in 3 easy steps:
1. Establish a place with little traffic
It is recommended that the target is always in the same place. Especially for a matter of comfort. Choose a corner of the house where there is not much traffic of people (in the basement or on a wall opposite the entrance door to the room).
2. Measure the regulatory firing line
To better set this distance, we recommend that, from the ground and under the electronic target, measure the distance and mark the place. It is usually done with a black ribbon.
3. Mark two lines and join them
If you want your electronic target to look more professional, measure straight from both edges (left and right) to the ground. Make two parallel marks. Now make two marks at 2.37m (you can be guided by the marks that delimit the ends of the board) and join them together. You already have your shooting line!
How to Play the Electronic Darts Games?
There are several variants and options of the dart game, the most common of which are "501", "301".
501
For 501 which is the most common form, each player starts with 501 points and must score points as quickly as possible. Each thrower throws his darts in groups of 3 and the score obtained will be deducted from the total initial score. The first player to reach 0 will have won. However, it must not exceed 0, otherwise, the entire series of 3 will be canceled.
301
For 301, the rules of the game are the same as for 501, but with an initial score of 301 points for the players. Cricket consists of pointing to the numbers 15 16 17 18 18 19 20 and the bubble. Each player will take turns throwing a volley of three arrows. Your goal is to reach 3 times each of these numbers in any order to "close" them. The winner is the one who first closed all their numbers.
Summary
Buying yourself the electronic dartboard is not an easy thing to do. Now your what is the best electronic dart board for home use available in the market question got the answer. Am I right?
There are so many electronic dartboards in the world. But I hope I made everything clear that will need to know before buying a dartboard. Those are my recommendations for the electronic dart board that you can buy. I make sure to keep adding more boards if I ever see a worthy new electronic dartboard.