Looking for the best professional dart board? Perfect! You're in the right place!
In this Dart Goals guide, you'll learn:
Different types of dartboard

Top 7 professional dartboards
How to choose the best one
And much more!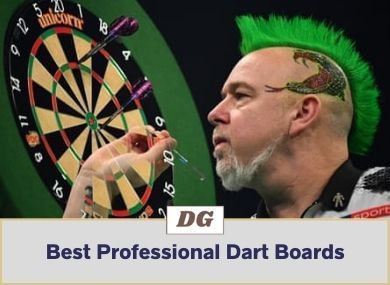 Quick Comparison
Image
Product
Top Features
Price
Unicorn Eclipse Pro Bristle Dartboard
» Greater target area
» Ultra-thin segmentation
» High quality and long-lasting
» Equipped with faster holes heal
Check Price
Winmau Blade 5 Dual Core Bristle Dartboard
» Comes with easy accessibility
» Durable with increased strength
» Ensures fewer bounce-outs and high scoring
» Comfortable and perfect leveling
Check Price
Viper Shot King Bristle Dartboard
» Good for tournament practicing
» Allows you to rotate the board as per your need
» Built with high-quality materials which ensure durability
» Features accommodations for both soft tips and hard tips darts
Check Price
Viper League Pro Dartboard
» Colorful and sturdy board
» Comes with an entirely healing feature
» Promises comparatively less bounce-outs
» Affordable and comes jam-packed with a full set of dart game
Check Price
TG Champion Tournament Bristle Dartboard
» Requires no assembly
» Offers less bounce-outs
» Rigorous quality material
» Built with self-healing sisal fibers
Check Price
Viper Razorback Bristle Dartboard
» Sturdy and durable
» Offers fewer bounce-outs
» The overall design is sharp-looking
» Well manufactured with quality materials
Check Price
Viper Aim 360 Sisal Dartboard
» Rotating number ring
» Self-healing and reduces bounce-outs
» Equipped with tournament dimensions
» Emphasized with all kind of training tools
Check Price
Our Overall #1 Rated Pick
Are you a bit light thrower? Or, are you failed to get your darts to stick to the board easily? Then the Unicorn Eclipse Pro Bristle Dartboard is what you need. Generally, in professional games, experts use Eclipse level dartboards.
This championship-standard bristle dartboard offers a great game to you. The Eclipse Pro from Unicorn dartboards comprises PDC and champions endorsements across the world. It comes with a design that makes averages as high as possible.
The Unicorn high-tech wiring method, ultra-thin segment method- all these maximize your game-play.  The increased target area of this dartboard results in construction free of staple, mostly in doubles as well as trebles segments.
Unlike in other dartboards, you would find that color quality is low. Trust me, while saying that this dartboard has clean and beautiful and perfectly dispersed colors. The surface of the Unicorn Eclipse Pro is softer, which is accurate for the light throwers.
Best Professional Dart Board List (Expert Picks)
Short on time? We understand. Check out this quick overview of our favorite professional dartboards.
Unicorn Eclipse Pro Professional Dart Board
Winmau Blade 5 Dual Core Bristle Dartboard
Viper Shot King Professional Bristle Dartboard
Viper League Pro Bristle Steel Tip Dartboard
TG Champion Tournament Bristle Dartboard
Viper Razorback Official Competition Dartboard
Viper Aim 360 Tournament Sisal Dartboard
Buying Consideration
The most social, exciting game darts that offer fun to play with children or even to play a competitive game at bars with your friends. When the thing is about choosing the perfect dart shafts, it can be mind-blogging as there are so many varieties within their length, weight, and materials.
The beginners start with the most facilely available at their nearest bars. But, gradually, as per your throwing style, the dartboard gets change within one year.
Read Also: What are the best electronic dart board?
On the other hand, the professional or experienced dart throwers need high-quality dartboard for better performance. There are so many varieties of dartboards of different materials with particular shapes to fit your style.
Choosing the right kind of dartboard depends on the combination of your experience, construction, and streamlined features. You should go through a few buying reviews before deciding which one is for you.
Professional Dart Board Reviews
Winmau Blade 5 – Top Notch Professional Dart Board
With the endorsement from the British Darts Organization, the Winmau Blade 5 Bristle dartboard is the perfect choice for fewer bounce-outs and high scoring.
This professional dartboard consists of the greater scoring area, which contains a wiring system 14% thinner compared to the previous generation. It results in higher scoring.
The design of the Winmau dartboard follows the reduction of razor wire angle of 30-degree, which brings on better dart deflection and fewer bounce-outs.
The UTS (Ultimate Tensile Strength) of the dynamic sector ensures dart points gone by in time in a smooth motion. For this product, this increases by up to 20%.
Read Also: Best soft dartboard buying guide.
It comes with the Rota-Lock advantage, which provides- secure setting up and rotating, perfect leveling, and locking position for zero-movement of this dartboard to any surface virtually.
The bullseye ring of this amazing dartboard consists of Carbon Diffusion technology. The 20% stronger steel of the scoring area offers incredible durability.  The Winmau Bristle dartboard is a related product, which is taking the dartboard technology to the next level. 
Read Also: What are the best online bluetooth dart board?
Viper Shot King – Low Priced Professional Dart Board
The Viper Shot King Regulation Bristle Steel Tip dartboard is an executive tournament size board that measures 18-inch diameter and 1.5-inch depth.
This pro dartboard features metal radial spider wire, high-quality compressed sisal board equipped with rotating number ring, and staple-free Bullseye. The thin metal radial spider wire allows you to land all your shots perfectly.
While targeting for the Bullseye, it slides down the dart tips by proceeding towards inside through the 360-degree radial wire sphere shape. The compressed sisal fibers board ensures unsurpassed durability.
And, the removal number ring extends the lifetime of the board as you can rotate it. The staple-free, tightly compressed fiber Bullseye increases your score by reducing bounce outs. 
It also includes 6nos steel tip darts though there is sufficient place for both soft tip and hard tip darts on the dartboard. 
Read Also: Top-rated dart board reviews.
Viper League Pro – Professional Steel Tip Dart Board
For professional dart players, Viper brings another proficient dartboard- Viper League Pro. It boasts a staple-free bullseye that increases surface targeting amount and reduces the possibility of shot-deflecting off the board.
As being comprised of high-density sisal bristle fibers, it becomes a sturdy and durable dartboard. Comparing to any other dartboards, it has more life endurance.
The tightly-compacted fiber is in substance, which helps it to grasp the dart securely as the shot lands. At the same time, it reduces the rate f bounce-outs. And, it automatically expands when you remove the dirt tip.
The rotating low-glare number ring helps to extend the board's life, as one player can rotate the board and let other segments to heal. You can play all the favorite darts in one game as it offers cross-platform for both soft and steel tip darts.
TG Champion – Cheapest Professional Dart Board
The TG Champion Tournament Bristle dartboard effortlessly fits into your game room. As being crafted out of high-quality materials, this premium tournament-sized dartboard is suitable for both adults and kids.
This dartboard brings a full package of entertainment for your friends and family by creating funny memories to cherish for a lifetime. Staple-free Bullseye, thin wire spider, Self-healing sisal fibers- these features make it supreme.
The self-healing effect from sisal fiber construction, this dartboard, offer longevity. This cross-capital dartboard accommodates both soft and steel tip dartboards.
It follows an executive tournament standard design, which features 18-inch in diameter and 1.75-inch full frame. This measurement is as same as those dartboards used in professional or tournament games.
For accurate competition and excitement, it features ultra-slim spider wire resulting in fewer bounce-outs. For achieving excellent scoring, this dartboard comes with a staple-free bullseye. The TG Bristle dartboard provides absolute satisfaction to the consumers and more coverage on target scoring.
Read Also: What are the best outdoor dartboard?
Viper Razorback – Premium Steel Tip Professional Dart Board
For both enthusiasts and casual players, we bring the Viper Razorback Official Competition Bristle Steel Tip dartboard. It is another superb steel tip dartboard featuring sisal bristle fibers, staple-free Bullseye, and thin razor spider wire, rotating number ring, and premium grade self-healing sisal board.
This dartboard provides better durability due to self-healing sisal bristle fiber construction. By increasing the surface area, the staple-free spider wires help t prevent bounce-outs.
 This tournament board measures 18-inch in diameter and 1.5-inch in depth. Just because the rotating numbers ring, the longevity extends of this dartboard.
This product allows both soft tips as well as a steel tip. And, also it includes mounting hardware. The Viper Razorback dartboard is the best choice if you love to play dart.
For making most out of your free time and thoroughly enjoying the game, you can try this official competition bristle dartboard.
Viper AIM 360 – Professional Tournament Dart Board
At the last of our list, there is another professional dartboard that also comes in your budget range.  Its design suits your practice for any competition.
The Viper AIM 360 comprises the same dimensions as any other executive dartboards.  It features rotating target circles, aiming mark, staple-free Bullseye, and movable number ring.
The self-healing high-quality compressed sisal fiber offers you tournament quality dartboard. This board has got a new look with the high-resolution diamond markers giving laser focus to you on hard-to-reach segments.
For years after years, the Viper AIM 360 dartboards would provide you high performance with pure entertainment.
Buying Guideline for the Best Professional Dart Board
The dart game came around 700 years ago. From then to the present scenario, the popularity of this game is just increasing day by day. Today it is the most popular social game that you can play with your family, friends, colleagues, or even just yourself.
Both young and older adults enjoy this exciting game. Holding championship or tournament on dart game is today's common trend.
No matter, what is the reason that you are about to purchase a dartboard. Maybe for your hobby or any official tournament purpose; family fun time or championship game; you need the best dartboard for better performance and achieve the top score. But, there are several common issues that one should follow while buying a dartboard.
Type
Bristle or electronic dartboard- these are the two usually accessible types of dartboards. Typically, for any tournament or professional players, bristle dartboard is the perfect one.
With this type of dartboard, you have to use steep dip darts. While an electronic dartboard allows access to soft tip darts, so, go for the one that reliant on your condition.
Surface
Make sure that the dartboard you are about to purchase comes with an excellent playing surface. To increase your scoring potential, you need to have a fine parallel surface.
Construction Materials
Though dartboards made from different materials are available, you should go with sisal fiber. The main reasons to choose this are- compressed with self-healing, promoting durability as well as longevity.
Accessible
Versatility- is the main reason that makes this game so accessible. Starting from Cricket to Loper, Half-IT, and more other games, you can play with it. Today it is the most popular social game that you can play with your family, friends, colleagues, or even just yourself. Both young and older adults enjoy this exciting game. Holding championship or tournament on dart game is today's common trend.
Professional Dart Board (FAQs)
Question: How extended is the longevity of a dartboard on average?
Answer: Depending on how long you are playing dart game, the range of longevity varies. For example, if you play dart casually, then the dartboard will endure for 4 to 5 years.
On the other hand, for an enthusiast player, who plays every day for a minimum of 45 to 60 minutes, then the longevity of the dartboard would be a maximum of 2 years.
Question: How can I hang my steel tip dartboard?
Answer: At first, take a height measure of 1.73-meter from the floor up to the center of the dartboard bullseye. And, now take another action simply equal 2.37-meter distance from the front side of the dartboard towards the toe line.
Now, with great care, hang up the steel dartboard on your wall. The necessary measurements come with the product.
Question: How to set up my dart-board?
Answer: Well, it is quite simple. If you are playing for just pleasure, then simply hang it wherever you want. Do not bother about the measurement.
But, for pro playing, you need to follow the professional manual.
Question: What can I put to protect the wall behind the dartboard?
Answer: You have two options for this problem- you can make your wall-protector for the wall and place it behind the dartboard.
Or otherwise, there are wall-protector available in the market. 
Summary
So, through this review content, our focus point was the best professional dart board. The professional dartboard will help you to give a high-level performance for your dart games, whether you are playing seriously for any professional tournament or casual party games with your friends and family.
You may find so many options in the market, but choosing from there the appropriate one for you is kind of a headache. We hope that now it is easy for you with the seven best dartboards. You can give a try to all of them until you find out your type of configuration.