Looking for the best outdoor dartboard? Perfect! You're in the right place!
In this Dart Goals guide, you'll learn:
Different types of outdoor dartboard

Top 9 outdoor dartboard
How to choose the best one
And much more!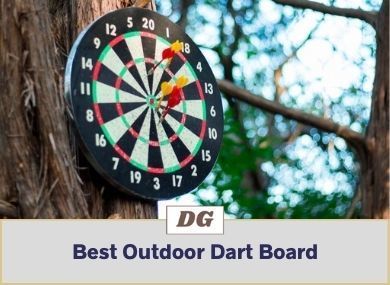 Quick Comparison
Image
Product
Top Features
Price
Winmau Dual Core Outdoor Bristle Dartboard
» Easy to install and rotate
» Quicker self-healing power
» Ensures fewer bounce-outs
» Symmetrical board with a parallel design
Check Price
Unicorn Eclipse Pro Outdoor Professional Dartboard
» Exaggerated averages
» Staple free construction
» High technology wiring system
» Suitable for professional gaming
Check Price
AT DAWN Outdoor Soft Tip Dartboard
» A good option of a gift for kids
» Build with high-quality material
» Easy to install and place anywhere
» Safer dartboard compare to others
Check Price
Esjay Outdoor Magnetic Dart Board
» Ensures great balance
» Easy to install and place
» High-quality and sturdy
» Provides double-sided games option
Check Price
Rabosky Outdoor Rolled Up Magnetic Dart Board
» Easy to roll up
» Comes with a total of 12 darts
» Features double-sided board to play
» The best option as a gift for 5-16 age-old boys
Check Price
Our Overall #1 Rated Pick
Winmau Dual-Core Dart Board is one of the world's most advanced dartboards for experienced players, which comes with an endorsement of the British Darts Organization (BDO). Due to its Dual Core technology, you can experience top-class durability and darts with less-lost facilities. It is the best outdoor dartboard for pro players.
Compare to Winmau's previous model Blade-4, this one comes with a wiring system that comprises 14% thinner increased scoring area. As a result, you experience fewer bounce-outs. This dartboard brings on better dart deflection just for you with a 30-degree, less razor wire angle.
The Winmau bristle dartboard consists of a Triple wheel lock and level system. This feature gives you easy installation and rotation, excellent leveling on all kinds of surface, and zero movements locked position. At outside, the Dual Core technology helps to reduce surface resistance, which increases successful point penetration.
On, at the finer core, it is more durable due to higher compression, which increases strength. The Winmau Blade 5 is one of the pinnacles of dartboard invention and technology. If you have pre-experience of playing darts and so passionate about playing this, the Winmau Blade 5 bristle dartboard can be your ideal companion.
Read Also: Best soft dartboard review.
Best Outdoor Dart Board List (Expert Picks)
Short on time? We understand. Check out this quick overview of our favorite outdoor dart board.
Winmau Blade 5 Dual Core Outdoor Dartboard
Unicorn Eclipse Pro Dartboard For Outdoor Fun
ATDAWN 16.4 Inch Safety Dart Board Game Set
Esjay 18 inch Outdoor Magnetic Dart Board Set
Rabosky Rolled Up Magnetic Outdoor Dart Board
CX L SUM Magnetic Indoor Outdoor Dart Games
Viper Double Play 2-in-1 Baseball Dartboard
GSE Games Professional Regulation Size Dartboard
Playing darts is always fun. But, playing it outside is even more fun. We don't want you to miss this entertainment. So, after going through several kinds of research and studies, we bring you the top outdoor dartboards.
Read Also: Best electronic dart board for home.
While selecting the product, we considered several things. For example, which material would be ideal, can you install it outside, is it kid-friendly, etc. All our selected products in this article come with an overall value that you would like to have in your portable dartboard.
Outdoor Dartboard Reviews
Unicorn Eclipse Pro – Best Outdoor Professional Dartboard
Another big name in the world of darts is the Unicorn Eclipse Pro Bristle dartboard. This board is a championship quality product equipped with all the world champions endorsement features. Did you know that this is the one dartboard that PDC chooses year after year for all kinds of televised tournaments?
This Eclipse Pro provides you with an extraordinary professional gaming performance for any competition. This dartboard comes with a standard design of Unicorn high technology wiring that exaggerates averages.
Endorsed with the PDC and ultra-slim segmentation system, you can achieve maximum gaming goals. There is more. For doubles and trebles, this board provides an enlarged target area. You get all the vital advantages of playing darts with this board.
AT DAWN – Best Outdoor Soft Tip Dartboard
What about a dartboard that goes with any age as well as skill level? The AtDawn Safety dartboard game set allows you to enjoy anywhere with everyone. This outdoor fun comes along with so many health benefits. The AtDawn includes eight soft darts.
You can relax about the safety issues regarding traditional sharp-darts as this set of dartboard eliminates sharp dart point related danger. It brings more safety and more fun for the kids and teen girls and boys. Parties, offices, community centers, homes, game rooms, man caves- in short, any kind of indoor and outdoor event, the AtDawn dartboard set is a great option.
Moreover, this can be an excellent gift on Christmas day, Birthday, Children's day for kids aged over six years. Practicing the Atdawn dartboard game helps to improve your social skill and concentration power. It is so worthy of having this high-quality dartboard that allows you to spend time with your family and friends in a beautiful way.
Esjay – Best Outdoor Magnetic Dart Board
With a target to meet up all the different needs of kids as well as adults, the Esjay magnetic dartboard is another excellent choice. This darts game set is an innovative double-sided magnetic item. It is a two-in-one game set on the front of a classic dartboard, and on the other hand, it is a unique spin-around kid darts game.
With colorful graphics, this board is designed as per the size of the international standard. Being more substantial than other dartboards, it offers you great balance. As it is manufactured with high-quality materials, this board is sturdy enough. With this product, you will get a total of 12 darts, including six extra safe darts. So, both the parents and children can join in the dart game for spending quality time together.
Read Also: What are the best magnetic dart board?
Rabosky – Best Outdoor Rolled Up Magnetic Dart Board
As a parent, you must want to give your children the same fun as the real darts while being conscious of the safety issue. Then the Rabosky Magnetic dartboard is the perfect choice for you. It is entertaining as people of all ages can join.
Equipped with the same characteristics as the classic dartboard, this dartboard is safer than the traditional ones. This dartboard doesn't include any needle part. The top-end of the flexible cloth-covered dartboard combines rubber to steel and velvet.
It is an excellent alternative to a regular dartboard that comes with an eye-catching design. For those sitting for a long time in front of the television screen, this dartboard provides relief for eye fatigue.
Read Also: Top-rated dart board reviews.
Buying Guideline for the Outdoor Dart Board
It is not all time mandatory to play darts indoors, while you can also enjoy it around outside. For that, you should select a game set of darts that comes up with great portability, excellent quality, versatility, and durability. Assume that you are going to place the dartboard in your yard or somewhere else outside, but due to ecology scenario or bad weather, it can get hastily smashed.
This is why, before purchasing a portable outdoor dartboard, think about all together with a combined character that is dependable, portable, and hard-wearing, entertaining, and long-lasting. But how would you find the ideal one among so many options? Let's check out which points to consider before buying-
Material
It is one of the most important features to focus as some materials used in manufacturing the dartboard are resistant to rain as well as dampness. For example, the stringy exterior of a bristle dartboard allows slackening from humidness.
Read Also: Best professional dart board reviews.
Using wood in the boundary will cause producing mold. Metal gears form into corrosion. So, you should go for a dartboard that doesn't destroy or create mold. A rubber dartboard can be a good option as this is moisture-resistant and doesn't form rust.
Portability
An outdoor dartboard should be lightweight. So that you can quickly move, place, or hang it wherever you want to. Additionally, it should have a ring or hanging slot at the top of the dartboard. This feature would make the dartboard more convenient to play outdoors. If you are buying a magnetic dartboard, make sure it consists of a rolling-unrolling facility so that you can carry the dartboard easily.
Inbuilt or Attached Scoreboard
It is a hassle to note down scores on a notebook one by one while playing outside. So, to ultimately enjoy the fun, choose the one that comes with an inbuilt or side-attached scoreboard.
Nevertheless, the place you take it, the screen will keep the tracking of scores. Some scoreboards are folded behind the board, and sometimes they are attached to the sides.
Safety Issue
Regarding outdoor dartboard, choose the one that is kid-friendly and all-around safe to use. Moreover, hang it on such a height distance so that no children can touch the game set. While buying a dartboard, you can select the safer features in it available in the market.
For example, magnetic and electronic dartboards offer soft-tip darts. Though they are comparatively safe than darts with a steel tip, they are susceptible to dampness. 
Sides-attached Cabinets
This is another convenient feature that you should look for while buying bristle or fiber dartboards for playing outside. This will help the board to carry easily and stand still wherever you take it.
Outdoor Playing Standard Rule
There are specific standard rules for line marking at the right distance for dart throwing and height adjustment. You should follow them while playing darts outdoor.
For example, for 18″ bristle dartboards, you need to have a place outdoor where you can adjust the dartboard at 5″8′-height with 7″9 1/4′ distance for throwing darts. One should maintain the official measurements of portable dartboards.
FAQs
Question: How to set up a portal dartboard?
Answer: While setting up a dartboard outside, you should follow the correct measurements. Hang the dartboard on a wall or tree at a height of 5 feet and 8 inches. And, mark a throwing line with a distance of 8 feet for soft tip darts and 7 feet and nine ¼ inches for steel tip darts.
Question: Can I take my outdoor dartboard into direct sunlight?
Answer: Generally, you shouldn't place your outdoor dartboard in direct sunlight. Direct long-time exposure to sunlight can fade the color of the board and harm the sisal fibers' integrity.
Question: Are outdoor dartboards waterproof?
Answer: Well, unfortunately, no dartboards are waterproof. As humidity or water is harmful to every kind of dartboard, you should be careful about playing it outdoor.
Question: Can I hang my dartboard on a wall?
Answer: If you want to hang it on a wall, you should mount it on a wall beam. Along with the beam 68-inches up, measure the wall from the floor.
Question:  How to hang a dartboard on a door?
Answer: Hanging a dartboard on the door is one of the standard ways. You will find several metal plates around the edge and a center screw placed on the dartboard.
Final Verdict
Among hundreds of different games, dart game is a high-recommended game that you can play with anyone both indoor and outdoor. While planning for playing outside, you should make sure to invest in the right dartboard. Or else you wouldn't be able to enjoy it at the fullest.
Although you will find many different models and brands of dartboards in the market, this article will help you to choose the best outdoor dartboard that suits your purpose. But, you should also keep in mind the safety issues. Hence kids and adults both might join the game for fun. Follow all the rules and proper system of this game and enjoy the pleasure of playing darts outdoor.