Looking for the best electronic dart scoreboard? Perfect! You're in the right place!
In this Dart Goals guide, you'll learn:
Different types of scoreboard
Top 7 electronic dart scoreboard
How to choose the best one

And much more!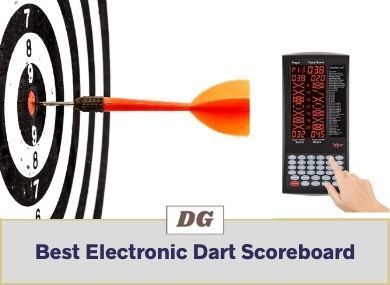 In A Hurry? Here Are Top Picks!
Image
Product
Top Features
Price
1. Arachnid Touch Pad Dart Scoreboard
» 4-slot LED shows game scores.
» Scores for up to 24 game types.
» Automatically calculates scores.
» Calculates scores for up to 8 players.
» Works with traditional bristle boards.
Check Price
2. Viper ProScore Digital Dart Scorer
» Backlit LCD monitor.
» Auto-off mode and a sleep mode.
» Viper ProScore is battery operated.
» 40 games to choose from and 655 game options.
Check Price
3. Winmau Ton Professional Electronic Darts Scorer
» Generates winners.
» Portable or wall mounted.
» Registers all 101-1001 games.
» Gives possible dart finishes-outshots.
Check Price
4. Viper DigiScore Digital Dart Scorer
» Custom handicaps.
» Large LCD monitor.
» Works with steel tip dartboards.
» 40 games to choose from and 655 game options.
» Designed with an auto-off mode and a sleep mode.
Check Price
5. Arachnid LCD Electronic Touch Pad Dart Scorer
» 1-slot LCD shows game scores.
» Voice prompts for next player.
» Scores for up to 18 game types.
» Player rankings, and sleep mode.
» Runs on AC power or 3 AA batteries.
» Works with traditional bristle boards.
Check Price
6. BSN Multisport Indoor Tabletop Scoreboard
» Clock adjustments.
» Keeps score to 199.
» Back display for controls.
» Wireless remote for scoring.
» Includes period, bonus, team fouls and possession indicators.
Check Price
Our Overall #1 Rated Pick
Integrating the fun of dart playing on a bristle board along with the scoring functionality with this Arachnid touch pad dart scorer. It is one of the best dart scoreboard on the market right now. By simply touching the part where your dart hits, this device starts calculating the score automatically.
You get with this touchpad scorer 24 included game types including Count Down, Count Up, Round the Clock, 301 League, All Fives, Shoot Out, Hi-Score, Big 6, Shanghai, and many more.
Due to the LED display, this scorer offers you slots for maximum 4-players. And, it is also able to rotate score for the highest eight players. You will also love its versatile features such as solo play, and voice prompts for next coming player, single and doubles in/out functions, player ranking, a player handicap, and sleep mode as well.
Additionally, you can operate this scorer on either four AA batteries or AC power. This 18 x 18 x 1.25 inches dart scorer does a pretty good job and a great addition to your game room.
Best Electronic Dart Scoreboard List
Arachnid Touch Pad Electronic Dart Scoreboard
Viper ProScore Digital Electronic Dart Scorer
Winmau Professional Electronic Darts Scorer
Viper DigiScore Electronic Digital Dart Scorer
Arachnid LCD Electronic Touch Pad Dart Scorer
PerfectDarts Elite Professional Scoreboard
BSN Multisport Indoor Tabletop Scoreboard
You may be playing with too many players, which makes keeping score tracked quite challenged. You can skip this tricky, challenging, and difficult part and amplify your game with the electronic dart scoreboard.
Electronic Dart Scoreboard Reviews
Viper ProScore Digital Dart Scorer
Do you want exciting games all-in-one electronic dartboard? The Viper ProScore digital dart scorer makes all of them available for you on steel-tip dartboards. This custom dart scoreboard features 40 games along with more than 600 options and allows a maximum of 8 players. This scoreboard allows you custom handicap functionality. 
You can see clearly and easily from the throw line the backlit LCD large monitor. This e-scorer helps you to save its battery power with auto-off mode as well as sleep mode. You can take this 5″ by 1.5″ by 10.25-inch ProScore Nowhere as it runs with 3 AA batteries. You can enhance the level of your darting skill, sharpen your abilities, and practice your throw by challenging the computer.
Read Also: What are the best dartboard lights?
Winmau Ton Machine – Professional Electronic Dart Scorer
Are you searching for a scoreboard that comes from the top players' practice room? Then you can check on the Winmau Ton Machine Professional Electronic darts scorer. This latest e-scorer from Winmau offers you quality and refinement that you are looking into any electronic gadget.
Ease of use and simplicity- with these two visions, Winmau Ton Machine completes brilliantly your darts set up. Mark Webster, Mervyn King, and Simon Whitlock- top players of Winmau have this scoreboard in their game room. Featuring legs as well as setting scores, its display works just fine.
Including an average button showing the average based upon per legs played and per dart thrown, this board includes all registered 101/1001 games. You get to know the possible dart outshoots or finishes with the practice mode. You can take it wherever you want or mount it on the wall.
Read Also: What are the best dart cases?
Viper DigiScore – Digital Dart Scoreboard
Forget about those messy ways to keep track of scores, just enjoy the fun with the Viper DigiScore Digital dart scorer. You can now relax with the convenient handheld function or easily hang out of the box from GLD. You get error-free and accurate scoring with the trouble-free control panel. As it runs on batteries, there is no extra wiring in view.
So, your wall looks clutter-free and clean. You can see the LCD monitor even from the throw line. The main features of this scoreboard are 655 game options, 40 games to choose with a maximum of 8 players, and custom handicaps setting.
This custom dart scoreboard comes with an auto-off and sleeps mode design, which results in saving battery power. You get to experience a comfortable and clear operation with the soft keypad.
Read Also: What are the best dart mats?
Arachnid LCD – Electronic Dart Scoreboard
Last but not the least- Arachnid LCD electronic touchpad dart scorer is something special that you should have in your basement rec room. It combines the excitement of dart playing on a traditional bristle board along with the simple scoring functionality of a digital scoreboard.
You get an automatic calculation of your score as you touch the part where the dart hi. Included with more than 18 game types, this Cricket dart scoreboard can rotate the scoring display for the highest 8-players.
It brings good news for dart fans. You get extra features like four cricket games, single in/out and double in/out functions, player rankings, voice prompts for calling the next player, and sleep mode. This dart scoreboard can be operated on either batteries or AC power.
It is an excellent choice for the modern dart-lovers who enjoys the passion of dart playing. This is one of the great models that worth your money.
Read Also: What are the best dart backboard?
BSN Multisport – Best Indoor/Outdoor Tabletop Scoreboard
Are you looking for a time and score tracker for recreational or competitive games? Then you can try this multisport indoor tabletop scoreboard from BSN. When there comes twist at the last moment of a game, players and coaches need to be cleared about certain things.
For example, whether the play would be foul or not, what is the calculation of remaining timeouts, and of course, what the score is. You get essential information on all these at a glance with this scorer's face. It comes with an ideal design suitable for indoor sports, including volleyball, basketball, and wrestling.
You can set a program with four frequencies by users for operating multiple units independently. Whether the scorekeepers or the officials, both can start and stop the clock quickly. With the help of the wireless remote adding points to this digital dart, the scoreboard is also very convenient.
You may ask why you should buy this one? We can give several reasons to purchase this product, such as easy to read numbers, multiple sports, wireless remote control, versatility, and suitable for indoor use.
You can see digital period, possession, bonus, 4.25-inches score, 4.75-inch indicators, and team foul on the LED scorer display. You can also use this Escorer as a program timer, stopwatch, and alarm during practice, or metronome.
Read Also: What are the best dart board cabinet set?
Buying Guideline for the Electronic Dart Scoreboard
Though there are different types of scoreboards for darts games available such as dry-erase scoreboards, manual scoreboards, and digital scoreboards, an electronic darts scoreboard is the best to go with. It helps you to keep on the track time and scores comparatively quickly.
It is a better option rather than maintain balance against try to write down on paper, or on a wall. At the same time, by using a digital dart scoreboard, you can be added with a variety of features, multiple pre-programmed game modes instantly, and add multiple players.
How to choose the right scorer for you?  Undoubtedly, your requirements and gaming style are the main things that you follow in choosing a dart scorer for you. There are also some other aspects that you should consider before reaching a final decision.
Here, we bring a few steps that you should follow before purchasing a dart scoreboard.
Convenient to use
For those looking for something more modern and upgraded, the digital scorer is ideal for them. They are becoming more popular with passing the time due to their wide range of functionality and simplicity. While playing with multiple players, it is a convenient option to track scores.
It offers you additional features that make it convenient to use in your game room without the complexity of maintaining transparency in score tracking. So, check out all the added features of your dart scorer before purchasing. 
Dart scoreboard app
You can operate your dart scorer right from your smartphone due to the latest technology. The scoring app is a simple yet accurate way to track scores. You can also save the record for the future or even share it on social media. However, not necessarily all of them are free of cost.
You may have to spend a couple of dollars on using the scoring apps, which worth the money. Additionally, some of the apps work on Android and iOS devices or PC such as Score Darts, Darts Cricket Scorer, Ultimate Darts Scorer, Darts Scoreboard, and Essential Darts Scoreboard, etc…  Before buying, check on the scorer apps and their usability conditions.
Size
As per size is a concern, you should choose the suitable one that suits your purpose. A dart scorer with a full, clearer display is an ideal option to opt for.
Screen
The main reason for purchasing an electrical scorer is to improve your gaming experience. The feature of a backlit screen is one of the handy features that you should consider before buying one. A scorer with backlit display helps you to play even in poor lighting and also helps to see the scores clearly from a distance.
Multiple Players
As digital scorers can keep track of a maximum of 8 players at a time, they are a better option than dry-erase boards or chalk. Check on the multiple players' choices before choosing a dart scorer.
Game Modes
A dart scorer offering varieties of game modes is worth your money. Though they come jam-packed with dozens of games, you should first check out the game option. And also make sure considering your scorer's LCD size, if they are easy to play.
Portability
You should go for a dart scorer that works on both battery and AC adapter so that you get access to it continuously even when there is no electricity. You can remove it quickly and take to another place easily. 
Color
If you have to follow a particular color for your school or team, you should rethink the color scheme. The color is one of the consideration points that stands up even in the low lighting conditions. 
Budget
After considering all the points mentioned above, the budget is the vital point that finalizes your decision to purchase it. Manual boards and dry-erase boards are cheap; electrical dart scorers have a significant reason for a comparatively high price. Digital dart scorers come with tones of additional features that improve your game and allow you an excellent experience, which makes them worth the value.
Electronic Dart Scoreboards (FAQs)
1. Are Electronic dart scoreboards portable or permanent?
Answer:  You can use an electronic dart scoreboard both as a portable and permanent one. Based on the different manufacturing processes and various sporting events, dart scorers come with these major features.
2. Can I use electronic dart scoreboard outside, or it is for indoor only?
Answer: Some electronic dart scorers allow you to take outside, while others are only for indoor use. Scoreboards for an outdoor purpose need to be constructed with durability to tolerate enervating weather elements.
3. Are electrical scorers wireless?
Answer: Well, not all the time, they are wireless. But, as you can operate them via your smartphone, PC, or iOS devices, they come with less wire and keep the wall clean.
4. What are the other accessories provided with dart scoreboards?
Answer:  You can discuss it with your technical team so that you can select the additional accessories such as whistles, audio system, goal lights, game timer controls, back-lit light bars, internet connection, carrying cases, etc. You can plan a scoreboard with these accessories within your budget.
5. Can I mount an electrical dart scorer on a wall?
Answer: Well, different electric dart scorers come with their particular features and functionalities. Some allow you to hang on the wall; on the other hand, you have to place it on a table or place it with a cabinet. So, depending on the manufacturer's specifications, you have to decide how to put an electronic dart scoreboard.
Final Verdict
We hope that you find the best electronic dart scoreboard upon reading these top 6 electric dart scorer reviews and buying guides. Dart is full of fun games, and one should enjoy it thoroughly. Don't let any complex task like score tracking slowly interfering with the exciting and be a sport-spoiler.
Depending on the feature you need, you can have some great options for you to choose from. A dart scorer makes us realized what we were missing while we were busy with keeping track of our score.  So, let's not go back to the old fashion again ever. If you are passionate about playing darts but haven't purchased any digital scorer yet, come select one for you.