Looking for the best dart cases? Perfect! You're in the right place!
In this Dart Goals guide, you'll learn:
Different types of dart cases
How to choose the best one
Top 7 dart cases
And much more!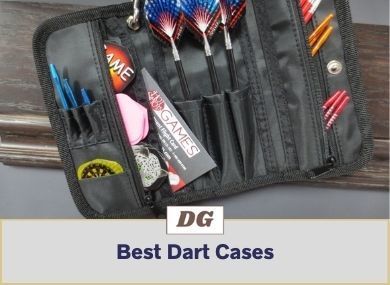 Quick Comparison
Image
Product
Top Features
Price
1.Casemaster -Legion Aluminum Dart Case 
• Dual buckle
• Durable shell
• Holds 9darts
• 34 Storage system
• Product Weight 1.65 ounces
• Color in dark black and lustrous silver

Check Price
2. Ternion Aluminum dart carrying case 
• 1pounds
• 6 pockets
• Black in color
• Center buckle
• 9dart can hold
Check Price
3.Casemaster Nylon Classic dart 
• Zipper lock
• 6dart can hold
• Color jet black
• Scratch-resistant
• 14method of the storage system
• Foam inserted for security

Check Price
4. Target Dart Takoma Wallet 
• Wallet size case
• Double zip lock
• Scratch-resistant
• Designed by EVA materials
Check Price
5. Target Takoma Wallet X-Large Dart case Black 125828 
• Double zip lock
• Large size wallet
• Scratch-resistant
• EVA materials used

Check Price
6. Metroline Dart Cases
• Lockable
• Hardshell Case
• Holds up to 10 Sets of Darts
Check Price
Our Overall #1 Rated Pick
Casemaster by GLD products-Legion Aluminum Dart Case has 9 steel tip and short tip dart. There is also extra space to keep flights in shape. It has numerous pockets and tubes for accessory storage.
This case master was designed with 9 steel or soft dart slots, 12 flight pockets, 10 mini sleeves, 1large card pocket, and two large storage for tubes.
On the surface side, it has an ergonomic handle, dual buckles to lock the case, and reinforced corners. It has a durable shell outside. The lock system is like a brief-case style. The top buckle firmly closed in the game time. It has a fine durable lock system.
Simply open the lock and display your dart item. The external hard case hinders the destruction of internal items. So it keeps the dart and other appliances secured from damage. The loops of the Legion aluminum dart case are firmly attached to hold the dart. It may save the inner property in the travel time.
This case master can enclose four sets of the dart at a time which is beneficial for active play. To increase your game speed just switch to the Casemaster Legion Aluminum dart case to modify your game style.
Best Dart Cases List (Expert Picks)
Short on time? We understand. Check out this quick overview of our favorite dart cases.
Casemaster -Legion Aluminum Dart Case
Cosmo Darts Fit Flight Case Fit Container
Casemaster Ternion Aluminum Dart Case
Casemaster Nylon Classic Dart Holder Case
Target Dart Extra Large Takoma Dart Wallet
Target Takoma Wallet X-Large Dart Cases
Metroline DH23 Large Guardian Dart Case
GWCASE Dart Carrying Case Fits for Darts
Dart Cases Review
Casemaster Ternion Aluminum dart carrying case
This case master can hold 9darts steel or soft tip with flight shaving space, 1large storage tube, 6pockets for accessories, and a mega pocket for large commodities. Ternion Aluminum dart case master demands 20 methods of storage System. It is portable and durable also. The lock system is like a brief-case. In the center, the buckle sets tightly to save the dart and it's easy to open.
The hard case can protect internal darts and accessories. The durable 9 slots are engaged tightly so any dart can not fall in harm on the journey. This case can fit three sets of darts for competitive play. The product weight is 1.3 pounds and imported from China.
The Ternion Aluminium dart case is designed with lightweight materials so it is portable easily. There is plenty of space to store three sets at a time. Every dart is protected by a foam protective supplement. Both the steel tip and the short tip can fit nicely in a stylish way.
Six pockets of flights were never replaced. There are three mini sleeves for shafts dart wrenches. Additional cells store all darts separately in the plastic storage compartment. In the large pocket, you can keep a credit card, id, membership card, or cash. 
Read Also: What are the best dart board cabinet set?
Casemaster Nylon Classic dart
This unique dart case is used for steel and soft tips, with 6 dart holders. It's designed with generous storage pockets, tubes, and boxes. It is made of durable nylon which is scratch-resistant. So this case master is unique for travel and storehouses.
Casemaster Nylon classic dart has 8methods of the storage system which is urged by all darters. This case is designed with 6 pockets, 6 dart slots, 2 accessory tubes. The security zipper is so strong to seal the case. This case is durable and portable also. The construction of the case is hard and made by tightly woven nylon.
This case can store two sets with Elite jr is nice for game time. To maximize your game style simply switch on to Elite jr dart case, it's amazing to grip and accessories. This Classic Nylon dart case has 14method of the storage system and color in jet black. 
The Elite jr nylon dart case is categorized around a hard resin shell with nylon fiber. It is combined with a portable and easy to go process. To secure game time, it can provide one extra set for the crisis moment. To avoid the dart shifting, there is foam inserted into the case. 
Target Dart Takoma Wallet
A wallet dart case master invented by Target darts. Strong Eva materials are used to keep inside stringent. There is a velvet layer for scratch-resistant mood and soft feeling. To prevent the movement inside there is an elastic strap to hold the dart tight in the case.
Read Also: What are the best dart backboard?
The Target Dart Takoma Wallet is thick enough to ensure no flight can be wrecked. There are two zip lock pockets to keep extra accessories. It can assemble 3set of darts. The double zip-up lock ensures to protect the dart fully. 
The size of the Takoma wallet is 18cm×8.5cm×5cm. This pack contains a 1×3 dart size wallet, flights, or dart not included. The packaged weight is 5ounces. It is orange in color and sport type is 55000 Games room & leisure. This case is the perfect size for a pocket and holds a couple of flight sharpeners and a few extra shafts.
The name of the manufacturer is Target darts and part number 2017. The model year is 125869. It is Orange in color and style is Takoma.
Read Also: What are the best dartboard lights?
Target Takoma Wallet X-Large Dart case Black 125828
For the extra edition of the Target Takoma Wallet X-Large Dart case, Black 125828appears. To maintain stringent and safety, strong EVA materials are used. The Interior side is protected by a velvet layer to give a soft feeling and is scratch-resistant. It can hold 2set of darts inside which is compiled with an elastic belt to avoid the motion of the dart inside. 
This case has a double zip lock which can protect the flights not to be wrecked. These zip lock compartments hold extra accessories. The product weight is 8.2 ounces and the size is 19cm×13cm×5cm. This pack contains a 1×6 dart size wallet, no flights, or dart included with the package. 
Its color is black and the part number is 2018. The sport type is 55000 games rooms and leisure. The style is Takoma and size is the xl. The model year is 5874. It is large in other Takoma models but portable. It is recommended for those who want to play wooden darts. Excellent product for saving dart items.
Read Also: What are the best dart mats?
How to Choose the Quality Dart Case?
If you are looking for the best darts case for your outing? Follow me to get in-depth on how to choose the best darts case. We believe this guide is useful for you to make this decision.
Choosing a dart case is tough always. It may be regretful sometimes when quality, size, and materials are not matched after buying. Due to a lack of knowledge, we cannot make decisions at a time. Playing darts is an interesting game. But organizing the dart is hard enough. 
Good player anyhow takes supervision of his equipment. Though darts are very sharp on one side so it is dangerous to carry in a barren hand. Sometimes it may cause an accident. Using a dart case master is always beneficial for darter.
Read Also: What are the best electronic dart scoreboard?
Metal cases are effective for players and travelers. For home use, think about durability and have to think about out of reach of kids. Before buying a dart case you must think about dart size and other equipment. Here you get a profound idea of the dart case, it's materials, types, and characteristics.
To buy a case master for dart equipment you have to glimpse the quality of products first. Then think about size, measurements, and quantity of your accessories.
FAQs
1. What is the difference between in case master materials?
Answer: Some case masters made of Nylon, some are fiber or wooden surface.
2. Which type of dart case fits for travel?
Answer: Metal dart case is fitted for travel.
3. Is the case master washable?
Answer: Yes. It is washable on the exterior side but on the inner side is not washing materials.
4. How can a dart case protect personal property?
Answer: There are various kinds of pockets in dart cases. In a Large pocket, we can keep a credit card, ID, or Cash.
5. Does Casemaster have a warranty or not?
Answer: Yes. The Dart case has a warranty of use. Some cases give 90days, some give 30days.
6. Is there any less quality in a cheap dart case?
Answer: It is almost similar in quality.
7. Is there any Aluminium body case master available?
Answer: Yes. It is a Ternion dart carrying case.
Final Verdict
Dart case master is a beneficial product for darter. To keep the dart items organized, a best dart case plays an effective function. It is secured and secured. Compact size with organizer inside can give us a preserved property of darter. Various types of dart cases make the option to choose the desirable one.
In this dart system, personal property like a credit card or cash can be reserved in large pockets. Some dart cases have aluminum bodies, others have nylon or wallet system surfaces. Most importantly, check out interior design or pockets or organizer. This case may not be damaged at travel time also because of durable covering. The inner side is also protected either by stripe or velvet.