Looking for a the best Bullshooter dartboard? Perfect! You're in the right place!
In this Dart Goals guide, you'll learn:
How to choose Bullshooter dartboard
Top 8 best Bullshooter dart board
And much more!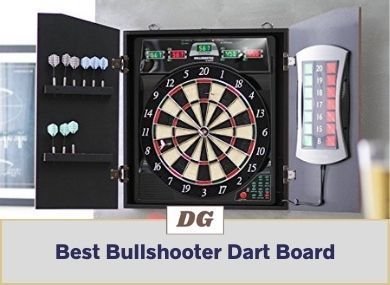 Quick Comparison
Image
Product
Top Features
Price
1. Arachnid Bullshooter Cricket Maxx
» 13.5" Target Area
» Optional Heckler Feature
» 34 Games with 183 Variations
» Wooden Cabinet Doors with Walnut Finish
Check Price
2. Bullshooter Lightweight Electronic Dartboard
» LCD Display
» Heckler Feature
» 8-Player Scoring
» 21 Games/ 65 Variations
Check Price
3. Bullshooter Reactor Electronic Dartboard
» 8 Player scoring
» 21 games/65 variations
» Built in cabinet design
» Cricket Scoring Displays
Check Price
4. Bullshooter by Arachnid Illuminator 3.0
» LED Illuminated number ring
» 13 dedicated light up games
» Contemporary style cabinet
» Interactive technology allows for new games
Check Price
5. E-Bristle 1000 LED Bullshooter by Arachnid
» E-bristle board
» Contemporary-style cabinet
» 38 different games and 183 variations
» LED Score display and active Score window
Check Price
6. Bullshooter Voyager Electronic Dartboard
» Backlit LCD display
» 15.5″ tournament size
» 29 games/90 options
» Dedicated 2 player X/O scoring
Check Price
7. Arachnid Bullshooter Marauder 5.0
» 38 games/137 options
» Integrated wood doors
» Colorful backlit scoring
» Large active score window
Check Price
8. Spider 360 Galaxy 3 Home Edition Dartboard-YRB
» Easy to assemble and play
» Sturdy and durable board
» Phenomenal sound and graphics
» Provides professional performance
Check Price
Our Overall #1 Rated Pick
If you are looking for a Bullshooter dartboard that would be a stylish fun game for your get-together or parties, try this Cricket Maxx 1.0 by Arachnid. This electronic dartboard is designed with walnut finished wooden cabinet doors, which perfectly blends with your recreational area, den, or living room.  
With a 13.5″ target area and stylish storage facility, this dartboard allows a maximum of eight players at a time. It will bring unlimited hours of play to your game room along with 34 games with 183 variations.
Either for practicing or friendly competition, for both situations, this Arachnid Bullshooter Dart Board offers you the overall basic features. If you are a cricket lover, then you are surely going to like this. It consists of a door-mounted large X/O display for cricket, which comes in the format of pub style.
Your fun level goes to a level up as this dartboard applauds at your good score and poke fun at bad darts. This Bullshooter cabinet set includes 6 soft-tip darts along with extra tips, in-built dart holders, and an AC adapter.
best Bullshooter Dart Board List (Expert Picks)
Short on time? We understand. Check out this quick overview of our favorite Bulshooter dartboard.
Arachnid Bullshooter Cricket Maxx 1.0
Bullshooter Lightweight Electronic Dartboard
Bullshooter Reactor Electronic Dartboard
Bullshooter by Arachnid Illuminator 3.0
E-Bristle 1000 LED Bullshooter by Arachnid
Bullshooter Voyager Electronic Dartboard
Arachnid Bullshooter Marauder 5.0
Spider 360 Galaxy 3 Home Edition Dartboard
Focusing on different potential features that make your bullshooter dartboard more reliable and entertaining, we bring to you an exploration of the best ones. We have spent several weeks researching digital dartboards and gathering info from amateur players, brands, and professionals. Our focused points are versatility, size, power, installation, and others. Once you go through our reviews following to buying guide, you can decide which one matches your purpose.
Bullshooter Dart Board Review
Arachnid Bullshooter Lightweight Electronic Dartboard
You can involve your entire family in the great fun of darts game with this lightweight electronic Bullshooter dartboard by Arachnid. If you are looking for a dartboard for only shooting around or small friendly competition, this one is good for that.
This lightweight Bullshooter Dartboard features a large LCD display with cricket scoring LCD, eight players supporting system, 21 games, and 65 variations. For casual players, this Arachnid Bullshooter Dart Board is perfect as well as affordable.
Read Also: Best soft dartboard buying guide.
It would greatly keep track of your scores with a nice variety of games. Moreover, you will be satisfied with the nice performance of dart sticking. The bounce-out rate of this dartboard is as common as any high-end digital dartboard.
Additionally, this stellar Dartboard is great for kiddos, who are willing to learn how to play darts. It provides them too much fun when the freaking heckler mode mocks up at bad throws. Well, if you want, there is a turn off the option for this feature. This nice dartboard comes with 2 sets of darts.
Read Also: What are the best electronic dart board?
Bullshooter Reactor Dartboard
Are you looking for an economical dartboard? A dartboard that comes up with all that you require to start playing is the Bullshooter Reactor Electronic dartboard and Cabinet. This essential part of your family-game room features an LCD display along with a cricket scoring display, the ability to score eight players, a heckler featuring 21 games, and 65 variations.
For hours of great fun, you can go with this one. This red bullshooter dart board is great for just fun or beginners. Also, it would be great for the breakroom at your work. Though it is not the same size as the official soft-tip boards, the performance is overall nice. Where an advanced soft-tip dartboard is very costly, this dartboard brings good performance at an affordable price. It is good at providing an accurate score.
Read Also: Best magnetic dart board review.
Bullshooter by Arachnid Illuminator 3.0
Maybe you are a newbie in the dartboard world. Or, just a veteran interested to switch to the electronic dartboard from the traditional one. The Arachnid Bullshooter Illuminator 3.0 electronic dartboard can be a perfect choice. Let's see why.
Your game room or bar corner would get a luxurious look due to its contemporary cabinet style. When not in use, you can keep the cabinet doors closed. So that the dartboard will remain safe from dust and your curious pet.
Also, the detachable cabinet doors allow you the try me feature at the store level. With a warp of interactive technology, you can have fun with dedicated 13 light-up games. The LCD scoreboard gives you sharp perceptions even from a distance.
The setup of 32 ways with 86 variations allows you to experience complete fun with your friends and family including 501, 301, Cricket, Shanghai, Killer, Count Up, Round the clock, Hi-Score, etc. Though the 13.5-inch target area is not suitable for tournament play, it is no less entertaining for rough playing by kids and adults. 
Read Also: Best online dart board review.
E-Bristle 1000 LED Bullshooter
If you want to save your time and just enjoy the game, then this in-built housing E-bristle 1000 LED Bullshooter by Arachnid Electronic dartboard would probably perfect for you. You don't need to be in a dilemma about choosing whether the inauthentic feel of digital dartboard or the inconvenient bristle dartboard.
Either convenience of digital scoring or playability like a bristle dartboard, the E-bristle will do it all for you. This Bullshooter electronic dartboard comes with in-built dart holders ascended in a contemporary cabinet. So, you can easily keep all of the dart-related accessories organized and stowed away after use.
Offering the highest versatility, this board supports both soft and steel tip darts. Including a modern and stylish cabinet and other accessories, this dartboard has it all that you require starting playing.  By accommodating up to eight players, the E-Bristle 1000 Bullshooter features bright LED's large active score-window and 4 X/O cricket scoring displays, which ensures you better visibility.
With 38 particular games and 183 variations, you get the flexibility to play with anyone, even against the computer. This dartboard includes two sets of –steel tip darts, 3-soft tip darts along with extra tips, and also an AC adapter.
Read Also: What are the best dartboard?
Arachnid Voyager Dartboard
On our list, we have another name of excellence- the Arachnid Bullshooter Voyager Electronic dartboard. For beginners or newbie in the dart world, it is a god indoor family fun. This versatile dartboard will keep you busy for hour after hour with its wide collection of 29 games and 90 variations.
To get you started, this arachnid dart board features a backlit LCD display X/O scoring 2-player, 2 sets of soft-tip darts with in-built dart holders.  The 15.5-inch regulation-sized target area supports soft-tip darts. The Voyager Bullshooter dartboard offers solo and heckler play, Cricket scoring displays, and a variety of games. According to is the price it is an awesome entry-level board.
Read Also: Professional dart board reviews.
Arachnid Bullshooter Marauder 5.0
Marauder 5.0 is another popular model of bullshooter electronic dartboard by Arachnid. This high-quality dartboard features vibrant backlit scoring, a wide-active score window, four dedicating displays for X/O scoring, 38 games with 137 variations.
This bullshooter digital dartboard comes with combined cabinet doors, which make this one perfect fit for any game zone. Whether it is a part-time or you are practicing, the 3-level heckler feature will spice up the sports atmosphere. This is important to persuade the game through interactive play.
This fun feature will poke fun at you while you throw a bad dart. With a high-quality target area surface of 13.5-inch, this dartboard accommodates a maximum of eight players. Your fun will continue even after everyone left due to the solo play mode. The Marauder 5.0 Bullshooter by Arachnid comes in packed with 6 soft-tip darts with extra tips, an AC adapter.
Read Also: Best outdoor dartboard.
Spider 360 Galaxy 3 Home Edition Dartboard-YRB
To give you hours of competitive entertainment, the Arachnid Galaxy 3 home edition dartboard of Spider 360 can be a good choice. The integrated latest technology for soft-tip dart devices makes this one superior. This impact-resistant cabinet housed dart machine features LED illumination of tri-color, which provides eye-catching visual effects.
This feature helps to eliminate shadows as well. You can have a clear and wider vision with the 19-inch monitor of the flat screen. The 15-inch regulation-sized target surface area ensures a nice performance for the players. The additional features of the G3 dartboard include both manual and auto-playing options, multiple gaming options, single and double bull functions, 25/50, etc.
This home electronic dartboard cabinet set comes to you packed with 500 pieces of soft plastic tips; each of them is of 25-inch and 6 pieces of darts. This Bullshooter is perfect for any serious player; just plug and start to play virtually.
Buying Guideline for the Bullshooter Dart Board
In this segment, we will cover what things you should consider while buying Bullshooter electronic dartboards. Whether you are an advanced player or just a beginner, looking for a bull shooter for your kids or for parties and get-together- whatever the purpose is; all you need the bull shooter that worth your money.
After running deep research on electronic Bullshooter, we realized that most of them are not worth your money. Some of them lack in keeping score, some have short battery life, and some look like a kid's plastic toy with a smaller surface area.
Most people get frustrated by buying these types of dart machines and miss out on the real advantages of going digital Bullshooter. So, to find the best one for you must go through our buying guide below-
Displays
While searching for the best electronic bullshooter dartboard, the display is one of the important features that you should check. Be sure about the visual clarity of your eyes and the readability of the display. The display size should be wide enough so that players can easily read the scores standing at the place of dart-throwing. For example, high-screen pixels board enhances the readability of the dartboard display.
Player Accommodation
You can find different brands of Bullshooter boards that accommodate a maximum of 8 players up to 10 players or more. Based on your requirement, you can pick an electronic dartboard model that supports sufficient player accommodation.
Size
Different bullshooter digital dart machines differ in the size of the target surface area as well as the outer surface. For example, the ideal size of the target surface is 15.5-inch. However, it is not mandatory to buy such a large target surface. A smaller version is also good.
Game Options
The best bullshooter electronic dartboard offers a wide range of game options. But, you also have to keep in mind that the more games you get, the more pricey it gets.
Cabinet
The dartboard that is in-built with a cabinet is a must to consider before buying. The cabinet keeps your darts and other related accessories safe from potential damages.
Power
Whether corded or battery-powered, both electronic dartboards have their advantages and disadvantages. A battery-powered dartboard is good for travel, places with no power outlet, but it needs more maintenance. But an AC adapter allows you to play as long as you want within places with power outlets.
Voice Programmed 
A bullshooter dartboard with a voice programmed feature is an amazing fun thing. You should pick one with a sound effect. For example, the heckler feature mocks you at your bad throwing. Also, it can narrate the game from the starting to the end.
Curved wires
Considering curved wires helps to beat down your big enemy bounce-outs. This way makes the darts slip in and easily penetrated the target surface area.
Bullshooter Dart Board (FAQs)
Question:  How to clean a Bullshooter electronic dartboard?
Answer: Clean your bullshooter dartboard with a super soft cloth, preferably microfiber. Avoid using a mop, brush, or even damp cloth.
Question: When should I replace the battery?
Answer: We recommend you replace the battery on a regular basis. And, for storing away the Bullshooter dartboard for an indefinite period or long term, you should take out the batteries and then keep it. 
Question: Can I use steel-tip darts on these bullshooter dartboards?
Answer: If any dartboard is specifically made for a certain type of darts, you shouldn't compromise with that. Avoid using steel-tip darts where you aren't supposed to do that.
Question: Why should I sharp the dart-tips?
Answer: For better penetration in the target area, you should sharp the dart-tips with a dart sharpener. This way also helps to save the surface from being damaged for a long time.
Summary
This was all about we have to present to you about bullshooter dart board. While there are varieties of dartboard models in the market, we hope our top 8 best bullshooter dart board reviews will help you to choose the ideal one for you. And our buying guide will assist you to make the right decision before buying.
Playing darts has always been a common and popular arcade game for us. The Bullshooter dartboard brings you complete fun and total recreation. So, choose the right one that fits your requirement from our best listed Bullshooter electronic dartboards and enjoy this exciting activity.