Looking for a good quality cork dartboard? Perfect! You're in the right place!
In this Dart Goals guide, you'll learn about:
Different types of cork dartboard
How to find the best one
What should be considered when buying a cork dartboard
And much more!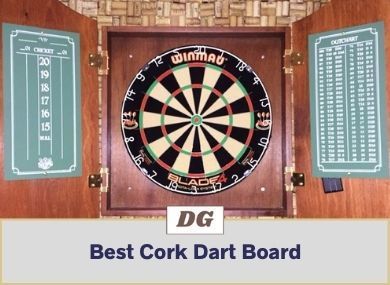 Quick Comparison
Image
Product
Details  
Price
Cork-Backed Dart Cabinet with English Board
» Hand-crafted
» Reclaimed Wood
» Made in the U.S.A
» Size: 28″ wide, 28″ high, 4″ deep

Check Price
Barrington Collection Dartboard Cabinet Set
» Staple-free bullseye target.
» Modern hanging cabinets.
» Lightweight & rustic design.
Check Price
Winmau Blade 5 Dual Core Dartboard
» Dual-core technology.
» Staple-free construction.
» Standard professional dartboard.
Check Price
American Heritage Cavalier Dart Board Cabinet
» Mocha Finish.
» Solid Wood Front.
» Comes with 6 Darts.
» Bristle-Board Dart Board.
Check Price
Unicorn Eclipse Pro 2 Dartboard
» Professional-feeling dartboard.
» Spider2 radial wiring framework.
» Made from high-quality Sisal fibres.
Check Price
Viper Hideaway Steel-Tip Dartboard
» Attractive matte black finish.
» Classic style and affordable price.
» Two-sided high-density coiled paper dartboard.
Check Price
Viper Stadium Cabinet & Shot King Sisal/Bristle Dartboard
» Classic walnut finish.
» Included official tournament size dartboard.
» Staple-free bullseye quality dartboard.
Check Price
Cork Dart Board Backer
» Large surface area.
» 100% natural cork material.
» Dimensions: 36x24x1 inches.
Check Price
Our Overall #1 Rated Pick
The Barrington Bristle Dartboard Cabinet set includes a premium 18-inch self-healing dart board. It has a staple-free bull's eye target to increase board resilience and longevity. Its sturdy steel number rings that enhance the durability of this dart board.
Barrington Collection Bristle Dartboard Cabinet made of pine veneer will accent any game room, office, or man cave. Its cabinet frame comes with the popular wormhole effect to create an antique look.
The Barrington Dartboard Cabinet includes all parts required for a regulation darts game. It contains six steel-tip darts, flights, markers, and mounting hardware set to make installation easy. Now, all you need to do is mount the dartboard cabinet in a perfect place and play away!
Key Features
A staple-free bullseye target.
Comes with six steel-tip darts.
Premium quality 17.75-inch self-healing board.
Includes flights, marker, and mounting bracket.
Quality hinges to prevent doors from slamming and wear-and-tear.
Best Cork Dart Board List (Expert Picks)
Short on time? We understand. Check out this quick overview of our favorite cork dart board.
Barrington Collection Bristle Dartboard Cabinet
Winmau Blade 5 Dual Core Bristle Dartboard
American Heritage Cavalier Dart Board Cabinet
Unicorn Eclipse Pro 2 Bristle Dart Board
Viper Hideaway Cabinet & Steel-Tip Dartboard
Viper Stadium Cabinet & Shot King Dartboard
Classic Cork Dart Board Backer
Cork-Backed Dart Cabinet with English Board
Cork Dart Board Reviews
Winmau Blade 5 Dual Core Bristle Dartboard
In the second place of the top 7 cork dartboards is the Blade 5 Dual Core dartboard. It is the pinnacle of the dartboard technology industry.
There are many reasons for that but let's start with some of the main reason that makes this dart board first position in our list of the best cork dart board.
Blade 5 Dual Core dart board has exclusive dual-core technology features two layers of sisal. The outermost layer highlights lower pressure fibers for expanded dart penetration, and fewer lost darts, while the inner layer highlights higher compression fibers that offer greater sturdiness.
Read Also: Best soft dartboard review.
This professional-level bristle dartboard allows for a 9mm2 extra scoring area in the doubles and a 6mm2 additional scoring area in the trebles. To increase dart deflection in the scoring bed, blade 5 optimized their razor wire angle by 30 degrees.
Ultimate Tensile Strength increases 20%, which ensures that dart points glide past the wire and into the scoring bed. A new bullseye and 25 ring highlight carbon diffusion technology. It makes the surface ultra-hard and improved performance and durability.
Blade 5 Dual Core highlight Rota-Lock, triple wheel lock-and-level framework, and making perfect radial alignment and leveling, additionally enabling easy rotation to increase the life of the board.
Key Features
Patented Dual Core Technology.
Triple Wheel lock-and-level system.
Increased scoring area with a 14% thinner wiring system.
British Darts Organization (BDO) endorsement dartboard.
Improved dart deflection with a 30-degree reduction in razor wire angle.
Read Also: Best magnetic dart board review.
Unicorn Eclipse Pro 2 Bristle Dartboard
In the third place of the top 7 cork dart boards is the Unicorn Eclipse Pro 2 Bristle Dartboard. It is the new standard professional dartboards from Unicorn. Unicorn is the world-leading brand in darts.
Unicorn Eclipse Pro 2 is the next generation of bristle dartboard technology. Eclipse Pro 2 bristle dartboard features staple-free construction. It designed to maximize the playing area and increase scoring potential by reducing bounce-outs.
Read Also: What are the best electronic dart board for home?
The all-new Spider2 radial wiring framework makes a total clean playing zone. The new super-thin Bullseye increases the playing zone by 14%. Also, there is an increased 2% playing area to the "25" ring.
Key Features
Most excellent grade "a" Sisal
Spider2 radial wires for clean playing zone
14% increased playing area with Super thin bullseye
2% increased playing area to "25" ring
Next-generation bristle dartboard technology
Read Also: Best online bluetooth dart board review.
Viper Hideaway Cabinet & Steel-Tip Dartboard
Viper Hideaway dartboard cabinet set is the most affordable dartboard cabinet set in the market. Now you can enjoy and boost your darts experience in a comprehensive package that includes sisal/bristle staple-free bullseye dartboard.
Viper Hideaway cabinet will complete the look of any game room with a classic matte black traditional finish. It ensures that your dartboard doesn't clash with your style.
Viper Hideaway has a big cabinet that will protect your wall from any kind of errant throws. It has a magnetic door lock that will keep the doors from swinging out and obstructing your room. The hinges of this cabinet door feature an antique brass finish to complete the classic look of this cabinet.
Underneath the main dartboard, the area is slotted to hold up to six darts upright, to avoid folding the flights and chalk for the scoreboard. So, it doesn't go missing.
The included dartboard is two-sided, on one side, you can play a traditional round of darts, like 301 or cricket variations. On the other side, there is an alternative in Baseball darts, meant to emulate America's pastime with this fun take on darts.
Key Features
1. Attractive matte black finish
2. Two-sided high-density coiled paper dartboard
3. Set includes a cabinet, dartboard, and two sets of starter darts
4. Includes mounting hardware for quick installation
Read Also: Top-rated dart board reviews.
Viper Stadium Cabinet & Shot King Sisal/Bristle Dartboard
The last one in the list of the top 5 cork dart boards is Viper Stadium Cabinet & Shot King Sisal/Bristle Dartboard.
Each Viper Stadium bundled set contains a dartboard cabinet, which features a black felt lining and is fitted with two compact door stoppers. It helps to protect the dartboard and cabinet from a door slamming shut.
Magnets keep the dartboard cabinet closed between games. The quality construction provides long-lasting durability and complements the look of any game room.
Viper Stadium bundled set contains a Viper Shot King sisal/bristle dartboard. It comes with two complete sets of steel tip darts (6 total), a dry erase scoreboard, dry erase marker and mounting hardware.
Viper Shot King dartboard measures 18″ in diameter and 1.5″ D, which is an official tournament sized dartboard. Viper Shot King features a staple-free bullseye, which significantly reduces bounce outs.
This dartboard constructed from self-healing sisal/bristle fibers. They compressed together and provided unsurpassed durability. It has a movable number ring, which further extends the dartboard's life.
Viper stadium set comes with steel tip darts. Darts are planned and design with high-quality nickel silver plated barrels. It offers exceptional balance and styling in a slim profile. Strategically placed knurling and grooves give amazing gripping points, improving your control.
Look over the Standard, Deluxe, Premium, and Elite sets, choosing the bundle that suits your needs.
Key Features
1. The pack includes a dartboard cabinet, dartboard, steel tip darts, dry-erase scoreboard, dry erase marker and mounting hardware
2. Open dimensions: 42″ L x 21.5″ W x 3″ D; closed dimensions: 21″ L x 21.5″ W x 3″ D.
3. Viper Shot King measuring 18″ in diameter and 1.5″ D
4. Staple-free bullseye dartboard
5. Constructed from sisal/bristle fibers
6. Viper Edge dart throw/toe line marker is built with excellent printing and heavy-duty resin to withstand heavy foot-traffic areas
Read Also: Professional dart board reviews.
What Should Be Considered When Buying A Cork Dart Board?
Entertaining with family and friends at home is possible if you have media or game boards that help you with the interaction and enjoy hours of fun.
This is possible with a dart board, but before selecting a random model, you should know that there are several brands and designs.
Therefore, we have developed a guide to buying the best cork dart board in the market, in which we explain the basic properties you should consider to get a successful model.
Manufacturing Materials – Sisal or Paper?
There are two options for the material. The cheaper option is made of paper for dartboards or the more professional version made of sisal.
Sisal is a natural fiber and is very hard-wearing. The holes in the cork dart board often close again with this material.
Read Also: Bullshooter dart board review.
When used continuously, a professional cork dart board sometimes has to be replaced. Real cork dart boards are rare. When one speaks of the cork dart board, one means the better material made of sisal.
The Right Size
There are hardly any major differences in the selection of cork dart boards. The size of such a dart board is usually around 45 centimeters, which is also the tournament standard.
The cork dart board should have a diameter of about 45 to a maximum of 46 centimeters.
Design
Beyond that, a model is excellent and economical, and you should consider the design of the dart board and how convenient it will be according to the recurring players.
There are classic and simple designs that have a board and darts. The latter can be soft, sharp, round, metal, or magnet tip. The score is taken manually, in addition to being usually recommended for young children.
Within the design, you can also get models with doors that protect the dart board and, at the same time, serve as support for darts, being convenient to keep the organization and pieces together.
Weight and Measurements
The weight and dimensions of a target will give you an idea of ​​where you can install it, as well as the number of players per game that can participate. As there are different models and designs, the weights and sizes vary according to the brand.
It is recommended to select dart boards that are large and have a large scoring segment to make the game more entertaining, since the more players can participate, the more dynamic and fun the game will be.
The simplest models weight just over a kilo, while the more elaborate ones weigh between 3 and 5 kilograms.
Depending on the weight, its installation mechanism on the wall will be more or less complicated. In this sense, heavy targets must be installed with more significant support so that they do not fall.
How to Make a Diy Wine Cork Dart Board Backer?
Cork Dart Board Disadvantages
Now a cork dart board does not count the points by itself, and constant writing or counting in your head is a must. With an electronic dart board, a lot of work can be done, and more fun gained.
With a cork dart board, you need steel darts, which are a little more expensive. If such a steel dart falls on the ground, the tips can be bent quickly.
Which dartboard design is right for me?
Before you buy your dart board, you will probably think about all sorts of things, but not necessarily about the design. But when the time comes, the question arises which design you should actually take. Our tip: It does not matter that the dart board is as conspicuous as possible.
Cork Dart Boards and Their Different Names:
1. Cork Dart Board
2. Steel darts
3. Steel dart board
4. Dart board cork
5. Sisal dart board
6. Steeldart dart board
The number ring?
Yes, you might have noticed that there are not only dartboards with a simple number ring, but also with a digital number ring. It definitely looks nice and glows so nicely in the dark, but it has no real purpose. If you decide on a dartboard with a digital number ring, then you should definitely consider that you have to change the battery more often and that the numbers may eventually give up.
Most of these models are also significantly more expensive, although their quality is not necessarily better than the classic versions. We definitely give you the tip: when designing a dart board, it can be classic, both in terms of colors and designs.
Strong contrast or soft colors?
This question is of course interesting, because the offer at this point is really extensive. We have found that strong contrast is the best choice. Positioning the arrow correctly is a major challenge. If you then cannot separate the individual fields from one another with a good view, this is a problem.
Strong contrasts can therefore be of great help when aiming, even if this of course depends on your type of throwing. With the soft colors, the individual fields tend to go down a bit, which is basically not that bad but can be a problem when aiming.
Which properties of a dartboard are crucial?
Naming properties and dartboards in one sentence may seem strange to you, after all, this is just a target you want to target with arrows. However, we can tell you that not only your talent, but actually the disc itself can have an impact on your success.
Cork Dart Board (FAQs)
How Thick Should Cork Board be for Darts?
Heavy density Cork dart board backer sheets are designed to allow stray darts easy penetration without "bouncing" away and damaging the darts or injuring spectators. Corkboard sheets are 24" (approx. 600mm) x 36" (approx. 900mm) in size and are a full 1" (25mm) thick.
What is the Difference Between a Bristle and Cork Dart Board?
Bristle dart board and cork dart board are almost same. But they have a little bit of difference. However, they aren't the same as paper boards and are a bit more durable than those. Also, they are good enough for playing with soft tip darts.
Final Verdict
In conclusion, we can say that the best cork dart board is a beautiful decoration in a basement bar or pub. For permanent darts, the dartboard will be less fun than its counterpart with the electronic helper.
All cork dart board I enlisted in this list you can use around your home, in your back yard, and sometimes in your professional competition as well.
So if you find any useful information in my article, please don't forget to share it on your timeline. Keep well, stay well. Thank you.