Looking for the best commercial dart board? Perfect! You're in the right place!
In this Dart Goals guide, you'll learn:
Different types of commercial dartboard
How to choose the best one
Top 9 commercial dart board
And much more!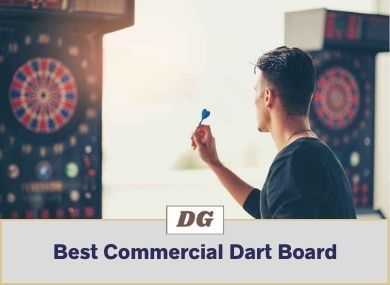 In A Hurry? Here Are Our Top 10 Quick Comparison
Image
Product
Top Features
Price
1. Arachnid Cricket Pro 650 Commercial Dart Board Cabinet
● Very easy to store.
● It is durable and robust.
● Equipped with game variations.
● Designed with an 8-player scoreboard.
Check Price
2. Shelti Eye ll Commercial Dart Board Machine
● Clear and highly visible LCD.
● It is built with excellent quality.
● Comes from a reputed manufacturer.
● Easy to access and game adjustment.


Check Price
3. Spider 360 2000 Series Electronic Dart Machine
● 40+ Game Options.
● Tracking Points Per Dart.
● Online global ranking system.
● Large 19-inch LCD flat screen LCD Monitor.


Check Price
4. Arachnid Cricket Pro 800 Standing Electronic Dartboard
● 39 games with 179 variations.
● 3 level heckler to inspire players.
● Dart averaging in good monitor games.
● 8 players with 4 clear score displays.  
Check Price
5. Arachnid Cricket Pro Tournament-Quality
● LED displays.
● 15.5" target area.
● Up to eight players.
● 132 variations game.
Check Price
6. Spider 360 1000 Series Home Commercial Grade Dart Board
● Choice of Over 40 Game Options.
● Built-in computer known as Mark Dart.
● Different levels 1-Amateur to 4- Master.
● 19-inch LCD flat screen LCD Monitor.
Check Price
7. Target Nexus Commercial Multiplayer Dartboard
● Multiplayer.
● Noise Reduction.
● Highly Immersive.
● Large Game Selection.

Check Price
8. Centerpoint Solid Wood Commercial Cabinet Board
● Arcade-style fun at home.
● 29 games with over 90 variations.
● Free-standing leg supports.
● Two, sturdy storage shelves.
Check Price
9. Hanko Free Standing Dart Wood Cabinet Combo
● High-quality darts on the cabinet set.
● Tournament style arcade dart game.
● Dimensions 24 " W x 9.25.
● 29 games with 90 options.
Check Price
10. He-art Electric Commercial Dart Board Machine
● LED display.
● Automatic scoring darts.
● Scientific Design Darts Feather.
Check Price
Our Overall #1 Rated Pick
The stylish retro-designed Arachnid Cricket Pro 650 is a freestanding plywood cabinet shaped commercial dart game with Bullshooter logo.
It houses with packed-features including 24 games along with 8-player cricket, 132 variations including score display of 8 players, 5 cricket games, and 6 nos of darts with soft-tip.
As its LED display can show a score of a maximum of 8 players at a time, you can play it with your friends at your home. This stylish soft dartboard cabinet comes with regulation for the target area and tournament spider of 15.5-inches. It offers you fewer bounce-outs due to the micro-thin portion dividers.
The tough nylon part gives you improved robustness and playability. What more? This durable dart board comes with an extraordinary feature- voice commanding. It allows the players to give voice commands for a player handicap, a solo option, and sleep mode.
Are you thinking that this thing would kill your home-space? Not, rather this is very convenient to store. There are three shelves with extra space to store all the darting accessories under the lid.
Read Also: What are the best electronic dart board for home?
Read Also: Best soft dartboard review.
Best Commercial Dart Board List (Expert Picks)
Short on time? We understand. Check out this quick overview of our favorite commercial dart board.
Arachnid Cricket Pro 650 Standing Dart Board
Shelti Eye ll Commercial Dart Board Machine
Arachnid Cricket Pro Tournament-Quality Board
Spider 360 2000 Series Electronic Dart Machine
Arachnid Cricket Pro 800 Standing Dart Boards
Target Nexus Commercial Multiplayer Dartboard
Centerpoint Solid Wood Commercial Cabinet Board
Hanko Free Standing Dart Wood Cabinet Combo
He-art Electric Commercial Dart Board Machine
Commercial Dart Board Reviews
Shelti Eye ll Coin Operated Electronic Dart Board
The Shelti Eye II is at the second place of our list of popular commercial dartboard choice. This nice designed plywood cabinet commercial electronic dart board is a tournament level set.
The Shelti Eye 2 offers you to perform and experience the tavern category game, but no need for coins. This electric board is attached with a hinge which allows you easy folding, installation and transportation.
This electrical dart board is 30-60 targets tested which give you easy accessibility towards matrix as well as segments from the frontline of the game.
Coming to the display, the Eye ll is equipped with clearly visible perfectly angled LED display. It is very easy to set up various game configurations due to the phone-style keypad and LCD design Menu Operation.
The all-programmable board computer can be personalized as per the operator. If you want to experience league play with your friends at your home then this dart game is ideal.
Read Also: What are the best magnetic dart board for adults?
Arachnid Cricket Pro 800 – Best Standing Dart Machine
The Standing Arachnid Cricket Pro 800 soft tip dartboard differs from other dartboards in the market in that it comes with many features. It has a micro-thin segment divider that reduces bounce that holds the dart firmly on board. One of the features of this dartboard is that it comes with the highest quality classic soft tip darts like a huge LED score display.
This board has a diameter of 15.5, which can be adjusted to accommodate up to 8 players at a time. This means you can also use it on the deadly soft-tip play. Its goal is great in the control area. It is powered by an AC adapter which means you don't have to buy regular batteries. In addition to these, it has nylon solid parts that improve durability and playability.
This dartboard is made with nylon foot parts that improve durability and playability. Easy installation and precise construction, last word dartboard for people who enjoy Orchid Pro 800 Electronic Dartboard game. It provides an average PPD.
This board may be a bit expensive for you, but if you do not have a budget problem, it is often an excellent standing dart machine for you. This board is light but very stiff and sturdy. Also, its red, yellow, and black colors provide it a classic look. it's 3 levels which are a stimulating feature to inform the player about the extent of dart injury thereon
Read Also: What are the best dartboard?
Centerpoint Solid Wood Commercial Dart Machine
Are you looking for an electronic dartboard machine that improves your game performance? This CenterPoint Solid Wood Dart Machine is for you. This cabinet is efficiently made from high-quality popular hardwood. This unit has some fun features that no other cabinet on this list has. This center point is the best arcade-style fun home for your friends and family members.
This 18-inch dartboard is made from high-quality material sisal fiber which is durable for many days. One of its features is that it comes in two sets of steel-tip darts with long-lasting nylon dart flight. Behind the surface of this dartboard and cabinet is a velour fabric backdrop. It provides the ideal vintage complement for your dartboard. The included electronic dartboard comes with built-in scoring and 29 games and over 90 different types of pride to keep you busy for several hours.
This unit has some features that bring a lot of benefits. The base at the bottom of the cabinet provides 3 full-size shelves with closed doors. Suitable for people like me who buy a lot of dart stuff. It is about 25.5-inches long, 22-inches wide and about 3.75-inches in diameter. It makes it easy to fit any size dartboard. Allows for recording.
To prove the reliability of this product, the company has also added a 180-day manufacturer's warranty. It comes with a guarantee that replacement parts will be shipped at no extra charge if there is a problem. So, if you are looking for some serious dart cabinets then you should consider this model.
Read Also: Best online bluetooth dart board review.
Hanko Quality Free Standing Dart Wood Cabinet Combo Set
If you are looking for an arcade-style dart machine to boost your game score then you can check out this dartboard. Not only does this item have a good quality board, but it also has a dartboard that includes all the accessories you need. If you are a professional or amateur dart player, you need to buy this dartboard.
It is meant to be played with up to 8 players so that your whole family can have fun using it. In addition to this great board, it also comes with 29 games with 90 variations, which makes the game more fun.  So, you don't get bored playing this game with your friends or family members.
Also, this dartboard has many amazing features that make the dartboard attractive. This dart machine has high quality 18-gram soft tip dart. There are also 2 accessories for additional tip replacement.
The goal is   15.5 in a controlled shape and the nylon stiffness improves playability and durability. Care will be taken to maximize bounce-outs with micro-thin segment dividers, which dramatically reduces this problem. It also has an AC adapter. Wall mounting hardware and game instructions operating system.
Since it is a tournament-style advanced arcade dartboard, you can use it in your in-house training as well and you can participate in any competitive game.It is made of high-quality dartboard which makes it more durable and durable. It is also very affordable among similar dartboard machines.
Read Also: Professional dart board reviews.
He-art Commercial Electric Dart Board Cabinet
If you need a commercial dart machine that is more suitable for professional use, the He-art Electric Dart Board Machine set would be a great choice. Undoubtedly, the perfect practice dart machine to prepare for authentic dart players. It is also a popular indoor dart machine, which can be used in bars, homes and entertainment venues.
In terms of quality, you will not be disappointed with this board because it is made with high-quality materials. The board itself is made of eco-friendly plastic, protection silicone darts head, stainless steel material. This combination makes the board durable and attractive. This electronic dirt board uses very sensitively electronic communication sensors to make the game smoother and more accurate.
It comes with an elegant design and many interesting features. One of the features is that the operation panel of the dart machine has an LED display, and the digital score is clear and its operation buttons are easy to understand. It also has different game modes, which are single, double, four, eight, sixteen. At the same time, it is a great gift for men and children.
If you want to upgrade from your existing Dartboard to a more sophisticated model, don't forget to take this board. This electronic dartboard After thousands of dart dial tests, the angle of the darts has been created based on scientific data. It is designed in such a way that your darts can avoid orbital deviations while flying and improve the precision level of throwing darts.
Buying Guideline for the Commercial Dart Board
Now, you have decided to buy commercial dartboard. But, what to look for while buying? Let's check the points below-
Choose a dartboard with the best thickness and density. It is an important point to consider for.  Not too more or less, select a board with good depth and proper density. This will help you to penetrate the darts deeply and have less bounce-out from the board.
Another important issue is to examine the wiring system of the dartboard. The purpose of wiring is to reduce bounce-outs. So, you should check if it is in a good manner.
If you are looking for a dart board to enjoy your game fully then avoid the idea of coiled paper dartboards.
To have a high-surface-area to play your dart comfortably, choose the best dart board with a bladed bull.
Consider dart board that is designed with a portable low glare number ring combined with the sisal fiber. This helps to improve the board's healing power.
Here you can look for in depth info:-
Material
One important thing to consider before buying a commercial dart machine is what material it is made of. The type of darts used in the maintenance of high-quality boards tells how long the board will work. Different types of wooden dartboards are available in the market. Most wooden boards are made with elm. It is quite popular on wooden boards. But nowadays oak is gaining popularity due to low maintenance. The board must be made of real wood before buying.
Brand
Another important thing to consider before choosing a commercial dart machine is which brand it belongs to. There are many popular brands in the market from which you can choose one according to your budget. Popular established brands have a good reputation in their market which they have been providing good products for a long time.
Size
It is very important to know the size of the dartboard and dart machine when buying an electronic dart machine. If you are a beginner, you need to be aware of this. The target area for darts tournaments is 15.5 inches and dartboards range from 13 to 15 inches. If you are aware you will be easy to choose the right dart machine for yourself.
Features
Nowadays different types of dartboards come in the market with different kinds of amazing features. Of these, Bristle dartboards are very popular with players. But electronic dartboard machine come with lots of innovative features that give you joy in the game. Electronic dartboard machine not only score for you but also improve your game performance. Most electronic dartboards nowadays offer online capabilities.
Price
Another important aspect of choosing a dart machine is pricing. The electronic features of the best electronic dartboards can cost more. Prices may not be an option for others. If you want an electronic dartboard cabinet or custom dartboard cabinet for outdoor use, be prepared to spend even more money
Commercial Dart Board (FAQs)
Q: Can I use a steel-tip dart on Commercial Electronic Dartboard?
Answer: No, the steel-tip darts are mainly designed to use for bristle dart boards.
Q: What is the ideal weight of darts for commercial dartboard?
Answer: Well, this depends on you. Choose dart from any weight-level which you're comfortable with.
Q: What is used to make a dart board?
Answer: It depends on the type of dart. Dartboards made for soft-pin is made from plastic or rubber, and bristle and sisal fibre dartboards are for the steel-tip dart.
At the end of our research on commercial dart boards, we find the Arachnid Cricket Pro 650 Electronic Dartboard as the winner product among the others. In the following, we have placed the points that make it special.
There is a huge collection of Arachnid dart boards such as a simple dartboard, dart machine, and Arachnid dart cabinet. We find the Arachnid Cricket Pro 650 Electronic Dartboard is the best, because-
This soft-tip included Arachnid dartboards are much better, durable, and have improved playability compare to the hard-metallic tips contained darts. 
You do not have to think of placing it, simply keep this standalone dartboard anywhere of your room. Also, there are additional storage options at the top and lower cabinet which are suitable to keep darts and darts related equipment and books.
You can have arcade-style excitement and fun with your friends at your home as this dartboard shows an easily readable score of up to 8 players at any time.
Its micro-thin divider segment dramatically reduces the rate of bounce-outs.
Final Verdict
So, by now you have got your best commercial dart board. Before you finally purchase, cross-check the considering things. The best one comes for a good price. Don't compromise for saving a few pennies.
Though the price varies with the product variety, a good one doesn't come with a cheaper price. Enjoy the old form of entertainment- dart game with your friends and family from your home. Choose the best one that suits your requirement. And have safe, enjoyable, and exciting dart game hours.