This is so true that playing on a trampoline is like soaring in the air. Having one in your house will fulfill your desire anytime. But, the challenge is to decide the size of the trampoline. Maybe you're in a dilemma about square or rectangle trampoline; wondering which one to choose.
With a multitude of sizes, trampolines are generally four common shapes such as square, rectangular, oval, and round. Additionally, there are trampolines of rare novel shapes including octagon or hexagon.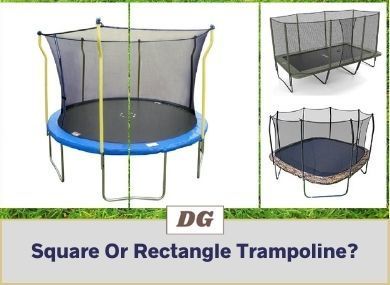 Well, the square and rectangle shapes are quite similar to each other. However, this is also true that each shape of the trampoline has its advantages and drawbacks. For your best interest, in this content, we are going to figure out the differences between these two types of trampolines-
Square Shape
Geometrically, the four equal straight sides are the square trampoline. With a Square shaped trampoline comes with three best facts such as excellent bouncing, large space, and suitable to jump and land wherever you want.
Experts and professional jumpers prefer this shape. Square-shaped trampoline is designed with a more robust and sturdy frame, which gives ample support to its entire shape. This is why; it is able to withstand much more weight.
You can freely jump on this trampoline as it offers a spacious bouncing surface along with great bouncing capacity. According to corner measurement, square shapes provide 20% more space for jumping as well as larger corners.
Advantages of Square Trampoline
Designed with a very strong frame.
Able to hold lots of weight.
Provides enough space for bouncing with more than one person at one time.
Provides high jumping ability.
Rectangular Shape
Usually, professional trampolines are rectangular. However, due to safety reason this shape is getting popular among residential users. While jumping multiple jumpers on it, rectangular-shaped trampolines provide nice consistency along with better bouncing performance.
The four-side design of this shape comes with essential stability. Its surface lengthwise increases space to accommodate several jumpers at a time. Due to the strong rebound and making greater jumping height in the same direction, gymnasts and experts prefer this shape.
Why rectangular trampolines are good to use for multiple jumpers? While multiple people are jumping on a rectangular trampoline, you'll notice that there arises a collision risk. Jumpers can affect one another on the jumping surface while jumping all-together. This type trampoline lowers the risk and allows jumpers with individually different weight jumping together safely.
Read Also: What size trampoline should I get?
Advantages of Rectangular Trampolines
Provides optimum bouncing opportunity with equal force distribution.
Jumpers are allowed to do any type of stunts.
Perfect choice for gymnasts and athletes.
Offers higher jumping feature.
Thick steel construction is able to withstand bound back through the air after hitting the hard surface.
Perfectly fits in your backyard.
Comes with a spacious design that allows the jumper to do different styled jumping as well as other tricks.
Square vs Rectangular Trampoline
Square and rectangular, both of these shapes offer several perks. Usually, they have more expanses for moving around and jumping based on their size.
Comparing to round or oval shapes, square and rectangular shapes are tend to be causing jumpers to bounce more. These are the main reasons why experts, gymnasts or any advance jumper prefers them for practising cheerleading moves or gymnastics.
However, as you have to choose one of these two shapes, let's see the comparison between them. Which is better; square or rectangular trampoline?
Safety
Square trampolines are suitable for both residential use as well as an aspiring acrobat. Their sturdy frame and larger jumping surface make them safe to use with multiple jumpers with excellent controlled bouncing capacity.
But, rectangular shapes are mostly considered to be safer than the other shapes due to their thick steel construction. This helps them to withstand the impact of bounce back through the air hitting a hard surface.
Even if multiple heavy-weighted jumpers are using them, the solid structure of rectangular trampolines prevents pushing jumpers towards another direction. It is a very good thing if you have small children playing on it or you want to land in a clearly defined spot while in training.
Read Also: List of insurance companies that allow trampolines
Bouncing Capacity
One of the main advantages of square trampolines is high jumping ability. The high bouncing capacity may improve your bouncing with less effort. Their four equally edged square sides provide better bouncing experience comparing to round shaped trampolines.
But, the bouncing capacity is not as much as the rectangular shapes provide. The producing of effective bouncing of square ones decreases with the depletion of their surface.
With the distribution of equal jumping force, the rectangular trampolines offer you the best bouncing opportunity. This experience is far better comparing to the square trampolines. Due to the high jumping and bouncing capability, one can do any stunts and so gymnasts and athletes prefer this shape mostly.
Read Also: Why is my trampoline mat loose?
Jumping Surface
Extra jumping space is another advantage of square trampolines. With spacious jumping surface, you get to do lots of fun activities without effecting other jumpers.
Rectangular ones also come with sufficient space that allows the jumpers to perform different types of tricky jumping. Across the jumping mat, there is a multitude of bouncing zones are distributed which result in superior bouncing performance.
Stability
Square shaped trampolines are often designed with a sturdy frame, rust-resistant springs, reinforced T-sockets, and UV-protected jumping mat, which give this shape good stability.
Compared to the square trampolines, rectangular ones ensure more stability due to their shorter width span. This also gives you extremely good performance reactive bouncing experience, while simultaneously increases the surface length to accommodate several jumpers at a time.
Read Also: Can I put a normal trampoline in the ground?
Drawbacks
Square trampolines offer high bouncing, which is an interesting feature. But, this exciting feature can turn into danger as kids or young children can lose their control while attempting to bounce high. For parents, this is a matter of concern as small children often don't realize when to go slow while bouncing with fun.
Compared to square trampolines, rectangular ones are more costly and also not suitable for unprofessional or young jumpers.
Final Thoughts
So, analyzing, comparing, and contrasting all the above-discussed points in this content, we have decided that if you have an interest in gymnastics or acrobatics, you can go for rectangular shaped trampolines. And, for others who want to have a nice time with their families and friends, the square trampoline would be the best.