Are you going to shift your home? Or, you're just about to relocate your furniture? Whatever the situation might be, turning a pool table on its side on your own is not like drinking a glass of water. It is heavier to lift alone and requires perfect assemble once you disassemble it.
While planning on packing up your pool, you would need extra help. You may get help from professionals, or any strong friend of yours, or done by yourself. Confused about it? Let's figure out something in this content.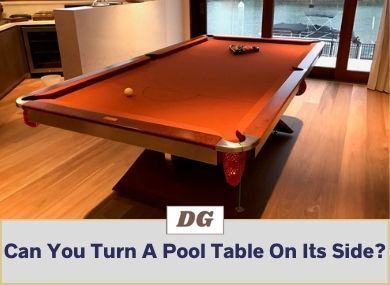 Can You Turn A Pool Table on Its Side?
Most pool tables can't be turned on their sides due to their heaviness and bulkiness. A pool table's weight can be up to 1,000 pounds. However, you can only turn a pool table on its side if it is a portable pool table.
You can get professionals associated to move your heavier pool table. They will take care of everything related to this including dissembling, moving, and re-assembling. But, this service will cost high and not affordable for everyone.
Though for preventing damage and injury, you shouldn't attempt to lift the pool by yourself. But hiring experienced support might not be in your budget. So, how would you turn a pool table on its side? Though, it is a rarely viable incident to see moving a pool table from one country to another all by you.
The reasons are not suitable for self-moving, long-distance, and heavyweight. However, you can turn a pool table to a close-by city, town, or locality within the same state. Find out how you can move a pool table by yourself-
How To Move A Pool Table By Yourself
Step 1
Make sure that you would be able to collect assistance from at least 3 persons. Since the pool table is heavier and a brittle object as well. It is mandatory to be extra cautious while moving this valuable proprietorship. If you are not sure of getting the muscle power from your familiars then it is better to contact professionals. Cause if you make one small mistake, this difficult and tiring project will go in vain.
Read Also: How to use the dots on a pool table?
Step 2
Make sure you have the necessary set of moving equipment and tools. For the process of dissembling, moving and setting up a pool table you are going to need some certain tools and equipment such as a needle-nose plier or a staple remover, a socket wrench, one set of flathead screwdrivers, a pair of safety goggles, a power drill, a carpenter's level, plastic re-sealable bags, sheets of bubble wrap, packing tape, thick regular blankets or moving blankets.
Step 3
Start the work with enough time in your hand. Don't be impatient. Dismantling and prepare the bumper pool table for moving would take about 60 minutes from your busy hours.
Step 4
Generally, a pool table comes with an instruction manual. Perhaps, you might have lost it, or haven't kept with you, or maybe find the instructions tough to understand.  Let us help you with this.
Read Also: How to put a pool table together?
At first, start the dissembling project with the removal of six side pockets. Whether the pockets are secured with screws or stapled. It depends on the pool table model. You have to use an appropriate screwdriver to remove the screws and unfasten the pockets. Or, go underneath the table and remove the staples with a staple remover. Don't forget to wear protective goggles to save your eyes from flying fastening elements.
Now with a socket wrench loose and remove the rail-bolts from the sections and gently slide out the rails. Now place it on a moving blanket and wrap safely. To turn over the remaining rail sections, disengage the rail's separate parts. Keep the small parts like removed bolts, nuts, screws, and others in a plastic re-sealed bag.
Read Also: How does a pool table recognize the white ball?
Now remove the felt of your pool table. If you want to replace the felt of the pool table in the new place, then simply rip the felt off.
To reuse the stapled felt, use the stapler remover and pry out the separate staples from the table surface to set free the cloth. To avoid any damage to the felt by causing wrinkles, fold it cautiously.
For reusing a glued felt, pull the cloth up in a smooth gentle backward motion. To avoid making the cloth stretched out or ruined, don't pull it in forward or upward action. Pay concentration while removing the felt of the pool table's corners, which is indeed a tricky task.
Now that you've removed the felt from the pool table, find out if the slate consists of one large piece or comes with three individual pieces which are tightly arranged next to one another.
And finally, release the slates with a suitable screwdriver bit equipped power drill. Keep the screws carefully with the other small elements dissembled from the pool table.
And, here comes the moment when you with all your efforts remove the slates without any damage. A single slate pool table's latter can be up to 800 lbs. And two or three individual pieces weights between 150 to 250 lbs.
Read Also: Best non slate pool table
Step 5
As of now, you have accomplished the above-mentioned steps, removing the legs and frame is no hard for you. You can easily detach any parts of the frame and legs as well with the help of your friends or familiar persons.
And, by setting up the pool table back again you complete the job. Well done!
How is our can you turn a pool table on its side article? Give us feedback and share this article with your friend.