Do you have a swing set and don't know what is the best material to put under a swing set? Don't worry! You're in the right place.
In this guide, we will share with you
Different type of material that will be best to put under a swing set
Which material you should avoid
How to choose the best material to put under a swing set
And recommendation
So let's read the guide till the end and make your step forward to the best material for a swing set!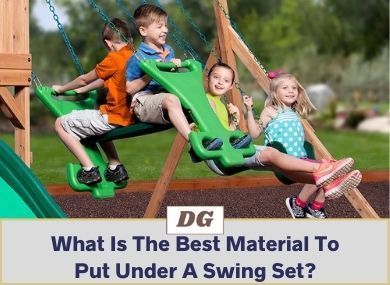 Why surface material is necessary?
The severity of a fall is mainly depending on two factors. The surface the children contacts upon impact and the other is the height of the fall. Of course the higher your baby will fall, it will hurt him more. Some material absorbs the force and minimizes the impact to ensure fall better than others. Most importantly while we are talking about kids, the contact material should sustain most of the shock, and reduce the blow for the kids as much as possible.
Read Also: What are the best swing set under 300 dollars?
There is a range of options available when you are searching for what to put under a swing set, with pros and cons. So what will be the best material use under your swing set? What will be the safest for kids?
However, it's a big deal but some material effectively can prevent life-threatening injuries considering the type of fall.
Material to put under swing set
First of all, let's discuss some types of surfaces that are mostly used for playgrounds. These are two type, loose-fill materials, and unitary surfaces.
Loose-fill materials
Wood playground mulch or engineered wood fiber (EWF)
Rubber playground mulch
Pea gravel
Sand
Unitary surfaces
Poured rubber and rubber tiles
Grass
Artificial grass or turf
Now we will discuss them one by one.
Loose-Fill Materials
1. Wood Playground Mulch / Engineered Wood Fiber (EWF)
Safety
It's a quite safe option for kids. Besides, wood mulch offers fairly shock absorption. The nine inches of wood mulch can keep the child safe if he/she falls up to seven feet. It also offers good slip resistance since surfacing playgrounds with wood mulch absorb and drains moisture. 
 Negative features related to safety:
Wood being liable to insect inhabitants.
The chance of it hiding hazards 
The possible to freeze in the winter.
Possibility of getting splinters.
Cost
The cost of wood mulch is generally less up-front but it is very easy to install. This material is also readily available. Besides, it available at a cheaper price than other options including rubber mats. As you have to replace it yearly and need ongoing raking to confirm the best coverage, its maintenance costs are higher.
Maintenance
You have to consider several things to maintain wood mulch. Mulch decays and compacts, so it is vital to change the top off as it wears down. On the other hand, you have to clean the mulch regularly as it can be messy and end up around the playground and outside of the swing set area. As it allows you to move around in higher trafficked areas, you have to redistribute to confirm safety in those points. If you want to keep mulch in its place and include some cushioning, you can add a commercial fanny pad at the end of slides.
Visual Aesthetic
Especially wood mulch is design with a pleasing natural aesthetic to allow you to match any type of landscaping. At the same time, a range of color options will make it easier to match according to your property. The three most popular color is brown, red, and black. 
Finally, Mulch is low-priced and environmentally friendly which makes it a top option for the playgrounds.
**Best Wood Playground Mulch
2. Rubber Playground Mulch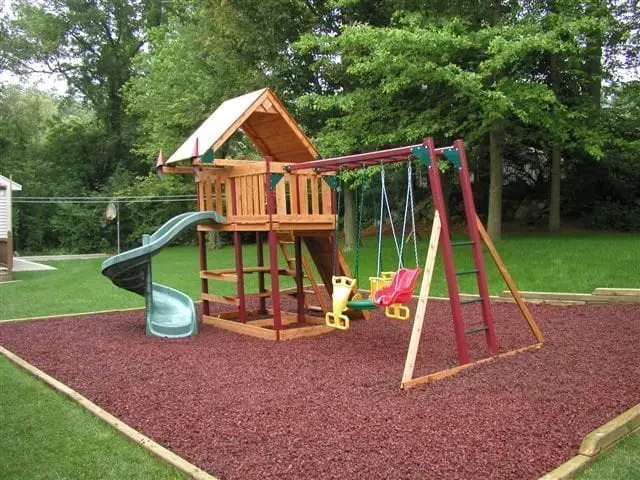 Safety
Rubber playground mulch offers the maximum impact absorption of all materials. Six inches of the surface, it can protect kids from falls up to ten feet. However, you have to monitor the highly-trafficked areas to ensure enough coverage as it has the potential for displacement.
Cost
It cost more initially if you compare with wood mulch, grass, sand, and pea gravel. However the up-front cost is higher, but it well worth the money as it is long-lasting and needs less maintenance.
Maintenance
As it's a low-maintenance option, it cost more at first. It doesn't need to be replaced yearly, and you don't replace it at all. Most importantly rubber mulch is easy to install, durable, and all it needs a little bit of raking so that it can remove any debris. 
Visual Aesthetic
However it doesn't seem as natural as wood mulch, it does come in earth tones. Besides, it offers a wide range of color options to allow you to match your landscape, decor, or the swing set itself!
 **Best Rubber Playground Mulch 
3. Pea Gravel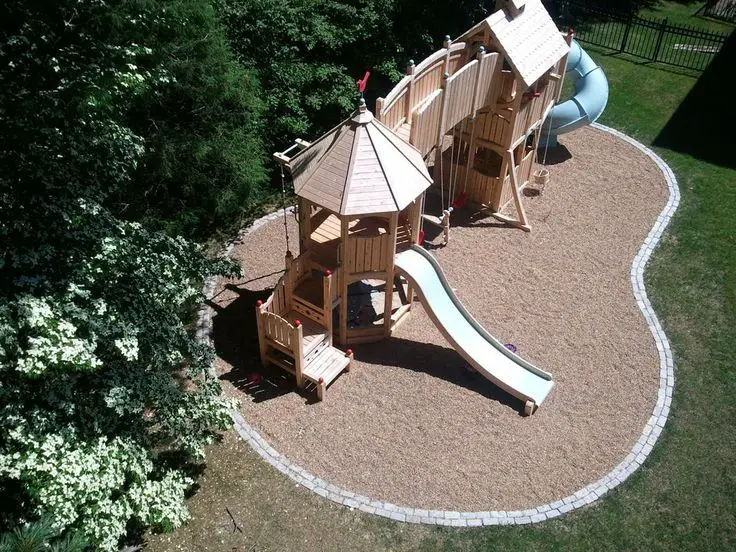 Safety
However Pea gravel does not provide the top class impact absorption like other, still, it offers enough support. Nine inches of the surface, it will protect for falls up to five considerable feet. As it can redistribute for heavy use you have to rake it regularly.
If you consider cleanliness, it a better option that doesn't support the increase of microbial organisms. Besides, animals get less attracted than sand. As it can be a choking hazard most of the expert doesn't recommend it for kids as a playground. It doesn't follow the ADA accessibility standards and hard to use for disabled people.
Cost
Though it comes at low price pea gravel is costly to maintain. It can be broken down eventually and you have to replace it.
Maintenance
Because of pea gravel, it can be break into smaller particles. These are called a hardpan and difficult to break up. As a result, it will be harmful if fallen on. To prevent the accidental situation you have to replace it.
Visual Aesthetic
It offers a natural look as it's included in small stones. Sometimes pea gravel is used as a lower-maintenance alternative for grass.
4. Sand
Safety
Sand is the most effective playground material because of impact-absorption. With nine inches of the sand surface, you will get protection for falls up to four feet. It also doesn't meet ADA accessibility standards and hard for disabled people.
Cost
It's an inexpensive option that is easy to install and readily available. Lifetime cost can be increased as you have to maintain it regularly to keep it clean. If it becomes dirty quickly it will need to replace at least once a year.
Maintenance
Sand can be a bit hard and time-consuming to maintain as it usually attracts animal waste or it can keep hiding unsafe materials. It is vital to level the sand back to an even surface as redistribution will happen while kids play in this playground. Besides, it should replace annually. On the other hand, if it is exposed to the elements, it will become dirtier faster. As a result, you have to replace it more frequently.
Visual Aesthetic
Particularly, it offers a natural aesthetic and you are allowed to match most backgrounds if it is kept clean.
Unitary Surfaces
1. Poured Rubber & Rubber Tiles
Safety
Rubber mats can be safe to use if it meets ASTM standards. So you should check the feature before buying a mat. Most importantly it keeps everything safe fall in-between that doesn't offer a mulch. If you are considering a playground mostly for toddlers, mats are a better solution. However, it can be painfully hot if the mats in direct sunlight for a long time.
Cost
The cost of rubber mats is depending on its quality and manufacturer. Considering the cost it is similar to rubber mulch than pea gravel, wood mulch, and sand. It is also available at a higher up-front cost and low maintenance like rubber mulch.
Maintenance
It needs little maintenance costs and allows you to easily take care of. You can wash it when necessary, and easy to replace if damaged sections. With a little upkeep, it will be long-lasting.
Visual Aesthetic
It can look a varied way and allow you to fit according to your preferences. Though it doesn't offer much natural feel, it is available in a range of color options to make you satisfy. Most importantly in direct sunlight, it will look lighter 
***Best Poured Rubber
2. Grass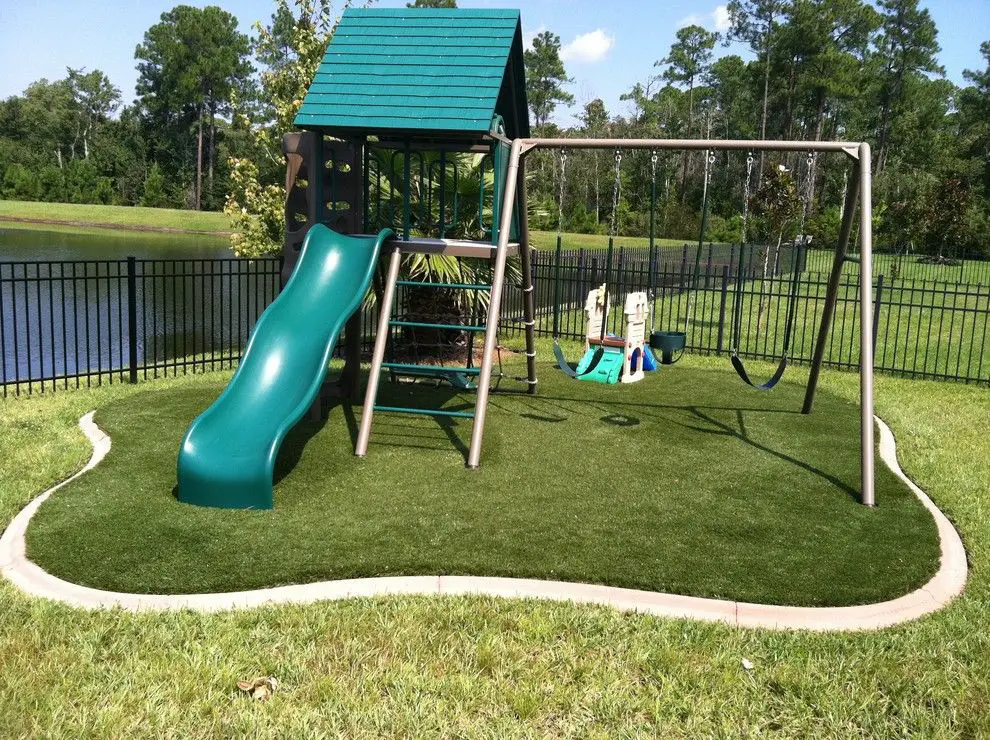 Safety
The grass is the best impact-absorbing material on this guide. It is considered the most popular option for inappropriate playground surfaces in the USA. However it gets worn down, grass may become less shock-absorbent so it won't provide much protection against falls. Besides, it will be a slippery surface if gets wet and may even increase rough spots, which can cause kids to trip.
Cost
It may look like the least costly option, but it will require a huge amount of maintenance. So it may turn into the most expensive option eventually.
Maintenance
Generally, grass needs constant maintenance, including weeding, mowing, fertilizing, and watering. All of this maintenance can be time-consuming and pricy. At the same time, Watering grass can be harmful to wood structures or rusting to metal structures.
Visual Aesthetic
Being part of your landscape can be an aesthetically pleasing option. However people consider it best visually, but the lack of safety and the levels of maintenance can offset this advantage.
3. Artificial Grass or Turf
Safety
Artificial grass provides a better drainage advantage than regular that makes it better slip-resistance. Besides, it offers a level playing surface to boost the fun. The downside of the artificial grass is it can get hotter in the sun.
As it doesn't offer much impact-absorption, turf is not ideal for the playground structures that are tall off of the ground. It comes with different types of shock-pads to offer the exact amount of impact absorption. So if you want to try this option, check that it has a good type of pad.
Cost
It available at a high installation price but doesn't require much maintenance. A bit of maintenance will allow you to save both time and money for a long time.
Maintenance
After installing artificial grass, you don't need to worry about much maintenance. If it gets dirty, you have to wash it and if get damaged it will need to be repaired.
Visual Aesthetic
As the Artificial grass looks regular, it can look beautiful and complementary to your landscape. Looking green, it will look fresh always as well.
**Best Artificial Grass To Put Under A Swing Set
The material you should not use under a swing set
You maybe think there is no bad option to use under a swing set. But you are wrong, there are exist some material that can be worse. Following some options, you should avoid it.
Packed Down Dirt  
Packed down dirt may look like a decent option as it seems like it can potentially reduce a person's fall but at the end of the day, it doesn't. It doesn't offer a proficient level of shock absorption that can allow it for placing underneath a swing set. Conversely, it can be risky. Packed down dirt also tends to attract insects and pests.
So it is not the right option that you want to get your kids safe from harm. Though you have to make your kids clean after playing, it can be a very unhealthy option for people to land in.
Buying Guideline For the best material to put under a swing set
As we mention above, there are several surfaces available to choose from, but all of these are not equally attractive relying on your kids and circumstances. Following the guide will help you to make your decision.
Budget
How much you want to spend to get a material to install under your swing set? Price is the vital option to consider outside of safety. 
Each material has varying costs:  
| | |
| --- | --- |
| Name | Price per square foot |
| Rubber Mulch | $3 – $5 |
| Pea Gravel | $9 – $15 |
| Wood Mulch | $1 – $3 |
| Pour in Place | $9 – $15 |
| Rubber Tiles | $9 – $15 |
| Sand | $5 – $7 |
| Synthetic Turf | $5 – $20 |
It could be a loose-fill material or unitary surface material but prices can vary hugely. Even in the same category, it can charge a different price for different materials. The reason is different material comes with different advantages. 
On the other hand, spending money is also depends on the amount of material is it going to more or less. With that said, you have to consider the size of your playground for the swing set.
If you have an extra-large playground and you want to cover the entire area, you should choose unitary surface materials as it will save your time and energy. But it needs more money upfront than their matching parts.
Conversely, a loose-fill material will be a better option for small size ground as it also won't take much time to maintain. It is budget-friendly and easy to clean for small areas.
Accessibility 
The materials you are going to use must meet the ADA (Americans with Disabilities Act) standard as it's a complete law that makes the swing set disabilities people friendly.
If you get ADA approved materials, it will be suitable for kids with mobility devices to play in the swing set safely. Usually, if you follow the manufacturer instructions, you don't need to worry about ADA standards and accessibility as the manufacturer maintains the policy previously.
Safety
Another crucial feature to consider for buying a swing set is the safety of the material. Children are loved to run around and enjoy the fun. In a way, they don't think about the consequences. A time will come in the game when kids will jump around and hit the ground. It promotes them to be busy in physical activity. So children can get injured while play on a swing set if it is not from safe material. Even it can go worst, as they can damage their limbs and break bones.
To prevent the situation, the material you choose should have shock absorption to prevent the potential of injury. If you are confused about choosing the safe material, you can ask the vendor to know about the material is shock-absorbent or not.
Additionally, you can call the seller for the ASTM F3313 field results as it will provide you a good idea as the particular material is safe for the swing set or not.
Maintenance Requirements
Whatever you choose for the swing set, Maintenance is essential. Besides, you have to assess how much time you want to spend on taking care of your swing set. If you want to use Loose-fill materials, you will have to maintain it each day. You have to check the surface for sharp objects and harmful debris.
If you don't want to clean the surface frequently, unitary surface materials will be a better option for you. All you have to do is clean off the dirt that builds up on top occasionally. If it breaks after a few years, still you can take care of it by hiring a team of professionals. 
So considering the time you want to spend on maintaining, plenty of material will be attractive to you. 
Summary
If you still ask what is the best material to put under a swing set? We will recommend you to go for rubber mulch. It especially designs to allow kids for jumping from high heights. Most importantly it absorbs most of the shock and keeps the kids from the accident.
However, rubber mulch is the best option but it may not be the most attractive option according to your needs. Besides, it will be an expensive option if you want something cheaper.
So choose the material considering your maintenance time, cost, accessibility, and the safety you want. However every material has its downside, but getting something that meets your requirement will help you to feel satisfied and kids will enjoy.