Trampolines are the best way to make your kid's pastime into a fun time. Through jumping your kid's muscles become strong as it's a great way of exercise. However, the trampoline causes dangerous injuries. The jumping activity can result in fractures in the arms or legs or serious head and neck injuries.
Trampoline injury statistics show that every year many children got injured through trampoline usage. Trampoline is not good for children under six. Their bodies are not developed and their bones are not strong to handle the impact of repetitive jumping.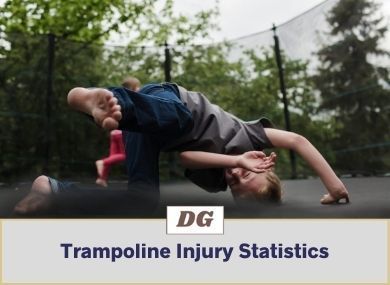 This can cause brain and spine injuries as well as organ damage. Sometimes these injuries are so serious that result in death or lifetime paralysis. If you want to know more about trampoline injuries. This article will provide you every single important piece of information.
Statistic About Trampoline Injuries and Death Rate
Trampoline injuries are serious nowadays. People are getting seriously injured because of it. About 20 percent of injuries to the spinal cord caused due to trampoline use. When jumpers bump into each other and try to do stunts results in falling off the trampoline or falling onto the frame or springs of the trampoline. This causes serious fractures to kids.
A report said that about 100,000 people were hospitalized for trampoline injuries in 1999 alone. The majority of the victims were children. Children under 14 who got injured need emergency room treatment.  15% of kids below six accounted for serious injuries that need care enough.
In the year 2006, a report on trampoline accident statistics shows that cases of trampoline injuries were estimated at 109,522. Of them, 15,541 were children from 4 years old and younger. Children from 5 to 14 were 71.265 in number. The young adult victim of 15 to 24 estimated 14,571 ad adults 25 to 64, an estimated 7,836. About 104,729 individuals age range injured people were treated in emergency rooms and released. But the rest of them were either hospitalized or dead on.
Another data from 2008 to 2017 shows that the injury rate rises 3% to 7% in the following years. In 2008, fractures due to trampoline jumps were 3.59% and the maximum victim were kids. The rate rose up in the year2017 number was 6.16%. In 2018 almost 300,000 patients were hospitalized due to trampoline injuries and 110,000 were taken to the emergency room.
About 85% of injuries still happen at home in the year 2019 and common victims are kids. However, adults also get injured as well as dead due to trampoline accidents. In recent years the oldest victim of the trampoline accident was 43 years old.
Read Also: What are the best trampolines for families?
Trampoline Accidents Reports
Jumping on the trampoline is fun and exciting. Kids love to play on it. Besides, it is a great way of developing the physical growth of kids. But when trampoline used incorrectly can become dangerous and can result in serious injuries. A report of the American Academy of Pediatrics (AAP) says that "A Trampolines should never be used unless athletes are being supervised in training for a sport like gymnastics."
However, we use a trampoline for background activity. 95 percent of Trampoline injuries happen at home more than in other areas. So, we should not take a chance as it is about our family's safety.  So, we should get proper knowledge about safety methods otherwise, the potential harm that can be caused from a trampoline accident.
The number of trampoline injuries have increased significantly in recent years. These injuries led to broken arms, legs, ankles, neck, and other parts of the body. These injuries can also cause trauma to the neck, head, and spinal cord. This results in permanent paralysis. The consequence can cause death too.
 Permanent neurological damage occurs in Injuries to the head and neck. The damage can be more permanent and dangerous than the common sprain, contusion, or fracture. 10-15 percent of trampoline injuries are related to Head and neck injuries. It can potentially lead to permanent neurological damage or lasting cervical spine injuries
After Result of Trampoline Injured People
The most common user of trampolines are kids and young children. They are the ones who suffer from these types of injuries the most. Injuries increase yearly and over 4 percent of injury victims are admitted to the hospital. 96 percent of victims were treated in the emergency room.  About 93 percent of the fractures seen in children under the age of 16.
So, kids should not be allowed to jump over the trampoline. Their body and growing bones are not developed properly and are not stronger enough to handle the impact of repetitive jumping.
The smallest jumpers are at a greater risk of getting injured. Of all victims of trampoline injuries, 15 percent of the children are under the age of 6. The highest risk of serious injury children is spine and leg fractures. However, injuries can result in permanent paralysis. Sometimes internal organ damage or brain damage are also can be after result of trampoline injured people.
How Trampoline Injuries Cause?
The biggest reason for trampoline injury is jumping two or more children at the same time. Other common reasons are falling on the trampoline mat, frame, or springs as most trampoline doesn't include safety net and enclosures. However, attempting somersaults, flips, and other risky stunts is one of the big reasons of trampoline accidents. Due to this risk of injuries, the American Academy of Pediatrics strongly discourages the use of trampolines at home.
Read Also: List of insurance companies that allow trampolines
Types of Trampoline Injuries
Performing dangerous moves without supervision or landing incorrectly on the surface causes injuries. Most common trampoline injuries involve sprains or fractures in the legs, arms and neck, and knee injuries. however, these injuries can result in paralysis or even death. Types of injuries caused by trampoline are-
1. Back Injuries
 Trampolining is one of the riskiest sports for spinal injuries. When a person gets injured in back, it is usually extremely serious. These injuries can lead to lifetime paralysis due to injury of the spinal cord. Back injuries can be causes for several reasons. Some of them are-
Falling out of the trampoline surface.
Cross contact with another person whilst on a trampoline
Performing wrong somersaults and landing badly on a trampoline
Falling on the trampoline's frame or springs.
2. Neck and Head Injuries
Performing wrong flips, somersaults, or cartwheels causes a high risk of hurting their spinal cord or head. The risk can be higher when more children are jumping on a trampoline at the same time. Head and neck injuries are very serious as they can lead to paralysis or, in severe cases, even death.
3. Cervical Spine Injury
A researcher demonstrates that trampoline use can cause dangerous injuries to the cervical spine. Cervical spine injuries are not a normal or common injury. The major cause of neurological sequelae and death can be happened because of trampoline injury.
4. Double Bounce Injury
When two people bounce in the trampoline at a time it is called double bouncing. While double bouncing it is likely that the actions of one trampolinist will affect the rebound of the other. Every year more than half of fracture cases of trampoline were caused by being double bounced. The first jumper hits the mat and is bounced up higher by the force of the second jumper landing. There is a huge risk of breaking a bone from the force.
5. Ankle Injuries
Trampoline mats become hard and solid when two or more people are jumping out. The force hit the mat can become a reason for falling from the surface or unpleasant landing. This results in ankle injury or permanent bone damage.
6. Organ Damage
A trampoline can cause serious organ damage. These injuries include Cervical spine fractures, chest wall, and skull fractures. It also damages internal organs, hip and knee dislocations, and permanent disorders of the peripheral veins. Sometimes it can cause brain damage too.
7. Common Injuries
Apart from dangerous injuries, some common injuries cause because jumping on the trampoline.  Hand fractures such as Radius and ulna fractures are the most common. These fractures cause because of usually falling on an outstretched hand. However, trampoline injuries cover a wide spectrum. It can cause small lacerations to fractures of the spine, head, ribs, and sternum.
Leg injuries and foot injuries are common types of trampoline injuries. But together, they are responsible for four in 10 injuries.  Other common injuries included:
Arm and Hand Injuries — 29%
Head, Facial Injuries — 20%
Trunk Injuries and Shoulder Injuries — 10%
Trampoline Park Injuries
Trampoline parks are getting famous day by day. Trampolines are connected with steel cables or chains under poor thin padding. When people jump, waves of energy are generated on the surface, which can cause those "double bounces". This can end in high-impact collisions.
In recent days six people have died due to injuries at trampoline parks. That number could be even higher because of a lack of safety enclosures. Attempting somersaults flips, and other risky stunts are one of the big reasons of trampoline accidents.
Trampoline Safety Methods
Jumping on the trampoline causes a high risk of injury. The jumping activity can result in dangerous sprains and fractures in the arms or legs, toddler knee, and neck injuries. Every year many kids got injured due to trampoline double jumping, flip or other gymnast activity. If you want to allow your kids to jump on the trampoline. Make sure you follow the safety rules. The rules are-
1. Safety Nets and Pads
Trampoline enclosures are most important for home trampolines. Get a trampoline enclosure for preventing injuries. Get a perfect size net designed to surround the trampoline as well as cover the trampoline's frame. Make sure that springs and surrounding landing surfaces are protected with padding.  Check your enclosures regularly. Some company offers safety enclosures with the trampoline package. So, try to get a trampoline that includes a safety net and pads.
2. Place Home Trampolines at Ground Level
 When your trampoline is on a higher surface it increases the risk of injury. Keep your trampoline at ground level. Besides, ensure that your trampoline is at a safe distance from trees and other hazards that can cause injuries to your kids.
3. Use A Large Surface
Most of the trampoline injuries happen due to jumping two or more children at the same time on a small surface. The surface couldn't grab the high energy that results in falling out of the trampoline. So, make sure that your trampoline surface is big enough. You can get a 14 feet trampoline for your kids. In this trampoline, more kids can jump without any worries.
4. Chose A Right Design Trampoline
Most of the people don't pay attention to trampoline design. But they don't know it is the main fact of preventing injuries. The circle design is a familiar design used for the background. The round center of the surface provides less bounce which is safe for youngers. Rectangular trampolines provide higher bounce by absorbing the energy. Square trampolines are a mixture of round and rectangular trampolines. It gives more strength and higher bounce. But it gives more bounce than round ones. So, round trampolines are the best choice for kids as it produces less bounce.
5. Limit Trampoline Activity
Limiting the amount of trampoline activity is an important step in preventing injuries. Never allow kids below 6 years to use the trampoline. Their bodies are not grown enough and their bones are not strong to handle the impact of repetitive jumping. This can cause brain and spine injuries as well as organ damage. Always allow one person at a time to use the trampoline. Never allow your kids to do flying somersaults and other potentially risky moves without supervision. It will also reduce the number of injuries.
6. Never Allow Unsupervised Jumping
When you use a trampoline ladder, always remove it after your activity. kids could not climb up to the surface. So, it will prevent unsupervised access by children. Statistics show that most common trampoline injuries happen despite adult supervision. So, ensure that you follow the rules properly.
7. Maintain the Trampoline
Before starting jumping on the trampoline, make sure you the trampoline's supporting bars, springs, and other landing surfaces are all right. Padding around the edges is in good condition and positioned correctly. No tears, rips, or deterioration should be in the netting or mat. You have to clean the metal base regularly cleaned to prevent rust and create a sturdier base.
Always maintain these safety rules for preventing accidents. Otherwise, the result can be harmful to your kids
Trampoline Injury Statistics – Summary
Trampoline activity is both risky and beneficial. Your kids get super physical benefits from trampoline activity. However, trampoline accidents can result in death. Trampoline injury statistics show that every year several cases of injuries happen due to jumping on the trampoline. Common injuries are sprains and fractures in the arms or legs, knee and neck injuries, back injuries, etc. Sometimes it can cause brain and spine injuries as well as serious organ damage.
Never allow your kids to practice flip or other moves without supervision. Follow the safety methods for ensuring a safe and sound trampoline activity for your kids.