Are you looking for a pool table slate alternative and don't know which one would be appropriate? Don't worry! This guide will offer you the right track as we covered this article
Some best Pool table slate alternative
Detailed information on alternative material
Five product recommendation
And much more!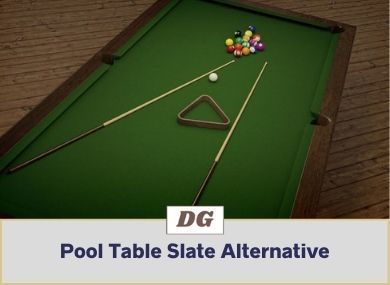 Pool table slate alternative
Medium-Density Fiberboard (MDF), Permaslate, and Honeycomb are the most used pool table slate alternative. Even you want to build it for kids a less professional material like plastics will be an excellent idea. These are considered toy pool tables and will not last long.
Here Are Our Top 3 Slate Alternative Pool Table
Material that you can use as an alternative to slate
Medium-Density Fiberboard (MDF)
It's a wood-based material that will be a sturdier option as a pool table material. Besides, it is fairly inexpensive than slate.
Best Pool Table In The Market That Made With MDF Material
Carmelli Hustler MDF Material Constructed Pool Table
While choosing a pool table slate alternative this Carmelli Hustler Pool Table will be the right option as is it constructed with Quality MDF Material. At the same time, it will offer the quality, style, and durability that you are looking for.
Most importantly it's a much higher quality pool table than the typical style pool tables. It designs with a strong and rugged structure to ensure solid performance and true billiard fun. The key feature of this pool table is it comes with a CARB certified MDF playing bed to offer you great accuracy. Similarly, the feature will provide a true ball roll covered with stylish blue felt.
The strong black cabinet comes with pedestal-style legs with levelers to offer you stable rolling action. With its remarkable design, you will easily discover a quality built pool table while you hit a corner shot. So it will be a great pool table slate alternative if you consider MDF material.
Made of plastic material, Permaslate will be great for those who looking for an alternative to slate that could offer a smooth surface.
It's another plastic-based material that is lightweight and easy to handle.
Let's discuss in deep so you can get clear knowledge and choose the proper alternative that can be comparable with the slate pool table                                                            
Medium-Density Fiberboard (MDF)
MDF stands for Medium-density fibreboard is a long-lasting, sturdy, and moisture-tolerant material that can be a perfect alternative to slate. Mainly it's a wood-based composite material that is come from softwood wood fibers. The individual particles of this material are much smaller than the particle found in particleboard. The feature makes it an appropriate candidate to replace the slate for the classic pool tables.
There is plenty of pool table you will find in the market that made of MDF. Most importantly the MDF-made pool tables are available at a relatively low price. However, the MDF pool table can't offer the same long-lasting service as the slate but still, it's a decent choice for a family or amateur play.
Some of the best Medium-density fibreboard:
Permaslate
With a lightweight design and highly resilient permaslate is another ideal alternative to slate. It is composed of a type of particleboard sheathed that is made of several layers of plastic. As it offers a smooth surface same as a slot, it works reasonably well for pool tables.
At the same time, it can withstand extreme pressure or shocks just like slate materials. However, if you compare permaslate with the slate table it is not as long-lasting as slate. As the permaslate material is much lighter than slate it will allow you to build a pool table easier than others.
It usually uses as an alternative to slate roofing it comes in 12-by-18-inch tiles size as well as sold in packages of 25 tiles. It offers a 50-year guarantee while it is sold for roofing. However the guarantee is not available for a pool table, but still, it has the ability to displays the resiliency of the material against the elements.
Read Also: Best non slate pool table
Honeycomb
As a most inexpensive alternative to slate, honeycomb tables are made from a firm honeycomb material sandwiched between double layers of plastic. Similar to the permaslate material, honeycomb is also lightweight in design and allows easy to handle.
But if you compare honeycomb with slate, it may wear over time considering the table for play. It is recommended to choose a honeycomb material that has an MDF layer as it can prevent the pool table surface from getting warp. Most of the DIY pool table comes with the combination of these two materials.
Best pool table in the market that made with MDF meterial
Goplus Billiard Table
If you are looking for a pool table slate alternative pool table that not only allows you but your kids to enjoy pool games, then this Goplus Billiard Table will be a great option. With an incredible design, this pool table will improve the interaction between you and your kids.
So it can be superb entertainment equipment for kids at home and parties. Most importantly it comes with MDF construction that is easy to play with. With a compact size and solid structure, you are allowed to attach the leg to make it ready to play.
The best part of this pool table is its designs in mini size. So it won't take much space and allow you to store it easily. So both for kids and parents this MDF made pool table can be a considerable option as a pool table slate alternative at within affordable price.
MD Sports Billiard Table Set
Another MDF constructed pool table in our list that is available in 3 different types. Besides it comes with Sturdy construction with a wood grain finish to offer you durable and long-lasting service. So if you compare with slate pool table it will be a proper alternative to feel you confident.
As it is made with thick particle board with deck support I will offer you a level playfield. The manufacturer made the pool table with Wine red polyester velvet felt so it can allow ball rolling constantly.
The highlight feature of this MDF made pool table is it includes bumper guards to provide you a consistent bounce. To look at the table stylish, it is designed with a scratch-resistant and PVC laminate finish.
Striker Table Top Pool Table
This Striker Pool Table is medium in size that is big enough for a game of pool at the same time small enough for easy storage. It's another great MDF material made pool table to offer you similar durability to the slate pool table. Besides, it is stronger than particle board or plastic pool table.
The best part of this pool table is its designs with non-marking pads. So it won't mar the floor, furniture or tables. To allow you to enjoy the pool table game comfortably, the manufacturer adds rope net pockets. So within budget, this Striker Pool Table will be a considerable option as a pool table slate alternative.
Final words
Hope you now get enough knowledge about the pool table slate alternative. With plenty of alternatives now the work should be done easily. Even you can pick the best pool table slate alternative from the products we mention above if you consider MDF material instead of slate. These are durable, long-lasting, and sturdy enough that you probably searching in a pool table.