Looking for the best darts? Perfect! You're in the right place!
In this Dart Goals guide, you'll learn:
Different types of darts
Soft tip vs Steel tip darts
How to choose the best darts
Our top 10 darts reviews
And much more!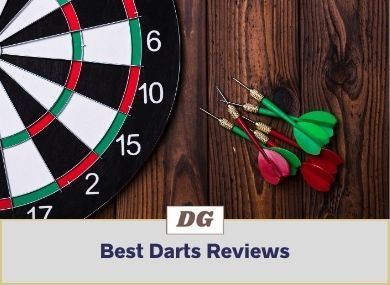 In A Hurry? The Test Winner After Our Research
| Type | Image | Product | Price |
| --- | --- | --- | --- |
| Steel Tip Darts | | IgnatGames Steel Tip Darts | Check Price |
| Soft Tip Darts | |  Viper Diamond 90% | Check Price |
Steel Tip Darts or Soft Tip Darts?
Especially for a bloody beginner is at the beginning of his darts career, the question of whether he should start with steel dart or soft dart. For example, Soft dart is often only allowed to play darts up to a weight of 18 grams, while the steel dart has a limit of 50 grams.
If you prefer to play heavy darts, then it makes more sense to choose Steel dart as the sport, as the results will be much better. Even if you are still unsure: reading is worthwhile!
Steel Dart and Soft Dart Differences
It is the discussion of par excellence in darts. Steel dart or Soft dart. The target group is often completely different. First of all, we would like to explain the typical image of the two sports. Already here first differences become clear.
Steel Dart
When Steel dart it is often the case that young and new dart players come to the oche. This is due to the many TV broadcasts in recent years. There, the interest in the darts was really awakened. The increase in awareness has also greatly increased the number of players.
However, this also means that old-established players have problems with the young audience to arrange. But that's another topic. In short, the image of Steel dart is the following: modern, simple, stylish, well-known, and now accepted as the right sport.
Quick Comparison Of Steel Tip Darts
Image
Product
Top Features
Price
1. IgnatGames Steel Tip Darts
» lightweight
» Budget-friendly
» Comes with a beautiful case
Check Price
2. CUESOUL 30/28/26 Grams Tungsten Steel Tip Darts
» Aluminum shaft
» Customizable set
» 95% tungsten alloy barrel
Check Price
3. CC-Exquisite Darts Set
» Lightweight
» Easy to manage
» The set has 3 standard size flights
Check Price
4. Whimlets Steel Tip Darts Set
» Brings Dart Sharper
» Premium stylishly carried a case
» The set includes multipurpose darts equipment
Check Price
5. Viper Blitz 95% Steel Tip Darts
» Aluminum alloy for high speed
» Suitable for players of all levels
» Added 95% tungsten and 5% nickel
Check Price
Soft Dart
Unfortunately, this is not the case with Soft dart or E-Dart. Although probably everyone has ever thrown on an electronic dartboard. However, only very few people know how the game really works. Soft Dart has long been a game for the masses without the necessary competition – at least in childhood.
However, those who run Soft Dart as competition will often stay in inns and pubs. Here are the electronic dart machines mostly. The soft dart image is more like smoky pubs and old darts players with a beer belly.
Quick Comparison Of Soft Tip Darts
Image
Product
Top Features
Price
1. Viper Diamond 90%
» Light in weight
» Diamond cut locking hole shafts
» 90 percent tungsten metal used to produce darts
Check Price
2. Arachnid Tungsten Soft Tip Darts
» One-year warranty
» Deluxe SideRider Case clips
» Comes with seven spare point
Check Price
3. Viper Sure Grip Soft Tip Darts
» Great gripping
» Extended slim flights
» The shaft has aluminum holes
Check Price
4. CUESOUL Dragon Series 25/23/21/20g
» Excellent grip
» 6 pcs nylon shafts and flights
» Modern stylishly carried cases
Check Price
5. Wolftop Soft Tip Darts 17 Grams 12/15 Pack
» It has several unique styles
» It has a hard aluminum alloy
» This can be a great choice for your child
Check Price
Darts Reviews
Before buying a perfect darts have a look here to get a profound darts review:
IgnatGames Steel Tip Darts Set with Aluminum Shafts, Rubber O'Rings, and Extra Flights + Dart Sharpener + Innovative Case + Darts Guide
If you are a training or pro player then these premium darts set from Ignat Games are ideal for you. These steel tip darts are beautifully designed with luxurious steel tips for each dart to help keep you safe at all times. If you have just started, we suggest you try the game with this set.
This highly engineered design provides enhanced durability and the amazing look and feel of the darts in your hand. It comes with a great beautiful case that will hold all the darts in comfort. One of the features of this set is that it comes with a sharpener which is a great value for the amateur Dart player.
The only problem with these darts is that they can't be put together. Also, each set has its weight: 18, 20, 22, and 24 grams. The brass barrels of each dart have a separate grip with the engine. The set also includes an integral aluminum shaft with 12 brass barrels, 12 rubber o 'rings, 16 poly standard flight and a dart sharper are all provided with a magnetic case to hold all the items in one place.
CUESOUL 30/28/26 Grams Tungsten Steel Tip Darts Set 95% Tungsten
This is another great set for beginners or professionals. They have a 95% tungsten barrel, which makes them exceptionally durable. It centers these darts, allowing you to have simple control of your game. The shaft is equally durable in this set of darts. Because they make the alloy of anodized aluminum.
These are different from other darts on the market today, easy to customize. It has an anodized aluminum shaft which is 46 mm long with included threads. It comes with 6 anodized aluminum shafts and six slim flights for fast flight. The grips on the top of the barrel are also really well designed. It grooves these and tightened across the entire barrel.
This can be the best darts for beginners. It makes it easy to get a good grip considering the grip you want to try. However, the shafts do not spin and you may be disappointed with this set of darts if you expect some spin.
Read Also: What are the best tungsten darts?
CC-Exquisite Professional Steel Tip Darts Set – 6 x 22g Brass Barrels with 12 Flights Standard/Slim, 12 Aluminum Shafts 35/48mm, 12 O-Rings, Dart Tool, Dart Sharpener and Case (Black & Gold)
These -Exquisite Steel Tip Darts may be ideal for you if you are a beginner or a pro player. Therefore, if you are looking to save some money by buying your next sets without compromising on quality, the CC-Exquisite Steel Tip Darts Set would be a wonderful choice! The biggest plus of this CC-Executive Professional Darts set is that it is fully customizable.
You get six darts on the set – three at 18 grams and three at 22 grams. The aluminum shaft has two separate lengths – three short (35mm) and three medium (45mm), with each rubber ha-ring to prevent loosening of the plane. Then you get two different types of shafts – three standard sizes and three thin sizes.
When it comes to making barrels in this set; it makes None of these using tungsten. It makes these barrels from a combination of brass and aluminum which is very durable. These combos darts help to keep the weight light. It is completely 3 times cheaper than other comparable sets.
Read Also: What are the best soft tip darts?
Whimlets Steel Tip Professional Darts for Dartboard with Brass Barrels and Extra Aluminum Shafts, O-Rings, Flights + Dart Tool and Sharpener
Are you a beginner or a professional player? Looking for quality darts but can't find it? If the answer is yes, then this Whimlets Professional Steel Darts Set is for you. You will find 6 darts in 20 grams and 6 darts in 22 grams in this package.
This set has six brass barrels that can not only enhance your accuracy by perfecting your grip with steel tips. But it can balance your controls and set up for those perfect shots. There is an e-book to teach you more about darts and games that you can easily master the technique.
This set has 12 aluminum shafts that allow you to improve impact resistance. The set has six brass barrels that perfect your grip with steel tips. You'll also get a premium to carry a case to keep your darts safe and secure wherever you go.
Read Also: What are the best professional darts?
Viper Blitz 95% Tungsten Steel Tip Darts with Storage/Travel Case
The Viper Blitz Tungsten is considered the best steel tip dart compared to other darts on the market because it is made up of 95% tungsten and 5% nickel. These darts will work well for you if you are a skilled dart player.
Known as the best overall steel tip dart on the market today. The flights are a bit bigger than the other models, which makes the flight of these darts beautiful.
This dart set has strategically placed northerly bands and deep grooves for exceptional gripping of each barrel. Barrels can be purchased in one of four different grip styles. This will help you to maximize your scoring and also refine your dart throwing skills. So, if you are a beginner and bored of breaking darts regularly, this steel tip dart is the best available option on the market.
The dart comes with a rotating shaft system that is very unlikely to be defeated. The dart is known to be more durable than other darts at the same level of price. So, this dart is designed to be suitable for players of all levels.
Viper Diamond 90% Tungsten Soft Tip Darts With Storage/Travel Case
If you are looking for one of the best soft tip darts on the market, you need to look no further than Viper Diamond Set. Viper Diamond Tungsten Soft Tip Darts are made with high quality and highly durable metals such as 90 percent tungsten with a 10 percent nickel barrel which makes the darts look attractive and stylish.
Viper diamond darts come with a heavy-duty and light combination in a heavy aluminum shaft with a diamond cutting locking hole shaft. These darts are made of aluminum material which is tough enough to hit the board. This set also comes with an extra set of extra flights, nylon shafts, flight protectors, and 2 BA Dart Points. These are of perfect weight, each tip weighing about 18 grams.
This dart is very durable and strong enough that you can use it for many years. It is designed in such a way that you can fix your hand at the right point.
Read Also: Red dragon darts review.
Arachnid Tungsten Soft Tip Darts
If you are looking for soft tips darts that you play on an electronic dartboard or are planning to play in one soon then these darts are for you. The Arachnid soft-tip darts feature 90% ultra-dense tungsten barrels which makes it very thin. These darts are an ideal choice for beginners and intermediate players.
These arachnid darts weigh 18 grams which makes them lighter. It comes with a more durable aluminum shaft than plastic which is usually found in soft tip darts. This makes the setup more durable and stronger. Also, with a length of 3.6 cm, these darts are considered to be "shorter" than the standard lengths of the original darts.
You'll also find three extra flights, three 1 7/16 "short shafts, 7 3/16" extra tips or points, and a slide rider case for convenient storage. It also comes with a case for storing all items safely.
Read Also: Cuesoul darts review.
Viper Sure Grip Soft Tip Darts
The most reliable and reputed dart for viper players. If you are a new or professional player, you can check out these darts. These darts come in one grade on top of brass. They are made of nickel silver metal which allows for more durability. These soft tip darts are a very affordable choice for very casual players.
The shafts are also made of aluminum which is known as a high-quality dart. They fit both light and heavy darts, 16 and 18 grams. Also, each of its barrels strategically placed grooves under a rubberized barrel arm that created great gripping points and encouraged regular hand space.
It also includes an aircraft that helps provide speed and stability so you can achieve the goal with certainty. It is equipped with high quality, nickel silver plated barrels that provide exceptional balance and styling in a slim profile.
CUESOUL Dragon Series 25/23/21/20g Grams Steel Tip Darts
This is another great set for beginners or professionals. They have a 95% tungsten barrel, which makes them exceptionally durable. The shaft is equally durable in this set of darts. Because the alloy is made of anodized aluminum. These darts allow the game to be universally enjoyed making it even more fun for newcomers.
This set has 3 tungsten steel tip barrels, 6 anodized aluminum shafts 2B grooved, 6 slim flights, O-rings. These darts help you to improve your performance easily. These come with different flights and shafts, which allow you to experiment a bit in different combinations.
It comes with a modern carrying case. The grips on the top of its barrel are also really well designed. These are grooved and tightened across the entire barrel. This makes it easy to get a good grip considering the type of grip you want to try. It also makes it easy to get a good grip considering the type of grip you want to try
Wolftop 12/15 Pack Soft Tip Plastic Tip Darts Set For Electronic Dart Board – Aluminum Shafts, Standard Dart Flights And Extra Dart Tips
The Wolf Top Soft Darts set applies to players of all levels as each level weighs 17 grams so it is suitable for entry or intermediate players. It comes with a high-quality soft tip dart and 5 style flight weighing about 17 grams. This Wolf Top Soft Darts Set is available in two commercial pack sizes, 12 and 15 packs.
Wolf Top Dart Flight is made from PET materials. The flight dimension is made from aluminum material, which weighs 1.5 grams and has a length of 48 mm. Also, the barrels of these dart sets are made from high-grade nickel plates.
These Wolftop Darts are really good value for money purchases, although they come with a money-back guarantee. Also, these draft shafts are more durable than any PVC rod. Also, the darts are great to look at and these darts are one of the best to increase your game score.
Buying Guideline for the Best Darts
Especially for beginners in darts, always raises the question as to which darts are best. This is especially important to get to know the darts better and to try yourself on the board.
We would like to give you an insight into what to buy when darts and which darts you should choose at the beginning. In general, however, no general statement can be made here, as the preferences of each player are individual. However, it is important to keep in mind a few basic rules for darts.
Buy a much-discussed golden rule on darts: For the beginner, it makes sense that he should rather start with heavy darts. But why? A heavy dart is generally more stable in the air than a light dart.
The harder the darts, the less susceptible they are to an odd throw of the beginner. Usually, the weight of the darts decreases over time, once you have "thrown in" and is reasonably satisfied with his game.
However, some players always stick to the same type of darts, while others lower their weight over time, gradually increasing their level of play. But it always depends on the throwing style of the player. Some players throw relatively casually and thus do not need as light arrows, while others fire the game device into the board.
What Should be Considered When Buying a Darts?
Not only is the weight crucial for the darts player to buy darts. Especially for the beginner it still depends on many more details. Here is the talk of the tip, the barrel, the shaft, and the flight.
The Tips
The tip is often underestimated when buying darts. Especially in the Steel dart holds the rumor stubborn that there can be no major differences here. But far from it. Steel dart tips are available in different lengths.
These make the first difference. Add to that the hold on the board. With a loose throwing style, it is sometimes necessary for the tips to eat their way into the board to avoid a bouncer. There are tips here with certain grooves to prevent this.
When Soft dart there are also different lengths and also quality differences in the material of the tips. Whether steel or soft, in the end, you have to find out for yourself as a beginner, which properties fit best for you personally. More about steel tips of darts can be found here.
The barrel
The barrel is mainly about weight. But not only that, because the shape and the length are crucial in buying darts. Depending on how you hold the dart in your hand, the shape can be crucial to your success in darts.
So, pay close attention to which shape feels good in the hand and which shapes the dart might not fly as you wish it to. We also wrote a more detailed article, which you can find here.
The shaft
The shaft is also about the length and the material. The length of the shaft determines how the arrow is on the board. Here you should just try out. Mostly you are surprised at the beginning, which change takes the curve of the darts when the shaft is a little shorter or longer.
The material, mostly plastic or aluminum, is a crucial question for many players. Shafts made of aluminum usually weigh a bit more and give the trajectory of the dart more stability.
The Flight
The last component of the dart is the flight. There are countless possibilities here that you can even try to buy after the darts. The flight has many differences, but the material (fabric or plastic) has a big impact on the litter.
Darts flying with a fabric fly much slower, but keep it longer. Then there would also be the countless forms. Again, try it all out to find out the best for yourself. More information about the suitable flight for you, you can find here.
Factors for the Differences
But what are the differences between the two darts? We roll up the topic "Steel dart or Soft dart" from another side. Because we want to emphasize both the positive and the negative points of the two darts. External influences play an enormously important role here, for example.
Volume
One of these external influences is volume. While Steel dart often rests, is the Soft Dart alone the machine already annoying loud. Whether that bothers a player, everyone must make up for themselves. In any case, it can already be observed that the E-Dart places less emphasis on rest.
And yes: Especially in the Steel dart live the big events from the great and loud mood. In the games of amateur players but this looks completely different. Instead, the emphasis is placed on the necessary concentration.
Also, because darts that fall out of the board, for example, do not count. The E-Dart counts points as soon as the tip touches the board. So, if you are in a party mood and like to roar loudly, that's better off with the E-Dart. Mind you, this blog post refers to the amateur section.
The Calculation at Steel Dart or Soft Dart
The arithmetic is another big difference between Steel dart or Soft dart. While with the E-Dart the points are counted down comfortably, one must recalculate with the Steel dart. Therefore, Steel dart is certainly a bit more demanding for mental freshness and promotes mental arithmetic in the long term.
Of course, it can also be that you do not want to calculate on a nice evening in the pub. Then the electronic dart machine is probably the better choice. A variant is, for example, the dartboard CB90.
Weight of the Darts as a Trigger
The weight of the arrows can be the trigger for ambitious players to Steel dart. Anyone who plays with heavy arrows, starting at 20 grams, can actually only play Steel dart from a technical point of view. With Soft dart, the weight of the arrows is often a few grams less.
Also, to spare the automaton. The regulations simply do not produce heavier darts. For this reason, many dart players from the E-Dart sooner or later choose the Steel darts variant. At least if they realize that they are even more successful with heavy arrows.
Durability of Materials
Cost-effective is certainly the Soft dart variant. Although you have high wear on plastic tips here. However, after the initial purchase, no further costs will be incurred.
Once purchased your equipment actually keeps a felt eternity. The Steel dart is different. The dartboard usually needs to be replaced after a few years. Also, canceling a steel dart tip can result in the purchase of a completely new set of darts.
So, if you are looking for a hobby for a small budget, then the Soft Dart is just right for you. It does not have to be the big automat you put in the living room. A cheap e-dartboard for hanging, of course, also does.
More Little Things About the Darts for Beginners
Around the main components, there are also some other little things that you should consider as a beginner in the dart. The protector on the flight of darts is one of those little things.
Often the small caps on the flight are used to extend the life of the flights. What many novices are unaware of is that the small protective cap also means extra weight and pulls the dart down at the back end.
If you like putting the darts on top of each other, that's a good thing. But if you rather play the darts from below, this can be a real problem.
Rubber Rings Buy Important Element in the Darts
Another really useful detail is the small rubber rings between barrel and shaft. The rubber rings (also called O-rings) are usually not supplied immediately when you order your first set of darts.
But you will quickly notice that the point where barrel and shaft are screwed together turns up again and again. This is incredibly annoying during a game. Here are the rubber rings, which are to acquire for little money remedy.
Finally, they provide a firm and secure grip, so you can play free without having to tighten the darts at this point again and again. You can find this and other accessories in amazon.com.
Darts for kids: Are darts suitable for children?
Darts is a sport that does not stop at any age group. It is exactly for this reason that the sport continues to enjoy great popularity and also darts for children. Often, parents wonder if darts are already suitable for children in infancy. The short and concise answer: Yes!
Darts promotes several cognitive abilities that can benefit your own children even at school. Why this is so and what is still important to pay attention, we explain below.
Children Want to Emulate the Parents While Darts
As a rule, children are guided by the behavior of their parents. If you already count to the parents of a child and play darts, then sooner or later the question arises what you are doing there.
The child will want to try it for themselves and throw the darts on the glass. But before you allow darts for your children, you should keep a few things in mind.
Darts are often offered as a fun game for children's birthday parties. Not infrequently as a game form with magnetic dartboards and associated dart arrows. It is not uncommon for the dart for children, the variant of Velcro.
Mostly this is just about the fact that the children throw blind on the glass and aim at a young age, the middle as the best field. This initially has little to do with the right darts, but it is important for the time being that has fun.
Dart for Children – Steel Darts are not Recommended
For the time being, the parents should refrain from using the steel darts variant if they want to enable the children to play. A fixed age, we would also recommend here. Here, as so often in education, it depends on the individual development of the child.
So, it may well be that the children from the age of eight or nine years with steel darts cope and others again at a later date. But before that, you should not give your children any steel darts in their hands. Too big is the risk of injury due to the sharp Steel dart pointer.
When the steel darts bounce back from the disc, they often get stuck in the ground. Depending on how the litter is carried out, the darts can bounce back particularly far or fly away sideways.
This is probably the most important reason why Steel darts do not offer the perfect introduction for children on the dartboard. And above all, because the alternatives with soft darts, magnetic darts or darts with darts at Dart for children are far less dangerous.
Not Only the Game Device but also the Rules Should be Adapted
Due to their size, reduced strength and coordination at the beginning of the game, children have a hard time getting the darts on board.
For this reason, you should also adjust the throw distance and the height of the dartboard for the little ones. As you get older, you can still make sure that the child gradually gets used to the regular height and throw distance.
Also, you should pay attention to the weight of the darts. Even for the experienced dart player, it makes a big difference whether he throws darts weighing 14 grams or 24 grams, for example. In children, this is even more extreme.
In addition, children lack the strength to really throw the arrows over long distances. Therefore, it is worthwhile to first select a few soft darts with a fairly low weight. If you then realize that they are too light, you can still react. In the end darts for kids is just fun and the development towards a serious dart player comes by itself.
Reasons to Play Children Early in the Game
Reasons for darts for children, to start the children early with the darts, there are many. One of them is certainly the ability to connect the eye with the execution of a task. So, if we aim at something and adjusting our movement accordingly, it will train our entire body coordination.
This can already bring many advantages to children in physical education at school. But not only that. As soon as it is possible, it makes sense to let the children count the points on the oche themselves. Of course, this can take time, especially in the initial phase.
Nevertheless, and even we have experienced in the adult age, the mental arithmetic is trained so extremely well. In our case, we first had to realize that mental arithmetic has been completely lost.
Dart for Children Promotes Concentration
Added to this is the concentration. Darts is, for the most part, ahead sport in which players have to be highly concentrated in order to succeed. The positive aspect of darts is that children often find that concentration not as a burden, but as fun – not like at school, for example.
And over time, the positive side effect occurs, that parents and children play together even more closely by sharing darts and share a passion.
Summary
Finally, we learned that finding the best darts to ramp up your game, as mentioned above, is not an easy task to do. You must be confused with the countless Dart brands and the sets on the market today.
However, if you want to get the best tungsten darts, you must make your game a much higher up. We sincerely hope that the guide to buying these darts was helpful and you can choose the right set.